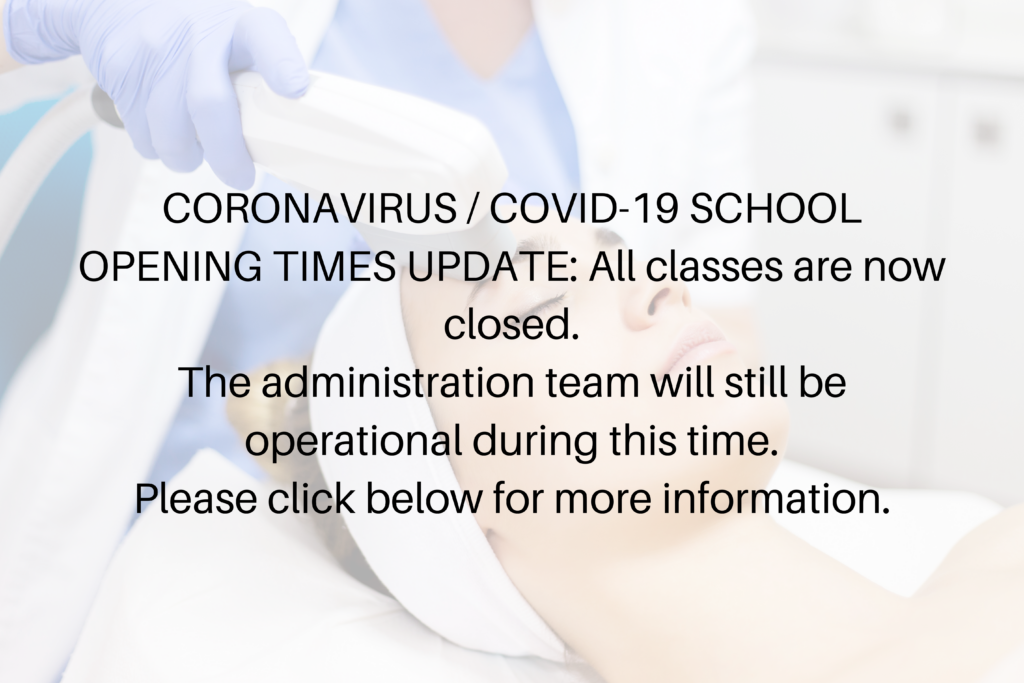 Dear Students,
We hope you enjoyed the Bank Holiday weekend with your families.
The RCBS team has been working over the past few weeks to adapt our ways of teaching in the wake of the COVID-19 lockdown.
We have been given a prospective date for our sector to re-open by 4th July.
This is part of the phased approach adopted by the government to slowly re-open different industries of business.  Pending each phase's success, and the rate of infection remaining low, we should be able to reopen in July.
Below details the next steps:
We will aim to reopen the school from 6 July.
In the meantime, we will adjust our training program using a combination of learning methods:
Online courses
Virtual Classroom
Onsite practical training
For all courses recently started prior to the school's closure on the 18th March 2020, we are going to provide weekly zoom meetings from 5th June, for VTCT level 2 facial, level 2 beauty, level 3 beauty, and nail courses.
All students will be enrolled in the VTCT PIVOT POINT LAB learning management system so that you can refresh theory, take mock tests, and watch treatment demo videos.
For courses at their final stage prior to 18 March 2020, we will have to wait for the school to reopen to resume their final assessment.
For the level 2 facial course starting on 24th June 2020, we will start the online lesson on 24 June for 2-4 weeks, then onsite training from 29th July subject to the classroom schedule.
For level 2 beauty and level 3 nail courses scheduled to start on 28 March, which we initially rescheduled to late May/early June. We will start online training on Saturday 6th June for 6 weeks. During these 6 weeks, we will host a full-day virtual classroom via zoom meetings once per week ( to get the best learning experience, the student should have a PC, Laptop, or Tablet with a decent internet connection). After 6 weeks, from 18 July, we will start onsite class practical training.
For the Level 4 laser course, starting in June and July, we will plan 2 days of online learning to cover the following theory:
health and safety
core knowledge of laser and IPL
anatomy and physiology
Treatment demo video
online test
assignment
Regarding physical training and assessment, students will receive more hours than previous full onsite training course.  The standard course will now have 6 full days comparing 4/5 days under previous full onsite course and the intensive course will have 4 days comparing 3 days under the previous full onsite course.
The below are amened practical training dates:
| | | | |
| --- | --- | --- | --- |
| Current Course Date | Course Type | Duration | New Course Date |
| Tue, 2 June | 4 days per week | 4 days | Tue, 14 July |
| Sat, 6 June | 1 day per week | 6 weeks | Sat, 11 July |
| Tue, 9 June | 4 days per week | 4 days | Tue, 21 July |
| Mon, 15 June | 1 day per week | 6 weeks | Mon, 13 July |
| Tue, 7 July | 4 days per week | 4 days | Tue, 7 July |
For CIBTAC AND CIDESCO courses, your tutor has continued to keep in contact with you during this period of lockdown via email, whatsapp, and zoom. She provided you with a study timetable, notes, PowerPoints, tests, assignments, quizzes, and has taught some lessons online. You have been given the guidelines for your CIDESCO research project and are currently working on this at home.
Your tutor will continue to organise online classes each week for revision.
Once the school is able to re-open, your practical classes will continue and examination dates for both CIBTAC and CIDESCO will be rescheduled. You will have ample time to refresh your practical skills before your examinations. You should continue to use this time we currently have to revise and work on your projects. You should not be leaving revision and theory work until the school re-opens.
For the general administrative support, we will also run limited staff from the office from late June, so we can immediately start to process VTCT qualifications.
As PPE is in high demand, we require all students across all courses to prepare the following items in advance of the school reopening. Each student will require:
1 face shield for practical classes
disposable face masks
Hand Sanitizing Gel
You should have these before the school re-opens. If you do not have these, you will not be able to enter the school premises. We will send on our updated Health and Safety rules in due course. These rules are being put in place to protect our staff and students from infection.
Ray Cochrane Beauty School
118 Baker Street, London, W1U 6TT