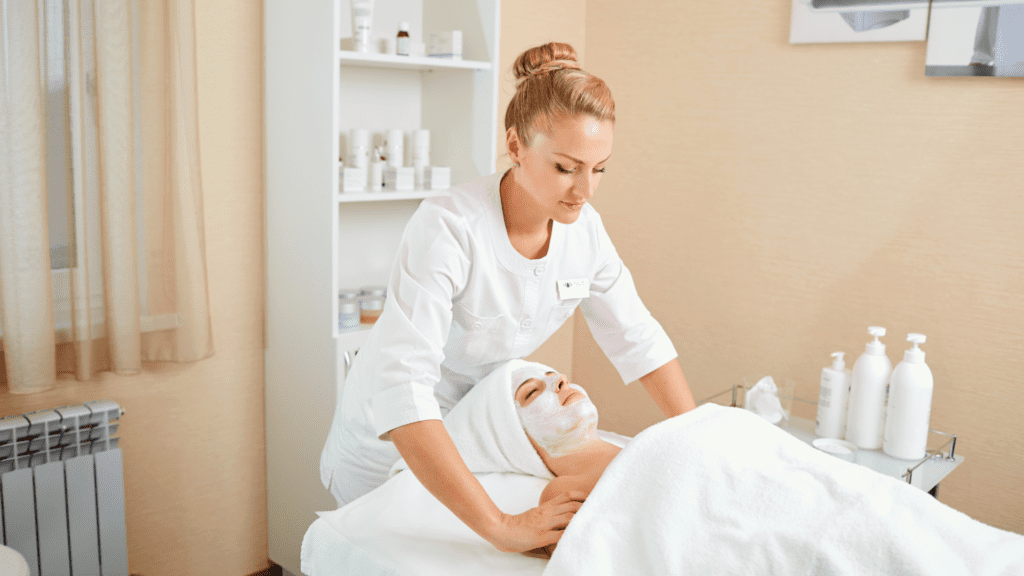 Achieving a Level 2 Beauty Therapy Diploma will help you to progress into the beauty industry.
There are many schools across the UK that offer qualifications from different examining boards e.g. VTCT, ITEC, CIBTAC, City and Guilds and CIDESCO.
Some courses can take weeks, others months and some can take a year or two.
It can also depend on whether they are a Diploma, Certificate or an Award.
Generally a diploma course will have more hours and topics to cover than a certificate. An award can be a shorter course with fewer hours to complete.
Individual schools will determine how long their courses will be in accordance with the examination boards. For example, some schools may teach a course full time over 8 weeks, another school could offer the same course part time for 40 weeks.
In order to see how long it may take, first you need to ask yourself a few questions.
What type of learner are you?
Are you self-motivated or do you need to be motivated by your tutor and classmates?
Do you struggle to learn new skills?
Are you good at picking up techniques by watching a demo?
Do you find it easy to read ahead and memorise information?
Do you struggle to keep up with theory information in class?
Do you have any learning difficulties like Dyslexia, ADHD or Dyspraxia?
What mode of study would suit you best, full time or part time?
What kind of qualification are you looking for? E.g. international or national?
Is English your second language and have you been taught in English before?
Do you feel you would work better with continued assessment or to practice and prepare for 1 final exam at the end of the course?
If you are a student that struggles with theory, you could choose a course that takes 5 months approx. to give you time to learn and revise.
If you are a student who can pick up practical skills quickly and finds theory easy to learn, you could opt for a fast-track intensive course of 12 weeks, for example.
If you need to work as well as study, you could choose a course that is 1 day per week or 2 evenings per week.
If you want to study for an international qualification, full time would be best as international examining boards can have stipulations for the (TQT) total qualification time.
Ideally, courses that are part time should be at least 20-22weeks long in order to ensure learners have enough time to learn both theory and practical and to complete coursework and tests.
Full time courses will usually be longer e.g. September-June or September-August.
What is attractive about full time courses is that the information is given on a regular basis and every day is giving you time to practice and perfect your skills.
A full time student will have more time to practice and perfect their techniques under tutor supervision on a daily basis. By the time they graduate, they are more confident going into the industry.
A part time student will condense all of their learning into a shorter time frame, and must, therefore make time at home to study and practice as well. If you are going to be studying part time, you should take this into consideration.
Level 2 Beauty Therapy is the very foundation of beauty and the minimum level for entering the beauty industry as a qualified beauty specialist.
What does Level 2 Beauty Therapy include?
The Ray Cochrane VTCT/NVQ Level 2 Beauty course includes the following subjects:
Facial Massage and Skincare
Makeup Applications
Manicure Treatments
Pedicure Treatments
Eyelash and Eyebrow Treatments (tinting, measuring and shaping)
Hair Removal with Waxing Techniques
Health and Safety in the Salon
Client care and Communication
Display Retail Stock
Compulsory Award Unit
VTCT (ITEC) Level 2 Award in Infection Prevention (COVID-19) for Beauty Therapy and Nail Services
At Ray Cochrane Beauty School, London we offer Level 2 beauty in a variety of study modes:
You can study 2 evenings per week for 22 weeks.
You can study midweek or at the weekend, 1 day per week for 22 weeks.
You can study level 2 combined with Level 3, 3 days per week for 6 months.
You can study Full time CIBTAC LEVEL 2 and 3 for 7 months.
You can study CIDESCO International Beauty therapy (equivalent to a HND in Beauty Therapy) for 11months.
Call us on 0203 856 8886 to find out more and to enrol.