You can tweeze them, wax them, shave them or…. just laser them off. Laser hair removal is a technique that removes hair virtually pain-free.

Laser hair removal training is creating a buzz in the beauty industry as many people go for this method of hair removal nowadays because of its effective, lasting results for stubble-free, baby smooth skin. It is the most advanced, therefore one of the most expensive methods for hair removal.

Providing a lucrative increase in salary for many beauty therapists, the world of laser hair removal technology has progressed to a significant level over the last few years as laser hair removal is now successfully carried out on darker skin tones and all hair types.
There are many other benefits than removing hair with laser hair technology, such as preventing ingrown hairs forming (that can end up resulting in boils and abscesses) and razor bumps.
How does it work?
Laser hair removal works by beaming a highly concentrated laser light on the affected area. The melanin pigment in the hair follicle absorbs this light and the pulse of light effectively destroys the root, which in turn destroys the hair and no more hair can grow from that root. The best thing about this type of targeted treatment is that it does not damage any of the surrounding cells. Which makes it an ideal choice for those who need long-lasting hair removal without the long-lasting side effects that can sometimes accompany it.
Are you a beauty therapist looking to scale up in your career in an exciting field?
When customers are looking to get laser hair removal treatments done, they go to someone they trust. The way they determine this is by seeing if the beauty therapist has the right credentials and qualifications to be able to carry out the procedure effectively. At the end of the day, the customer will seek safety above all, even if you know you can perform the procedure. You need to be qualified to show the customer that you're qualified and more importantly be assessed that you can perform the procedure.

Why do I need the qualification?
The regulatory body states that all therapists wishing to carry out laser or IPL treatments must have the Level 4 qualification by 2018. This will be a mandatory requirement by 2018.
Due to the number of cases from laser burns, most reputable and reliable insurance companies are insisting that a laser therapist must have this qualification. Also, most boroughs in London along with a number of boroughs outside of London are now regulating Laser and Skin clinics, ensuring all users of Laser machines have a Level 4 qualification.

Why choose to study with us?
Since 1954, we have nurtured every student that has walked through our doors to become the best beauty therapists they can be when they graduate.
We stand as the first beauty school in Britain that introduced the widely renowned beauty therapy qualification, CIDESCO thanks to our founder Ms. Ray Cochrane when the school opened in 1961.

We offer the best laser hair removal course to study in London. Our Level 4 VTCT and NVQ Certificate in Laser and IPL (Intense Pulse Light). This advanced qualification is suited to those who are already qualified as beauty therapists and medical specialists who want to go for more in their career and become a certified laser aesthetic technician.
The training of the course is split into four units which are:
Laser and light treatments for hair removal

Laser and light treatments for skin rejuvenation

Client care and communication in beauty-related industries

Management of health, safety, and security in the salon
During the course, we give you the right training to have all the skills you need to learn about the ins and outs of laser hair removal technology. It is key that you study our course to become qualified as there is a vital amount of knowledge needed to be able to safely carry out laser hair removal procedures.

Our tutors have years of expertise to guide our new fresh talent to be able to perform the procedures safely and effortlessly.

If you're looking to take the next or even the first step onto a career in the advanced laser treatments, the VTCT/NVQ Level 4 Laser Certificate is an essential part of accelerating into a higher level career path.

This advanced and nationally recognised qualification will almost guarantee you to work in the highly paid and rapidly expanding laser hair removal field either in laser skin clinic, Medispa or even open your own laser hair removal clinic for yourself.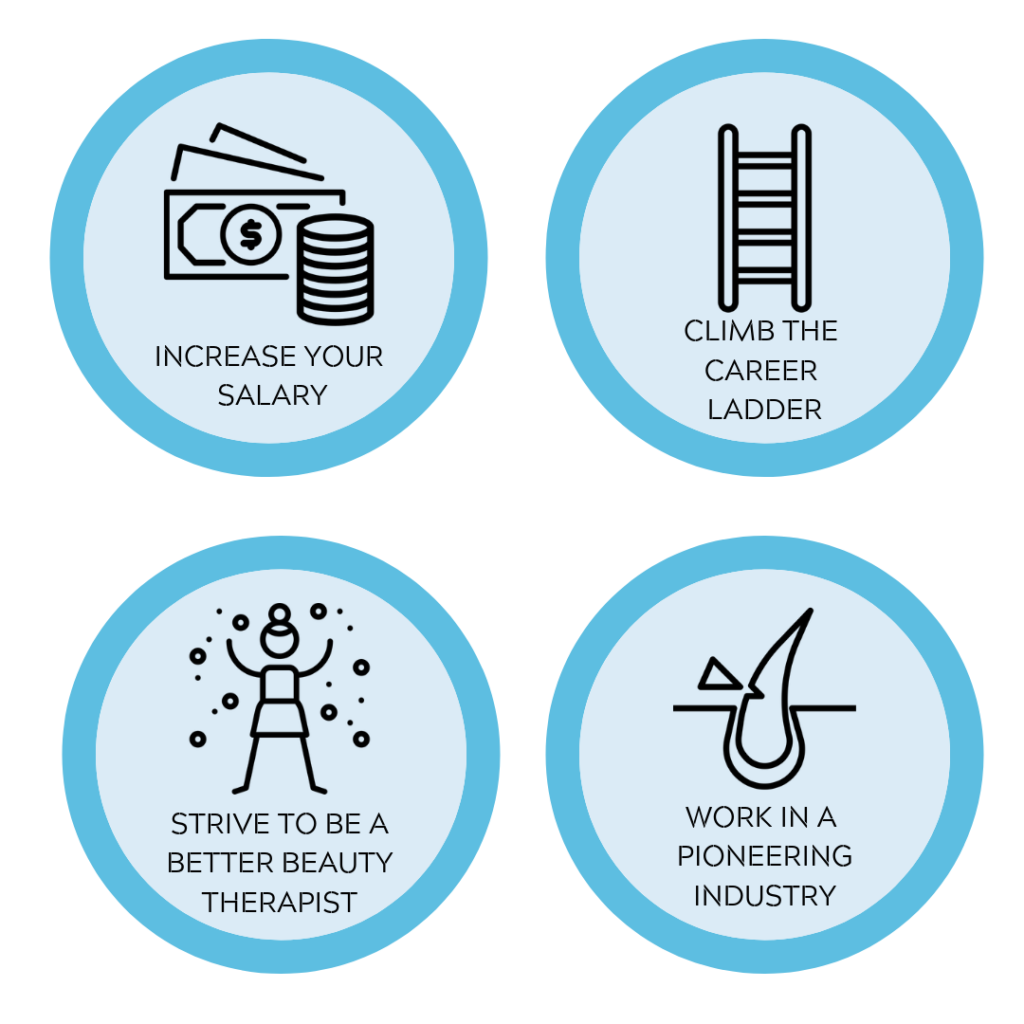 What are the entry requirements?
You must be 18 years old and older. You also must have good English listening, writing and speaking skills.
Even though there is no official qualification required by VTCT to study this course, we recommend that you have the minimum Level 2 beauty qualification for license and insurance or doctor/nurse.
How long is the course?
The advanced laser hair removal course runs for 6 weeks on a one day a week basis. The maximum number of 6 students per class, this way we can give you our full, undivided attention. We also offer the option for an intensive consecutive 4 day course on request.
During 6 days of the intensive laser and IPL training course, you will learn the following:
Day 1
Laser Physics

Definition of Laser

Laser Classification

The difference between Laser and IPL.

Types of medical and hair removal lasers – How to choose the right laser
Day 2
Anatomy & Physiology of skin and hair, skin typing using Fitzpatrick Scale

Contra-indications, Contra-actions to IPL and Laser

Health, safety and security measures in application and awareness and reduction of hazards in the workplace

Client care and communication in beauty related industries

Management of health, safety, and security in the salon
Day 3 – 6 (Practical Training)
How to prepare the client for treatment

Extensive hands-on practice on laser and IPL systems

Full demonstrations of laser treatments.

Practice sessions for students to perform laser hair removal treatments on various areas and skin types.

Practice sessions for students to perform IPL thread vein removal treatments

Practice sessions for students to perform IPL Photo-Rejuvenation to help treat the following:




-Fine lines and wrinkles




– Age Spots




– Sun Spots and Freckles




– Sun Damaged Skin




– Acne Breakouts




– Pigmentation marks.




– Redness of the face
Call Ray Cochrane Beauty School today to book your space on our next intake for the NVQ Level 4 Certificate in IPL and Laser Treatments course on 0203 856 8886.