Are you considering a career in the beauty industry and wondering what beauty career path you could take? Well, the beauty industry hosts many different professions depending on what interests or qualifications you might have.
Have you recently started a beauty course and now wondering where it could take you?
Are you interested in starting the new year with a new qualification but don't know if it's worth it?
In this blog post, we will be talking about all the different beauty career paths you could start today.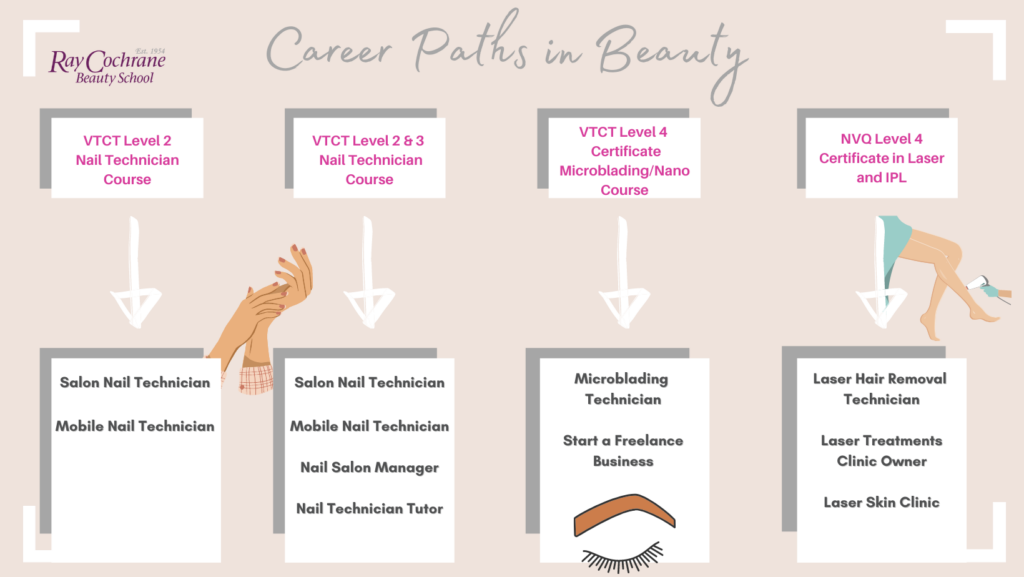 The first step in pursuing a career path in the beauty industry is deciding if there is a specific field you want to delve in. Maybe: nails, eyebrows or facials. You may even be interested in everything and decide that your goal is to be a well-rounded beauty therapist. Regardless of your interest, at Ray Cochrane, we have a course for you. 
Nutty for Nails?
If you're interested in becoming a Nail Technician, then we recommend our VTCT Level 2 or Level 2 & 3 combined Nail Technician Course.
The VTCT Level 2 Nail Technician Course is unlike any other short course offered by other schools. Suitable for those who want to become a nail technician in a short time and have pre-existing responsibilities. Tutors at Ray Cochrane have worked hard to compile this course into 1 day a week for 19 weeks. Students who complete the course will be knowledgeable and skilled at manicures, pedicures, UV Hard Gel Nail Extension and even learn retail skills! This will make pursuing your career as a nail technician that much easier. 
However, for those interested in becoming a nail salon owner or manager then our VTCT Level 2 & 3 Nail Technician Course would be the best option. Not only will you go from beginner to expert in 10 weeks! The course ensures you can receive licensing from boroughs all over the country. As well as learning everything mentioned on level 2, students will learn how to fix acrylic nails and complete nail art. Students also learn about the Anatomy & physiology: structure of the skin and nail. By the end of the course, students will be able to go into various nail technician career paths. You could even become a nail technician tutor!
Bonkers for Brows?
We have found a high demand in students wanting to join the booming brows industry by becoming microblading technicians. Which is why we've introduced our VTCT Level 4 Certificate in Microblading/Nanoblading Course.
No previous experience is required as we will teach you everything you need to know! Students will complete the course over 7 weeks, attending the school for 1 day a week. Our experienced tutors will cover:
Health and safety in the salon

Client care and consultation

Enhance appearance using microblading techniques

Anatomy and physiology for microblading techniques

Eyebrow shaping services
Once completed, you will reach a very high level of competence at performing Microblading treatments. You will be a fully qualified microblading technician and can use this to work in salons or freelance.
Laser Loco
The NVQ Level 4 Certificate in Laser and IPL is our most advanced short course. Perfect for those looking for a change from their careers as a medic professional or beauty therapist. Laser hair removal and skin rejuvenation grow more popular every year as technology advances. People want more long-term solutions to rid them of unwanted hair or skin concerns and have found that in laser!
Our experienced tutors will help you become a fully-qualified laser technician in just 5 weeks! At Ray Cochrane, we host the most up to date machinery and modern classroom facilities. All of which help our students jump straight into their advanced aesthetician beauty career path.
Students will learn:
Laser and light treatments for hair removal

Laser and light treatments for skin rejuvenation

Client care and communication in beauty-related industries

Management of health, safety and security in the salon
All of which will help them to become a fully qualified and experienced laser technician.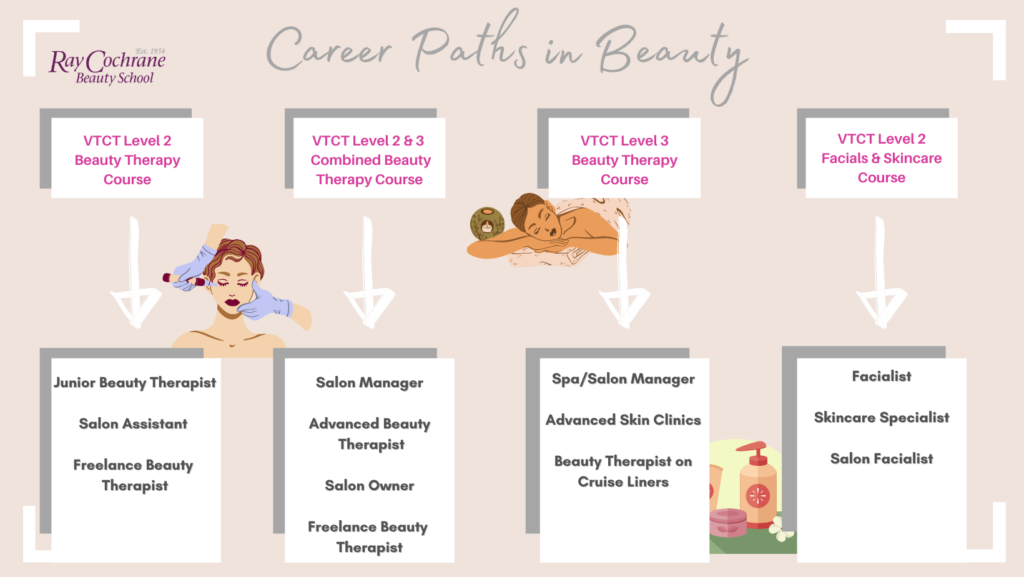 Fascinated by Facials?
Facials are great for removing impurities from the face and treating skin concerns. If you have no previous beauty qualifications and are interested in starting your beauty career, then this is for you! Our VTCT Level 2 Facial and Skin Care Course will have you fully qualified in just 6 weeks.
Students will learn how to give the best facial massages and help their clients achieve their skin goals. We will also be teaching the Health, Safety and Hygiene of the workplace. Once concluded, students will be fully qualified to start their career as an accredited facialist. 
Balanced Beauty?
If you want to become an expert in all things beauty, then you might consider becoming a beauty therapist. We offer Level 2, Level 3 and a combined version for those who want to accelerate their career.
The VTCT Level 2 Beauty Therapy Course is the perfect beginners' introduction into the world of beauty. You could either complete it in 22 and 12 weeks depending on how many days a week you do. 
Students will learn how to be a basic but well-rounded beauty therapist. Covering:
Facials Massage and Skincare

Lash Perming/Lift

Eyelash and Eyebrow Tinting/ Shaping

Waxing (warm and hot)

Nail Treatment ( Manicure and Pedicure)

Health, safety and hygiene of the workplace

Client Care, Communication, Salon Reception Duties

Consultation Techniques and Retail Skills
Upon completion of the course, students can go into being a junior beauty therapist or salon assistant. 
However, if you want to become a fully qualified beauty therapist, you will need to complete the level 3. We offer the VTCT Level 3 Beauty Therapy Course.
Advanced Beauty?
We offer the VTCT Level 3 Beauty Therapy Course, helping to advance the skills learned on level 2. Students will learn how to incorporate machines into the services they offer, adapting to modern times. 
Students will learn how to complete:
Facial electrotherapy treatments 

Body electrotherapy treatments 

Body Massage

Indian Head Massage

Microdermabrasion

Anatomy and Physiology

Monitor and maintain health and safety practice in the salon

Consultation and promotion of products/treatments
The duration will be either 22 or 12 weeks similar to level 2. As it is only 1 or 2 days a week students can incorporate previous jobs and responsibilities into their studies. Once you have finished your level 3, you are an advanced beauty therapist! You can use your qualification to become a salon manager or even a salon owner.
You may already know that you want to become an advanced beauty therapist but have no previous experience. Our experienced tutors have curated the VTCT Level 2 & 3 Beauty Therapy Combi Course to solve this!
An intensive course that will help you start your career in the beauty industry quicker. You will go from no knowledge to beauty expert in just 6 months!
The course covers everything but in a way that makes it easier for your brain to absorb. To read more about how our tutors have carefully designed the course to suit students, you can read here.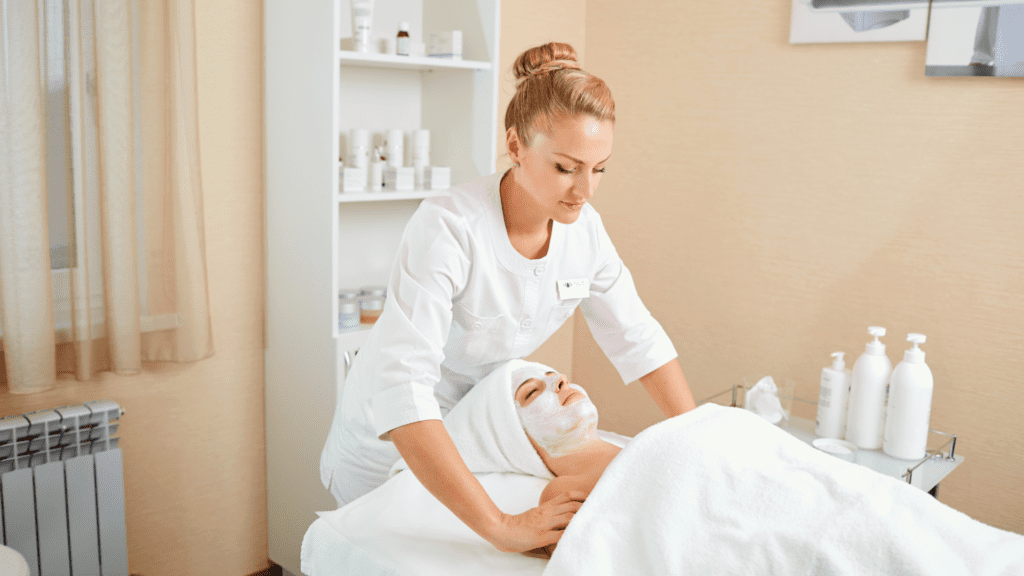 Have you found your dream beauty career path in this blog?
Contact us today on 0203 856 8886 or email@raycochrane.co.uk to find out more about starting your career journey!