Are you interested in becoming a qualified beauty therapist? As a result, you might be wondering what is the best beauty course to become a fully qualified beautician?
At Ray Cochrane we offer various beauty, nails, laser and skin courses assisting students in pursuing their dream career.
However, when asked what is the best beauty course to become a qualified beauty therapist in the UK – and quickly. We always recommended our VTCT Level 2 & 3 Beauty Therapy Combi Course! Then this is the course to take you from a beginner in the beauty industry to fully qualified in 6 months!
Why to choose a Career in Beauty Therapy in London?
There are many reasons as to why starting a career in the beauty industry would be rewarding. 
1. A highly profitable industry
In 2018, the British Beauty Council found that beauty services and products contributed over £28billion to the UK economy. The beauty industry has grown tremendously, that as of 2019, beauty beat out the motor industry's contribution to UK's GDP. A lot of this growth was credited to the gaining of new skills allowing new treatments to be introduced to salons, spas and in-home/store services. 
2. Flexibility
As a beauty therapist, you decide the hours you want to work! This ensures that you can plan your career around your life and responsibilities. This is the perfect career for those who want to be self-employed, adjusting your hours depending on how much you want to make that week/month!
3. Customer Orientated
If you are someone who enjoys making customers happy, then what better way than to make them feel beautiful? As a beautician you are essentially opening people up to the best version of themselves by helping them treat their insecurities. Whether it's helping treat skin issues with a facial or offering an hour of relaxation with a body massage. Beauty therapists are there to make their clients feel happy. The demand for self-care continues to grow especially in these trying times!

Beauty therapists offer clients relaxation and escape
How Do I Train To Become A Fully-Trained Beautician? 
Now that we've highlighted the main reasons why you would want to become a beauty therapist, you are probably wondering how do you get started? 
Well that's where we come in! By doing so we hope to save students time and hassle. Introducing one of our bestselling beauty courses: The VTCT Level 2 & 3 Beauty Therapy Combi Course.
The course is run on a part-time basis, spanning over 6 months. Perfect for those who will work alongside their studies whether to gain experience or to fund the course.
What Do I Need To Learn To Become A Beauty Therapist?
The different modules taught on the beauty courses are there to prepare students to start their beauty career. Students will develop their personal skills, gain practical experience and academic knowledge.
VTCT Level 2 Beauty Therapy Course Module
Traditionally The VTCT Level 2 Beauty Therapy Course contains the following modules:
Waxing

Facials: Massage and Skincare

Make Up

Nail Treatment: Manicures and Pedicures

Eyelash and Eyebrow Tinting

Health, safety and hygiene of the workplace

Client Care & Communications

Consultation Techniques and Retail Skills
The course aims to introduce students to the basics of beauty therapy but it can be tricky to find a job with just a level 2 qualificiation, especially if you want to work in a salon. This is because you wouldn't be a fully qualified beauty therapist yet. That requires completed level 3 training!
VTCT Level 3 Beauty Therapy Course Module
VTCT Level 3 Beauty Therapy Course Module teaches students:
Facial electrotherapy treatments – Vacuum Suction/ High Frequency/Galvanic/ Faradic/ MicroCurrent

Body electrotherapy treatments

Body Massage

Indian Head Massage

Anatomy and Physiology

Monitor and maintain health and safety practice in the salon

Consultation and promotion of products/treatments
As you can see the course modules taught on level 3 are more advanced and features the use of machines, which is growing more relevant.
What Is Taught On The Beauty Therapy Combi Course?
Our tutors have worked hard to do more than just combine the Level 2 Beauty Therapy Course with the Level 3 Beauty Therapy Course. The course is designed to encourage students to learn everything in a way that flows and can be absorbed better.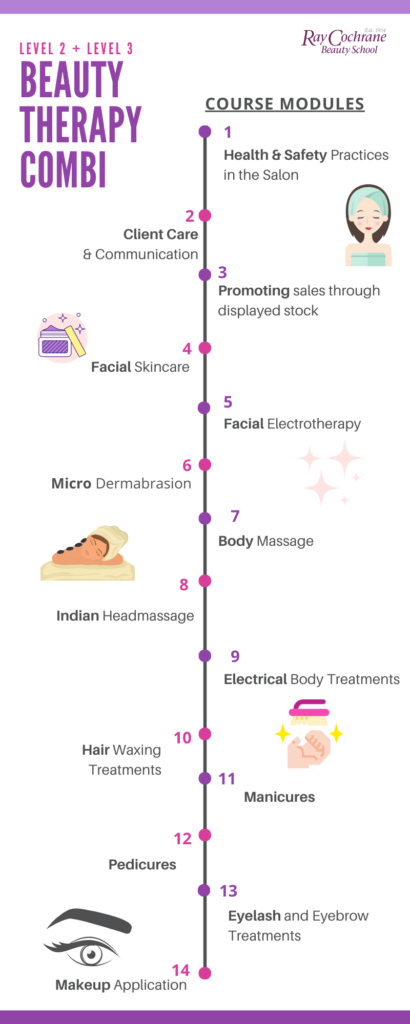 What will be taught on the VTCT Level 2 & 3 Beauty Therapy Combi Course. 
The different modules taught on the course are there to prepare students to start their beauty career. Students will develop their personal skills, gain practical experience and academic knowledge. 
Did you know to become a qualified beauty therapist you need to know the anatomy and physiology of the upper torso. You might be wondering 'why is it important as a beauty therapist to study anatomy and physiology?'
To be a beauty therapist and a good one, at that, you need to know how the human body functions. This will help you correctly apply products and carry out services knowing the effects they have on your client's body and skin. Also knowing where the nerves are in the head, neck, shoulders and face will ensure you can give your clients a pain free treatment.
The Level 2 & 3 Combination course is the best course because you do not need to have any previous knowledge. Our first class tutors will teach you everything you need to know about the science behind beauty therapy.
Why do I need both a Level 2 & Level 3 Beauty Therapy Qualification?
There are some colleges that will promise to take you straight on to a Level 3 Beauty Therapy Course however we would strongly advise against that! As highlighted above the Level 2 Beauty Therapy course is there to teach you the basics of beauty and skin. It's like doing your theory before your practical. YOU NEED THE BASICS! 
Salons and clients are looking for beauticians who are experienced and well taught and rightfully so! 
What Can I Do With A Beauty Therapy Qualification?
When you finish your Level 2 & 3 Beauty Therapy Combi Course, your career options are limitless! Not only are you more employable due to the combination of both qualifications, you now have more 
You may choose to stay on at Ray Cochrane and further your beauty knowledge by studying laser hair removal. The NVQ Level 4 Certificate in Laser & IPL is an advanced qualification for those who would like to become a laser therapist/laser aesthetic technician. Laser hair removal and skin rejuvenation treatments are growing in popularity as machines advance their offerings. To study Laser & IPL, you need to have both your Level 2 and 3 beauty therapy qualifications which makes the combination course the best way to start your path to becoming an advanced aesthetician. To read more about pursuing a career as a laser therapist read more here. 
If you decide that you no longer want to study and instead start your career, you can open up a salon! Owning your own salon is very rewarding due to the money that can be made and being your own boss. You may also enjoy building a brand and growing your clientele 
Previous students have gone on to opening their own salons or finding employment at beauty salons, health spas and clinics. Due to the high standard of the VTCT award students have even gone on to travelling the world!
Ready to Start the Best Beauty Course in London?
To be able to keep up in a growing industry, you need to get the right qualifications which makes the VTCT award a great option because it is a highly accredited and recognised awarding body. There has never been a better time than now, to start working on your future!
Ray Cochrane is one of the best beauty schools in London and home to many accomplished tutors. We believe in delivering quality and tailored lessons which is achieved by keeping classes small to increase tutor-student contact.
Our doors have been open since 1954 so  for over half a century our accomplished tutors have been imparting the knowledge they have gained whilst working as leading figures in the beauty industry unto students. The Ray Cochrane beauty school is also internationally recognised teaching CIDESCO, CIBTAC and VTCT accredited courses. 
Students will have access to our School Student Beauty Salon which will give them the necessary work experience of a fast paced salon environment alongside other modern facilities. Carrying out practical work for one day a week in the salon will ensure that they are work ready upon graduation.  
Whilst we can try and convince you of how amazing we are, why not take the word of one of our previous students:

Contact us today on 0203 856 8886 or email@raycochrane.co.uk to find out more about starting your journey on the best beauty course!