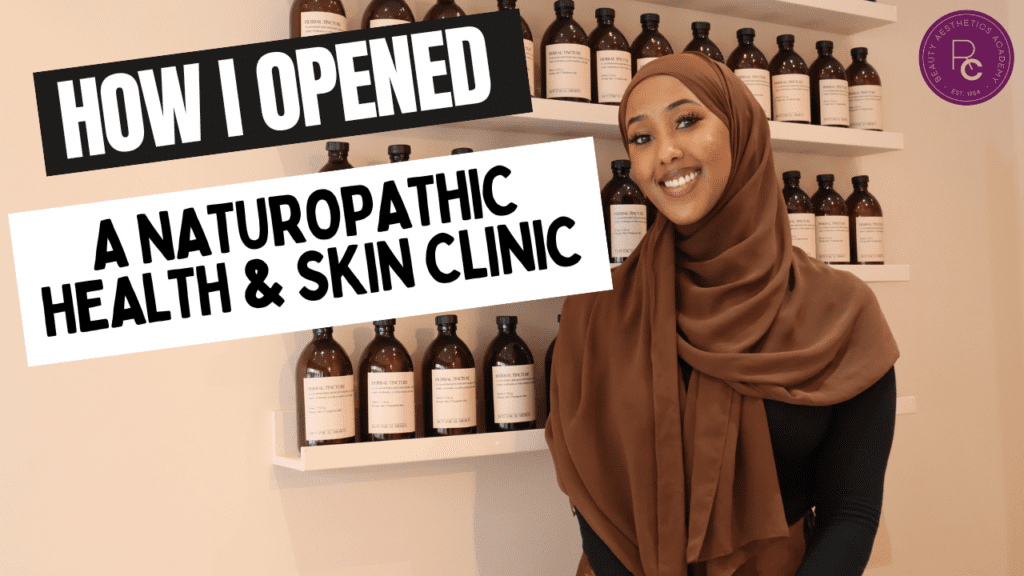 At our Beauty Academy, we take pride in seeing our students succeed and excel in their chosen careers. We are thrilled to share the success story of one of our former students, Hafsa Issa Salwe, who studied our level 2 and 3 Beauty Therapy courses here at Ray Cochrane Aesthetics Academy. Recently, we had the pleasure of interviewing Hafsa and learning about her remarkable journey in the beauty industry.
After graduating from Ray Cochrane Aesthetics Academy in 2021, Hafsa pursued her passion for skincare and became a skin facialist. She now runs a naturopathic health and skin clinic called Botanical Mission in Mornington Crescent, London. Hafsa's co-partner, Nirvana, helps her run the clinic, where they offer bespoke skin treatments and health services, including herbal medicine, to address concerns from the inside out. 
@raycochrane_beautyschool

Our brand new success story with our ex-student Hafsa Salwe and her @Health & Skin Clinic in London is now up on our YouTube Channel and ready to watch! 📹 check out the link in our bio 👆 please support our channel by subscribing 💜
About Botanical Mission 
At Botanical Mission, Hafsa provides a holistic approach to skincare by focusing on natural and holistic methods, taking a 360-degree approach. Her clinic offers personalized skincare solutions and health services that cater to each client! Working with a naturopath practitioner and a medical herbalist Nirvana, they can provide lifestyle support to balance hormones and skin treatments at the clinic. For instance, someone with acne stemming from a hormonal issue would receive both types of treatment to address the underlying issue and the skin concerns. 
 Botanical Mission's unique approach to skin health and overall wellness is a testament to the power of holistic care. Treating the root cause of skin concerns can help clients achieve clear, healthy skin while improving their overall health and well-being. If you're looking for a comprehensive skin care approach, check out Botanical Mission and see how Hafsa and Nirvana can help you achieve your skin and health goals.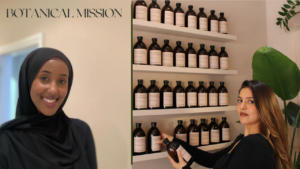 Meet Nirvana Safa
If you're on the hunt for a truly holistic approach to beauty, look no further than Nirvana, a medical herbalist with 12 years of experience in the industry. After working as a facialist for high-end brands in London's top department stores, Nirvana realized that the industry tended to focus on superficial solutions rather than addressing underlying issues. This inspired her to deepen her knowledge by studying at the College of Naturopathic Medicine, where she became a medical herbalist after six years of study and 500 clinical hours.
Now, Nirvana works closely with her clients to combine beauty with herbal medicine, providing a truly personalized approach to skincare. By addressing the root causes of skin concerns from the inside out, Nirvana's clients achieve better results than they ever thought possible. In addition to her one-on-one practice, Nirvana also consults for supplement brands, sharing her expertise to help create products that work. So if you're ready to take your beauty routine to the next level and achieve truly radiant skin, consider working with Nirvana. With her years of experience and dedication to a holistic approach, she's sure to help you look and feel your best.
Meet Hafsa Issa-Salwe
If you're looking for a facialist who truly understands the transformative power of skincare, look no further than Hafsa. With over a decade of experience in the beauty industry, Hafsa has worked as a beauty blogger, marketing executive, and now, as a dedicated facialist. Her journey began when she won awards for her influential beauty blog, which was featured in major publications like Cosmopolitan, BBC Radio 4, and Marie Claire.
Hafsa's passion for beauty led her to work in marketing for some of the world's most renowned beauty brands, driving global campaigns and launches. However, the high-stress nature of the industry eventually led Hafsa to seek something more fulfilling and rewarding. That's when she discovered her true calling as a facialist.
Having experienced the emotional toll of dealing with acne caused by PCOS, Hafsa is committed to helping others look and feel their best. For Hafsa, skincare is more than just a surface-level concern—it's a way to boost confidence and self-esteem. And as if that wasn't enough, Hafsa also hosts the beauty and wellness podcast, Mind Pretty Soul, where she speaks to experts and enthusiasts about all things beauty and wellness. If you're ready to experience the transformative power of great skincare, Hafsa is the facialist for you. With her wealth of experience and passion for helping others, she's sure to leave you feeling confident, radiant, and beautiful.
Hafsa's success story is a testament to the quality of education and training that we provide at our beauty therapy institute. We are proud to have played a part in her journey and are thrilled to see her thriving in her own clinic. Hafsa's dedication, passion, and entrepreneurial spirit serve as an inspiration to our current and future students, showcasing the potential of a career in the beauty therapy industry. 
To celebrate Hafsa's success and showcase her journey from being our student to becoming a successful entrepreneur, we have created a Youtube Video which is available to watch below. The video also provides full details about Botanical Mission and the services they offer. We encourage you to watch the video to learn more about Hafsa's inspiring story. 
 Please follow us on social media platforms such as Instagram, LinkedIn, Facebook and Tik Tok to stay updated on our school's news and events. We are dedicated to providing our students with the best education and opportunities to succeed in the beauty industry.