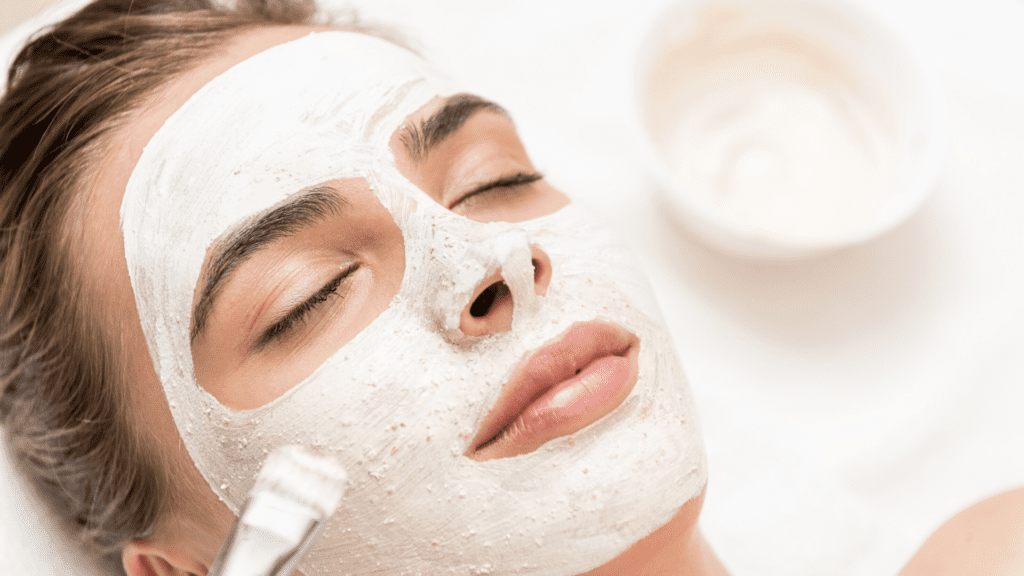 Are you interested in working as a qualified facialist? Want to offer your clients skin-changing treatments? Providing helpful skincare advice to clients that can only come with training?
If you are looking for a course in London to become a facialist, then you are in the right place. 
Our Level 2 Facial & Skin Care course is the course for you! The immersive course is perfect for starting you on your facialist journey. 
What does a facialist do?

A facialist is responsible for providing non-surgical skincare treatments to 
their client that rejuvenates the skin to boost their health and improve their facial appearance. 
At the beginning of each treatment, the facialist will examine and analyse the client's skin using a magnifying lamp and visor. The examination helps the facialist can see the client's problem areas. 
A facial treatment can include:
Cleansing

Exfoliating

Massages

Masks  

Peels 

Client aftercare – skincare education to help them have a good skincare regime and use SPF frequently to protect their skin
How to Become a Qualified Facialist?
You've decided that you are interested in turning your facial and skincare interests into a career. Well, you've come to the right place. Here at Ray Cochrane, we are the leaders in beauty and aesthetic career advice, with nearly 60 years of experience in the sector. Below we've compiled a step-by-step guide for those interested in becoming a qualified facialist.
Step 1: Choose an accredited facial training course
Step 2: Pick the best beauty academy to complete your facialist training
Step 3: Work in the beauty industry and gain experience
Step 4: Always deliver the best service possible
Step 1: Choose an accredited facial training course
The best facial course for those looking to start their facialist career is our  Level 2 Facial and Skin Care Course, accredited by the VTCT. The Vocational Training Charitable Trust is a leading awarding body. With your VTCT qualification, you will be acknowledged worldwide as a qualified facialist. 
On the course, you will learn everything needed to perform the best facials on clients in your professional beauty career. In addition, the qualification will help develop your skillset for the beauty industry! You can then successfully work in a salon or run your own freelance business when completed.
What will you learn in the facialist course
:
Theory of the skin

Skin Analysis

Cleansing, balancing, toning & moisturising

Steaming, Extraction, and Full Facial Massage

Selecting, mixing, and applying tailor-made face masques

The entire facial massage routine

The theory in this module involves the anatomy & physiology of the upper torso, including the muscles, bones, blood, and nerve supply

Client counselling/consultation techniques

Facial Massage and Skincare

Health, Safety, and Hygiene 
One of the fundamental units in the course is client care and consultation. Working in a professional salon and dealing with clients, you must know how to interact correctly to build a good rapport. 
The Level 2 facial and skin care is the ideal short beauty course for you if you want to change careers and gain an accredited beauty qualification. 
Entry requirement to enrol on the facialist course
:
Be at least 18 years old.

Have a good understanding and knowledge of the English Language

Basic education
Prior knowledge of the beauty industry is optional, as we will teach you everything you need to know!
Step 2: Pick the best beauty academy to complete your facialist training
The Ray Cochrane Beauty Aesthetics Academy is the place to be! Established in 1954, we are one of the longest-running beauty schools in the UK. The beauty courses taught at Ray Cochrane are the finest in London. We provide unique teaching and practising methods that enable students to complete the facialist course in just 6/7 weeks. During these couple of weeks, you will only need to attend classes one day a week. In addition, our part-time course ensures you can incorporate your other responsibilities and advance your career. 
We strongly believe in intimate classes where students can get more individual contact time with tutors, so class sizes are limited to 12 people. Smaller class sizes ensure the instructor corrects learners on any mistakes they might make and have their questions answered immediately. The tutors that work with Ray Cochrane are hands down the best in their respective industries, all with over ten years of experience in beauty and aesthetic treatments. Not only are they excellent tutors, but they are also practising beauty and aesthetic practitioners still performing treatments. Our students won't be learning outdated techniques, products or treatments as the tutors work hard to curate a proper course structure with modern therapies.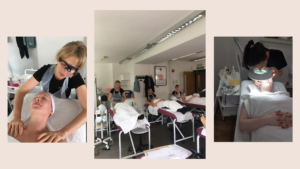 Step 3: Work in the beauty industry and gain experience
After six weeks on the Level 2 facials and skin care course, you are a fully qualified facialist, ready to start working. We highly recommend all our students start looking for jobs within their last two weeks of training to ensure they have something lined up before graduating. 
At Ray Cochrane, we offer a CV checker service for our students and alums to help with their job search. Another employability service at our training centre is our exclusive job board. In addition, the Ray Cochrane Academy hosts a job board with the latest jobs, traineeships, events and volunteer work available only to our students/graduates.
You would be qualified immediately after the course, especially with all the practical training completed. However, you will still need to gain more realistic experience with various clients and skin concerns. For example, clients can come in with dry, oily, combination, mature, acne-prone and many more skin types. You should have the knowledge to treat these properly, which will only come with experience and time. So simply put, the sooner you start working, the sooner you get experience and build your skills. 
Step 4: Always deliver the best service possible
Anyone who's ever received a beauty, aesthetic or hair treatment will understand that professionals in this field are responsible for making clients feel relaxed and ultimately leave feeling good. As a facialist, your responsibilities to your clients are no different.
From the time they reach out to you to enquire about your services to any other aftercare questions that might come up, you need to give them the best customer service experience. Excellent customer service will also put you ahead in the industry and help you stand out from competitors. 
Clients want a reliable facialist who always gives them the same high-quality service regardless of the day or time. Delivering consistent treatments will help build a loyal clientele who will keep you booked and busy. Remember always to treat your clients how you would want to be treated!
Choosing Ray Cochrane for the facialist course in London?
As mentioned previously, we are one of the longest-running beauty schools in the UK, home to highly-qualified beauty tutors. These tutors are keen to share their facial knowledge and help learners achieve career goals. 
We at Ray Cochrane value our students' time and financial investment in us. Therefore, we offer flexible payment plans to ensure students can focus on their studies. These payment plans will be awarded through a partnership with Omni Capital Retail Finance, allowing you to pay in instalments*.
*This is subject to credit card checks and status. 
The Ray Cochrane Beauty Aesthetic Academy is close to Baker Street tube station. With several well-connected transport links, you can rest assured if you are considering studying here as it is highly accessible. 
Suppose you are ready to start your facialist career. Please get in contact with us today! To enrol on our next intake, please call 0203 856 8886 or email us at email@raycochrane.co.uk.
You can reach out to us via the enquiry form on the right, and a member of the course enrollment team will be in touch as soon as possible. 
What do our past students have to say
We can keep telling you why Ray Cochrane is the best school for you; however, we'd rather you hear from alumni.
In the years we have been running, we've seen many students come and go. Going on to open their own salons, work from home or even move abroad!

FAQ's
1. How can I become a qualified facialist in the UK?
To become a qualified facialist in the UK, you need to follow a structured path. This includes choosing an accredited facial training course, selecting a reputable beauty academy for training, gaining experience in the beauty industry, and consistently delivering high-quality services to clients.
2. What kind of treatments and skincare advice do facialists provide to their clients?
Facialists offer a range of skincare treatments, including cleansing, exfoliating, massages, masks, and peels. They also provide skincare advice tailored to each client's needs, helping them establish effective skincare regimens.
3. How long does it take to complete the Level 2 Facial & Skin Care course at Ray Cochrane Academy?
The Level 2 Facial & Skin Care course at Ray Cochrane Academy can be completed in just 6 weeks. This immersive course structure enables students to attend classes only one day a week, accommodating other responsibilities.
4. What role does the facialist's expertise in skin analysis play in delivering effective treatments?
A facialist's expertise in skin analysis is crucial for identifying clients' specific skin conditions and concerns. This analysis guides the selection of appropriate treatments and products, ensuring tailored solutions that address individual needs and deliver optimal results.
5. What career opportunities await individuals after completing the Level 2 Facial & Skin Care course?
After completing the Level 2 course, graduates can explore exciting career paths in salons, spas, wellness centers, dermatology clinics, or even start their own facialist business. This qualification opens doors to various opportunities in the beauty and skincare industry.