Are you interested to study laser hair removal training as a beginner?
Thinking of becoming a laser hair removal therapist? Expanding your beauty therapy skillset with a modern contemporary treatment?
Considering Studying The NVQ Level 4 Certificate in Laser and IPL at Ray Cochrane Beauty School?
Now is the best time as new regulations have risen, for the clients' safety, creating a seemingly prominent barrier to becoming a Laser Hair Removal Therapist. But what do you need to do and learn to become a practising Laser Hair Removal Technician?
Let Ray Cochrane Beauty School's managing director, Xubin Yuan break down everything that matters to you! Xubin has over ten years of experience in the aesthetic laser industry. He started as the co-founder of Premier Laser and Skin, an award-winning laser Clinic Group. Within seven years, he helped open seven branches of the company.
Read on to find out more about Laser Hair Removal Therapy!
There has never been a better time to become a laser therapist than now! The introduction of sophisticated laser machines with the ability to eliminate hair with a precision unseen before. Laser hair removal treatments offer more permanent and long-term solutions for hair removal. Year after year, the machines grow more advanced and are the modern treatment choice for hair removal. Salons realise the potential of Laser Therapy and the need for more qualified Laser Hair Removal Therapists.
Becoming a laser therapist is also a popular career choice, as many advanced treatments are rooted in laser and IPL. These can include tattoo removal, skin/facial treatments, and even cancer cell removal.
If you started studying a Laser and IPL training course now, you would be in a great position;
Starting a popular and rewarding career in its growth period.

The future potential is to see more employment opportunities in many different areas.
In this blog, I will enlighten you on the incredible opportunities of being a Laser Technician in the Beauty industry. Along with a career in Laser hair removal therapy, the new regulations of practice, what & why you need the relevant qualifications.
Laser Hair Removal Therapy: The Career & Regulations
A career in Laser Hair Removal Therapy offers you the chance to:
Increase your wages by over 

£3,000

 if you're already a Beauty therapist.

A starting wage of 

£25,000+

 for a new Laser Hair Removal Technician.

Once you've gained your laser hair removal qualification, you can further your skills in laser therapy.
With such an ever-evolving advanced medical field comes regulations. In London, the clampdown by local councils has begun, ensuring fully qualified Laser Technicians. These skilled laser technicians should have proper accreditations and practical knowledge. 
Councils are ensuring that those operating a legitimate laser hair removal business must have the following:
Special treatment license

Insurance policy
Your local council will issue the special treatment license. Most local councils require the laser technician to have a fully accredited Level 4 Laser and IPL certificate. Technicians should also have a manufacturing training certificate and a core knowledge certificate.
Insurance companies have also updated their policies during the last few years. Nearly all of them now require laser therapists to have the following credentials:
The fully accredited 

Level 3 Beauty Therapy diploma

. The course should include both facial and body electrical treatments in its learnings. 

The level 3 massage or anatomy qualifications are not adequate.

Fully accredited 

Level 3 Facial Electrotherapy Certificate

* – Not to be mistaken, with a Level 3 facial electrotherapy unit that some schools offer. Those qualifications are a standard unit taken from the level 3 beauty course outline. They do not cover any theory or A&P knowledge and are not acknowledged. The course covers five units: 

Provide Facial Electrotherapy treatments, Apply microdermabrasion, Dermatology and microbiology, Client care and communication in beauty-related industries, and monitor and maintain health and safety practices in the salon.

A fully accredited 

Level 4 Laser and IPL Certificate

 in hair removal and skin rejuvenation.
Please note that all these qualifications are OFQUAL regulated to meet these insurance guidelines. To enrol directly on the Level 4 Laser & IPL, you must hold OFQUAL regulated certificates in the correct Level 2 & 3 subjects.
* Some insurance companies may accept a Level 3 Facial Electrotherapy certificate in place of Level 3 Beauty Therapy. The decision is at the discretion of the insurance company, though. To find out more about insurance for laser hair removal, check out our blog post answering all the questions about laser insurance. You can only get insured as a Laser Hair Removal Technician with the abovementioned qualifications. Many employers will not even hire you in the area of Laser Hair Removal Therapy.
Worry not, though; these regulations are there with good reason!
With more and more accidents happening, the demand for adequately trained Laser Hair Removal Therapists increases. 
If not carried out properly, incidents such as:
The permanent scarring of skin and burns on clients can occur.

Leading to payouts and legal repercussions due to the misuse of the Laser machine. 
These incidents only occur because of untrained salon technicians who still need to undertake the necessary machinery training. 
Just think of any treatment you might have done; you'd want someone to know what they're doing.
So What is the Solution?
Looking for a laser hair removal training provider that can help you become a fully trained laser hair removal technician? Join us!
We are a premier laser and aesthetics training academy in the heart of London. We have experience teaching beauty courses since 1954. So we were operating for over a year longer than other beauty schools, making us one of the best and with good reason.
I have overseen our Laser Hair Removal training course, ensuring students practice using the latest machinery. The same machinery used in salons and the best practice for training. Whilst monitoring students, I can also teach them to avoid the common mistakes I have seen over the years.
 Our tutors are passionate about passing on their valuable experience to students. In addition, these tutors are determined to give high-quality training. Ray Cochrane beauty tutors have over half a decade of experience in Laser Therapy and are CIDESCO-qualified.
Over 800 Laser Therapists have completed their Level 4 Laser & IPL qualification here with us at Ray Cochrane since 2014. These students choose us knowing their qualifications are recognised and fully accredited for insurance purposes.
The training to become an insurable Level 4 Laser Technician requires you to have Level 2 & 3 beauty accreditations. As Level 4 is advanced training, students must know the basics taught with lesser qualifications. 
These include modules on but are not limited to: 
The health of the body  

 Different skin types & conditions

 Anatomy & physiology

 Proper client care.
I know what you're thinking, but don't worry; we have already thought of it. Even when writing this blog, we said the same thing! 
"3 courses to become an insured laser hair removal therapist! It will take ages."
Not with The Ray Cochrane Beauty School. We understand your eagerness to get out there employed and practising. So, paired with our desire to keep teaching something we love, we have come up with a direct route. 
Introducing our 
Routes to become a Laser Technician from Beginner
We have recognised the qualifications needed and created a bespoke fast-track course path! By completing your chosen route, you can reach your goal of becoming an employable and insurable Laser Technician within a suitable time frame. Students can focus on the fast-track route consisting of Level 2 Facials & Skin Care, Level 3 Beauty Therapy and Level 4 Laser & IPL Intensive course, which will have them fully qualified in just 22 weeks. Alternatively, suppose you are interested in all aspects of Beauty and are looking for a comprehensive training plan. In that case, we'd recommend completing your Level 2 Beauty Therapy, Level 3 Beauty Therapy and Level 4 Laser & IPL course, which would take 38 weeks to complete.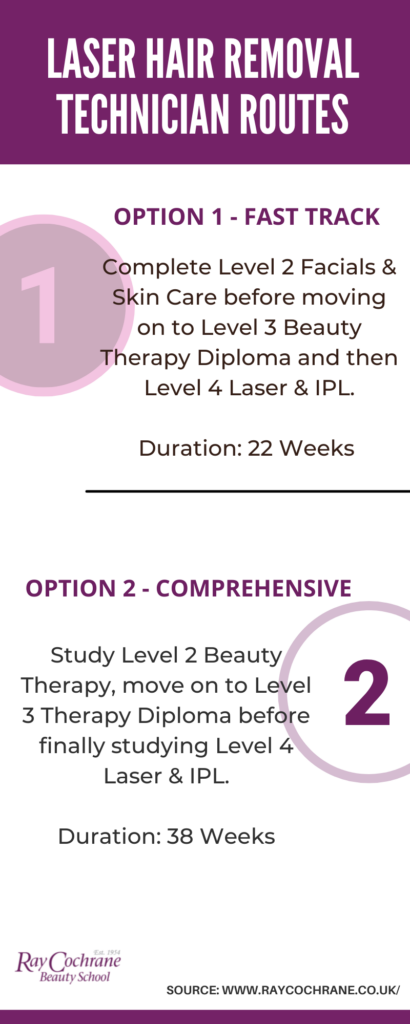 The infographic below was created to outline the recognised qualifications needed to become a practising Laser Technician and the duration they might take you depending on what is suitable.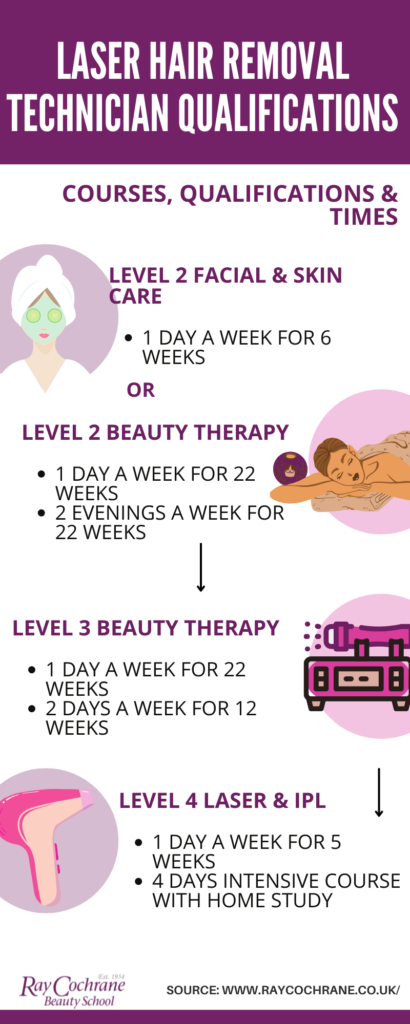 Our courses all run as part-time options, running for 1 – 2 days a week each. Therefore, students must be realistic about how much work they can take on and what their other responsibilities require from them.
Regardless of the amount of free time you have available to study, our experienced enrollment team will be able to work with you to create a route that works for you! Give us a call at 020 7486 6291 or email email@raycochrane.co.uk stating 'Laser and IPL course training route' in the subject line, and someone will get back to you immediately.
Become a Laser Therapist Today with a School that cares. 
Many students are determined to start their journey to becoming Laser Hair Removal Therapists. At Ray Cochrane, we get enquiries from students with no prior experience in the beauty industry who want to become laser technicians and are looking for alternative routes. Unfortunately, there is no other way around this route, and it is the standard expectation of all Laser Therapists to have the per-mentioned qualifications.
There is no need to worry about the length of the journey. On the contrary, the more studying you do, the better you will be! Think of what you'll know and how much more confident you will be as a laser therapist. After all, the whole point in getting these qualifications is for your employers and clients to know they're getting someone with knowledge regarding:
Skin Types

Skin Conditions

Hair Types

Anatomy & Physiology
And in my experience of teaching people how to use Laser Machinery from my previous role, the questions are always "why laser therapy?" and "what does laser do?".
With this knowledge and confidence, your future clients are in able hands. You will also know how to assure them of the benefits and the process.
Ready to start your future?
As the laser industry's innovations and treatments become more advanced and efficient, you will have the knowledge and skill to keep up.
You will also be able to keep up with the theory and the knowledge behind new advancements in the industry. The training will ensure you have the confidence to look forward to working in the industry.
There has never been a better time than now to join the Laser and IPL industry! Combine your future with a future of technology, which promises a rewarding career.
Come study with us here at Ray Cochrane, where we are part of that future—teaching our students the latest technology and the most up-to-date beauty knowledge. A school with modern facilities and small class sizes gives focused attention to every individual. With an unmatched passion for teaching beauty since 1954, we are sure we are the choice for you.
You're probably thinking, of course, we're going to try and say all that, but how about you see what our past student had to say: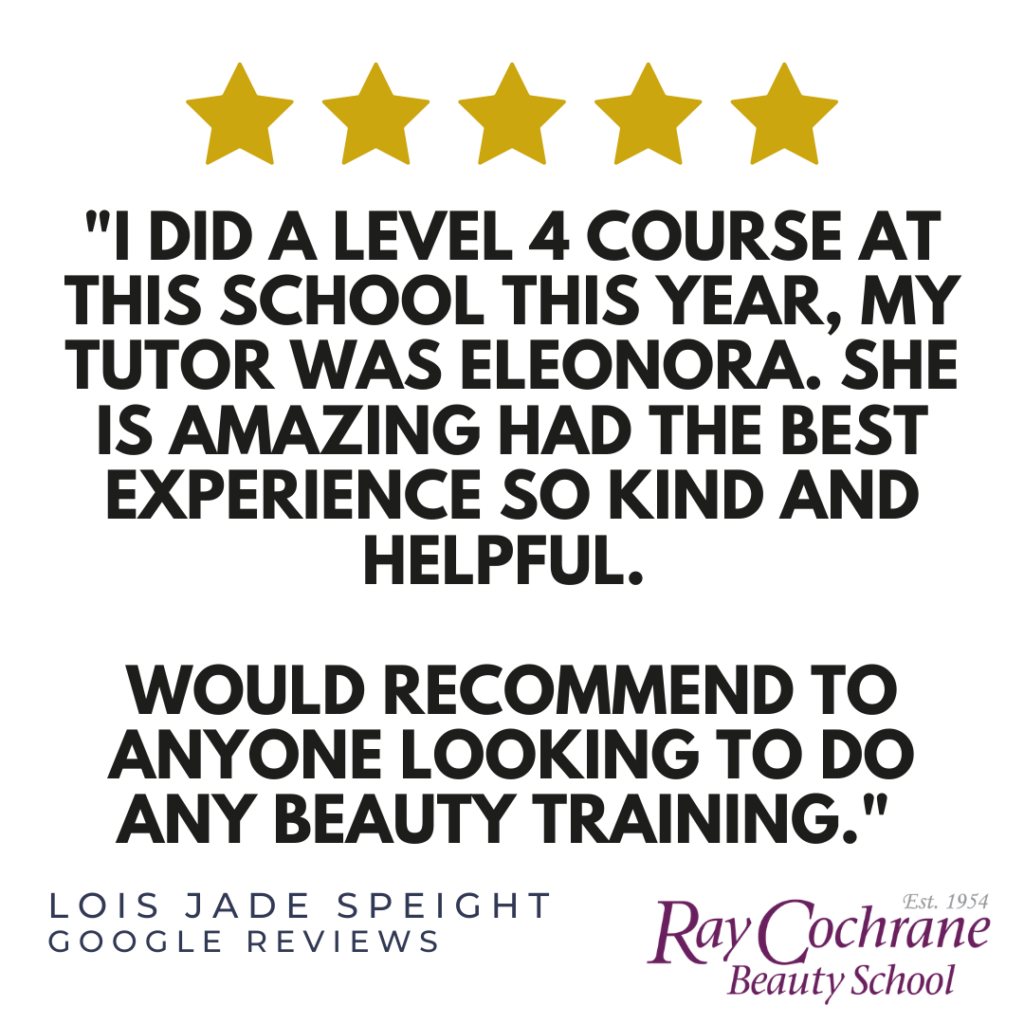 FAQ's
1. What is NVQ Level 4 in laser and light treatments?
The NVQ Level 4 Certificate in Laser and IPL will help you develop all the skills required to perform laser hair removal treatments and skin rejuvenation. Taught to an exceptionally high standard, our tutors are committed to ensuring students are adequately supported with our dedication and professionalism.
 2. What benefits does a career in Laser Hair Removal Therapy offer, both financially and professionally?
A career in Laser Hair Removal Therapy offers the potential for increased earnings, with starting wages for new Laser Hair Removal Technicians ranging from £25,000 and above. Moreover, Laser Therapy is a growing field that provides opportunities for continuous learning, skill enhancement, and specialization in various advanced treatments.