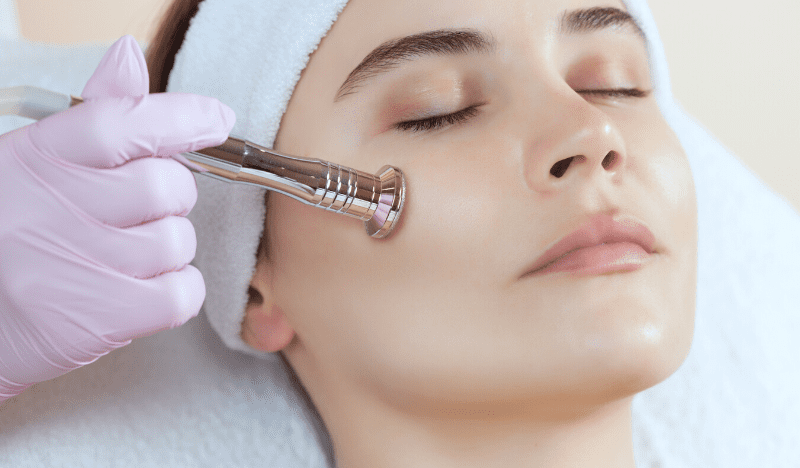 Are you currently working in the facial and skincare industry and looking to add more advanced treatments to your beauty salon? Are you interested in performing advanced facials and want to be the best in the field, or are you looking to gain broader knowledge beyond facial massages and masks? Regardless of your motivations, becoming an advanced facial and skincare specialist is a great way to add more facial treatments to your beauty salon menu to expand your business revenue. 
What makes a facial and skincare specialist?
A facial and skincare specialist provides life-changing skincare for their clients. These treatments go beyond the traditional facial massages, masks, and extraction clients may have received from beauty therapists. In fact, some of the treatments delivered by an advanced facialist will be on par with that of a dermatologist. Apart from cleansing and revitalising facial skincare treatments, they can examine clients' skin and advise them on adequately taking care of their skin to prevent breakouts or flare-ups from existing skin conditions such as rosacea and acne.
One of the reasons an advanced facialist can deliver these evolved treatments is due to the machines that they train to use. Compared to a facialist who only provides manual treatments with their hands, a facial and skincare specialist will incorporate electrical treatments to strengthen their products further. 
How to Become an Advanced Skincare Specialist UK?
Step 1: Understand the skills of an advanced facials and skincare specialist 
Step 2: Study an advanced facial course
Step 3: Choose a respectable beauty training academy 
Step 4: Build your facial business and portfolio
Step 5: Complete further facial aesthetic training – Optional
Step 1: Understand the skills of an advanced facials and skincare specialist
Social media platforms have made us all think we're experts in everything skincare. Whether it's checking out extractions, researching new products, or even just watching facial ASMR videos, there is an increased interest in all things facials. 
Truthfully, the expertise you need to work as a specialist only comes with training. Not the kind of training you can get online but in person with a professional developing your practical and theoretical understanding of facials and skincare. Suppose you already work in the industry with a Level 2 facial and skincare qualification or Level 2 Beauty diploma. You may believe you thoroughly understand the skills needed to be a facial specialist.
However, the Level 2 course trains learners in the basics of facials and skincare. The professional treatments that are in demand by employers and clients alike develop in level 3 training. These professional treatments include microdermabrasion, facial faradic, mechanical lymphatic drainage and galvanic.

What facial treatments differentiate an advanced facialist?
1. Microdermabrasion
Microdermabrasion treatments will see a facial specialist lightly buffing your skin using a minimally abrasive tool. The treatment removes the dead skin cells on the outer layer and is proven to have many benefits. This type of facial rejuvenation is an excellent choice for treating scarring, hyperpigmentation, and large pores. In addition, clients credit microdermabrasion for smoother skin. There are two standard microdermabrasion methods available Crystal Microdermabrasion and Diamond-Tip Microdermabrasion. To read more about microdermabrasion treatments, including how to do microdermabrasion at home, check out our blog post.
2. Facial faradic
Facial faradic is electrical muscle stimulation (EMS), which means that electrical pulses run through the skin, causing the muscles to contract to tighten and tone the skin. It rejuvenates lacklustre skin and increases skin cells to regenerate to create healthier fresher-looking skin. 
3. Mechanical lymphatic drainage
A mechanical lymphatic drainage system balances the blood and lymphatic system. It is also known as vacuum suction treatment.
First, additional products are applied (e.g., a mask peel) to cleansed skin, and then, electronic vacuum suction is used. Gentle and soothing on the skin, it works by stimulating the lymph nodes to naturally detoxify the skin and improve the circulation in the lymphatic system in the body.
4. Galvanic
A galvanic is a facial that drives an electric current to allow water-soluble substances to penetrate the skin. As a result, it improves its absorption and moisture retention, leaving skin plump and healthy. It is also known as a microcurrent facial. Apart from adding moisture to the skin, it unclogs pores and removes sebaceous blockages, resulting in less acne and blemishes. They help to improve the skin's overall condition, and it is a painless, non-surgical way to tighten the skin and achieve the appearance of younger-looking skin.
Once you understand the treatment skills needed to become a facial specialist, you can start looking for the right training course.
Step 2: Study an advanced and recognised facial training course
VTCT Level 3 Facial Electrotherapy is what you need to turn a passion for facials into a thriving full-time career as a facial and skincare specialist.
In the course, you learn the following subjects:
Dermatology and Microbiology

Microdermabrasion

Monitor and maintain health and safety practices in the salon

Skin Consultation and promotion of products/treatments

How to provide Facial Electrotherapy Treatments – Microcurrent, Galvanic, Faradic and Direct High Frequency
The course requirements are that you must be at least 18 years old and have a comprehensive understanding of English. You also need a Level 2 qualification in a relevant topic to complete the training course. If you still need a level 2 qualification, please check out our step-by-step guide to becoming a qualified facialist. 
The VTCT Level 3 Facial electrotherapy course runs part-time at our training academy and requires attendance once a week for eight weeks. However, this may differ depending on where you study. Once completed, learners can work as facial and skincare specialists.
Step 3: Choose a respectable beauty training academy
When learning to become a specialist in any field, you will only be as good as your teacher, so learning from the best is essential. The Ray Cochrane Beauty Aesthetic Academy is one of the longest-running beauty schools in the UK. 
We are highly respected and renowned for the high standard of education we offer our students. This attentive standard is maintained through small classes that allow us to pay attention to every student of ours so they receive full engagement, guidance, and support from staff at our school.
When it comes to staff, we only hire the best of the best who have a vested interest in guiding future beauty and aesthetic industry leaders. Our tutors are specialists in their fields with over ten years of experience and still actively working whilst teaching. Yes, they are still working as nail technicians, facialists and aestheticians, which is excellent for students as they learn first-hand current tips and tricks. All of which will help them succeed when they start their careers. 
Finally, Ray Cochrane is within 3 minutes of walking distance from Baker Street Underground Station and various bus routes serving the area, so accessibility is no problem. 
Step 4: Build your facial business and portfolio
Once qualified, you can start working as a facial and skincare qualification. The first thing you should do when starting work is get insurance for your business that allows you to work with clients. Beauty and aesthetic insurers will only recognise qualifications from nationally recognised bodies such as VTCT and ITEC-NVQ. You're officially ready to deliver advanced facial treatments when you've got your insurance. 
To build your business and portfolio, you need clients. This is where marketing, excellent client care and treatment quality come in. 
For marketing, you can use social media to your advantage by creating business pages, advertising your skills and completing treatments on there for future clients to see. We have several case studies from previous students who have used social media to grow their businesses and become successful entrepreneurs. You can check out our student spotlight page here. 
As for excellent client care and treatment quality, these are learnt through your training course. Hence, the importance of steps 2 and 3 in our step-by-step guide to becoming an advanced facial and skincare specialist.
Step 5: Complete further facial aesthetic training – 
Optional
If you want to further your skincare and facials expert skills, consider studying the Level 4 Combined Chemical Peels and Microneedling Course. These are profitable treatments to have under your belt as the non-invasive cosmetic treatment industry grows. Students will learn to use various chemical acids and microneedling methods to treat clients with dull skin tone, open pores, textured skin, and fine lines. In addition, those enrolled in Ray Cochrane's level 4 aesthetic courses will have access to a live model to complete practical training on. 
Another aesthetic qualification that continues to grow in demand is the Level 4 Certificate in Laser and IPL. The Ray Cochrane Beauty Aesthetics academy is the leading laser training provider in the UK. Students will learn to offer advanced facial rejuvenation treatments via Laser/IPL. The course will teach students how to treat various skin conditions that might be hard to treat without advanced technology. These conditions include wrinkles, fine lines, acne, hyperpigmentation, ageing and sun spots. This advanced qualification will set learners apart and cement their position as advanced skincare specialists. Students can also take advantage of the lucrative laser hair removal industry, which grows yearly. Those undertaking our advanced courses will have access to the most up-to-date equipment and facilities.
All of the advanced facial and skin care courses at Ray Cochrane put students in the best position to gain employment upon completion.
Enrol with us today by sending us an email at admission@raycochrane.co.uk or giving us a phone call at 020 7486 6291 where you will be able to speak to one of our course consultants, who will be more than happy to hear from you and answer any queries you may have.