We are back with another student success story! In today's episode, our newest success story will be 'How to use Tik Tok to grow your business'. We recently interviewed our alumni, Louisa, who studied our Level 2 and 3 Nail Technician course here at Ray Cochrane Beauty Aesthetics Academy. Louisa has successfully opened her home nail salon in Biggin Hill, Bromley as a qualified nail technician after graduating with us in 2020. 
Not only is Louisa a young thriving entrepreneur, but her nail business has also become a booming Tik Tok sensation gaining over 317,000 followers due to many of her videos going viral! Louisa will detail how Tik Tok has helped grow her business and give some of her top social media tips!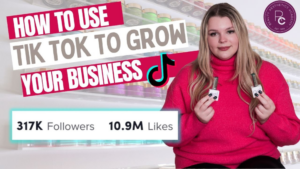 How to start a Career in the Nail and Beauty Industry?
Hi, my name is Louisa! I took the VTCT Level 2 and 3 Nail technician qualification and graduated in 2020 from Ray Cochrane Beauty aesthetics academy right before the 2nd Lockdown approached. My experience at Ray Cochrane was great; I found the course very helpful, and the tutors were highly experienced and knowledgeable! I learnt so much in theory and practical work and found that it was a perfect foundation for any further training needed to kick-start your beauty career as a nail technician.
From a very young age, I was always passionate about Art. But as I grew older and started to get my nails done, I wanted to play around with different colours and designs. So being inspired by many nail designs on Instagram made me realise that this is what I want to pursue! 
In the future, I would love to take an apprentice one day and open up a salon! However, I'd also love to open an online store where I can start selling nail products. 
 Choosing to open a Home Nail Salon vs a High Street Salon
After graduating from Ray Cochrane, we entered the second Lockdown. During this time, I was able to start a press-on nail business where I could ship my nails anywhere in the world! It was a great opportunity as it allowed me to make an income and the perk of having a press-on nail business was that it was not home-based, and I could travel anywhere. This time also gave me a chance to get all the practice I needed after finishing the course, putting all my skills to the test because this is something you can never get enough exercise in. It also gave me time to set up my home salon and thoroughly prepared me for taking clients when the Lockdown lifted. 
I started my nail salon business by investing in a lot of high-quality products that I've done a lot of research on. I also knew I wanted to work from home and was fortunate enough to have this space, so I renovated my room with all the necessary furniture and salon equipment.
Louisa's Nail Art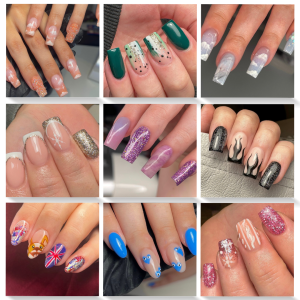 IG: naill.luu | Tik Tok: nail.luu
How to start your Nail Business using Social Media
Social media is the most crucial thing for my business. Running a home salon would mean I don't have the luxury of being on the high street and having many people walk past and know I'm here. People wouldn't know if it wasn't for my posts on social media, which is why it is vital to marketise your business! I use Facebook, Instagram, Tik Tok and, most importantly, Google to advertise my business. 
When using Tik Tok the most crucial thing to understand is the algorithm and how it works. I've discovered that it depends on the watch time, people stopping and scrolling, likes, comments, pausing on your video or your video being shared with their friends. So you need to create content that can tick all those boxes!
How to grow followers on TikTok?
During Lockdown, I used a practice hand to do nails on, and I created and posted many Tik Tok videos to record this process. People thought it was an actual hand and commented on how creepy and funny it looked, sending it to all of their friends! I got 16 million views and 2 million likes from this video alone. Although this wasn't necessarily promoting my business, it drove a considerable amount of traffic to my page and Instagram, where they can find my business, and I got a lot of clients from that video.
Overall I gained 100,000 followers in the space of a week. The week after, I hit 200,000 after I had more viral videos, and then it grew to 300,000 followers.  
Tips for growing your Nail Business with Tik Tok:
1) Hashtags 
They are essential to use in your videos for clients' research. I now use Tik Tok instead of google to search what places to visit, where to eat, day outs, and where to get a beauty treatment done. I can see someone else's experience using Tik Tok, which is better than reading a review online. For example, when someone searches 'nails in Biggin Hill' or 'nails in Bromey', my videos would come up on their search because I've used those specific hashtags in my video, which increases your exposure.
2) Facebook community groups
If you're looking for a more regional base in your town area, remember to use them to promote your business, they are a gold mine and very beneficial.
3) Trending sounds
The use of trending sounds is crucial as you can gain a lot of likes and exposure from using a sound that is currently on trend. If you use a sound that isn't popular or no one has heard of it, it won't show up on people's pages. Depending on what Tik Tok sounds you press like on, Tik Tok will take that into account and videos with that sound will appear on your feed.
4) Creator fund
You can make money from Tik Tok through your monetised channel, called the 'creator fund', and if you hit the specific requirements of 10,000 followers and 100,000 views in the last 30 days, you will be eligible to join the creator fund. After that, you get paid for any viral video you create, and you get a certain amount of money per view.
5) Paid partnerships
This is another way to make money through Tik Tok, where brands will reach out to you wanting you to work with their products, and you can get a paid partnership deal through promoting their products!
6) Keep consistent
This is vital with Social media. You should post at least once daily and make your online presence known. For example, when I gained a lot of followers, I posted 1 -3 times a day, around 7 – 21 videos a week, which is a lot, but one a day is excellent to start with! 
2023 Nail Trends
This year I've found that many people have converted to 'Builder in a Bottle'. I use the 'Gel bottle' as it's excellent on natural nails and promotes nail growth. I've got amazing transformations where clients have grown their natural nails long from BIAB, and people thought they had acrylics. 
In my opinion, I'd say that Acrylics this year are less popular than BIAB. I'd get asked to do acrylics on occasion. However, the majority of my regular clients request BIAB. My favourite brand for Gels and BIAB would be the 'Gel Bottle' because they're vegan, cruelty-free, and have a fantastic colour range to choose from! For Acrylics, I love to use Glitters Bells. 
Thank you so much for taking the time to read my story. I hope I have inspired you to start your nail business and to take Tik Tok seriously. Social media can be difficult at first, but it just takes a bit of time and practice and will reward your business massively!
Check out our Video interview with Louisa! Please support and subscribe to our Youtube Channel. We have many exciting videos coming soon!