We're back again with another student success story, and this time we're talking with alumni of our Level 4 Microblading course. Ushna Esbhani is now a successful freelance microblading artist running her own microblading business, travelling the globe, sharing her skill and inspiring confidence in her clients. 
Ushna is also Pakistan's no1 celebrity semi-permanent makeup artist. As a newcomer, she's been shortlisted for the PMU awards. It's safe to say that she's thriving as a Mircoblading! We're grateful she's taken the time to give aspiring Microblading artists/entrepreneurs an insight into her journey.
Check out Ushna's Business, Brows by Ushna Esbhani with over 55k followers on Instagram, she's taking the microblading industry by storm. 
Starting a Microblading Business.
I remember being in Dubai in 2016, I went to this salon and was blown away by the number of brow treatment options available. Women there invest so much into their appearance, especially when it comes to semi-permanent makeup. Who doesn't want to look great, even first thing in the morning?  
I saw how much effort and energy they put into their brows and realised many of us do our brows wrong. I don't mean wrong in the methods of our brow maintenance, such as choosing between plucking, waxing or threading. But wrong, in the sense that most people treat their eyebrows as an afterthought rather than a shaping facial feature. There is a science behind our brows, believe it or not. Specific brow shapes suit different face shapes, and different colours look better on certain skin tones. 
Whilst in Dubai, I got my brows microbladed, and I was in love with my results. For me, it was worth it! I looked and felt good. It made my life so much easier, I could get up in the morning and go without feeling the need to put makeup on. Not having to put makeup on in the mornings saved me so much time. My facial symmetry just looked better. It was a feeling I wanted to share with everyone and spread the word about microblading. At that moment, I saw the potential of opening a microblading business. To some people, it's just brows, but with good brows, you look more youthful, symmetrical and more put together.
Training at a Private Beauty School to Complete Level 4 Microblading Certificate
Before I started my course, I'd done my research on what it took to become a microblading artist. I actually stumbled upon Ray Cochrane's blog on becoming a certified microblading artist. So, I mapped out my career journey and was determined to stick to it. I wanted a course that was thorough with plenty of hands-on practice. That was why I chose Ray Cochrane. Their Microblading course wasn't a 1 or 2-day course, it was 7 weeks of in-depth training. The deciding factor for me was the small class sizes, that way I would have 1-on-1 time with my tutors.
The small class sizes were so necessary! If you want to become a microblading artist and run your business successfully, you need that attention from your tutor. At Ray Cochrane, our tutor ensured our technique was perfect. There was no room for mistakes as they observed us, which wouldn't have been possible with a large class.
We also practised on real-life models, and there is something about putting semi-permanent makeup on someone's face. You don't want to mess up, otherwise, the model is walking around for 6 months with funny eyebrows. 
My tutors were so positive, always complimenting me but were also very honest about where I could improve. One of my tutors at Ray Cochrane told me, "Ushna, you were made for this." Honestly, I never looked back since then. Hearing my experienced and talented tutors telling me I was talented cemented my willpower to work in this industry.


The Satisfaction of working in my dream career as a Mircoblading Artist.
Working as a microblading artist and running my global microblading business has completely changed my life. It sounds like an exaggeration, but it isn't. Before starting this journey, I worked in an office for 5 years. I didn't hate my job, and I learned a lot about marketing from my previous experience. However, switching to a beauty career was something I'd always wanted to do.
I've always had a passion for fashion and beauty, and now to be successful working in the industry is a dream come true. My career as a Microblading artist makes me feel as if I'm in the right place, I'm passionate about my job. 
At the end of the day, your work is where you spend most of the day. What's the point of hating what you do all day, then going home and thinking about your bad day and how you have to do it again tomorrow. I recognise I am fortunate to do what makes me happy, especially from a financial standpoint. 
Microblading has Transformed my Clients' Lives.
Expanding on the fulfilment I gain from my career, I'd say I also bring a level of satisfaction to my clients. I've had clients who will genuinely cry after their appointments, tears of joy. Some of my clients have auto-immune diseases or are undergoing chemotherapy. These clients are self-conscious about not having hair on their faces.
They walk in with the mentality that it probably won't make much difference to their face, but when I finish and they see the results. My clients are always shocked at how natural they are, they are in awe of themselves and their beauty.
Seeing that look on their faces is my motivation to do better, to give my clients the best brows for them. I often get thank you flowers and gifts from clients months after their appointment, and it just shows that it made such a difference to their lives that they are still thinking of you.
For many people, beauty and aesthetic treatments are a superficial and wasteful extravagance. However, these treatments make a difference to those who need and want them. It's like having your biggest insecurity fixed and now able to walk around with your shoulders puffed out and a spring in your step. As a microblading artist, if I can help one client become more confident, then I'm doing the right job.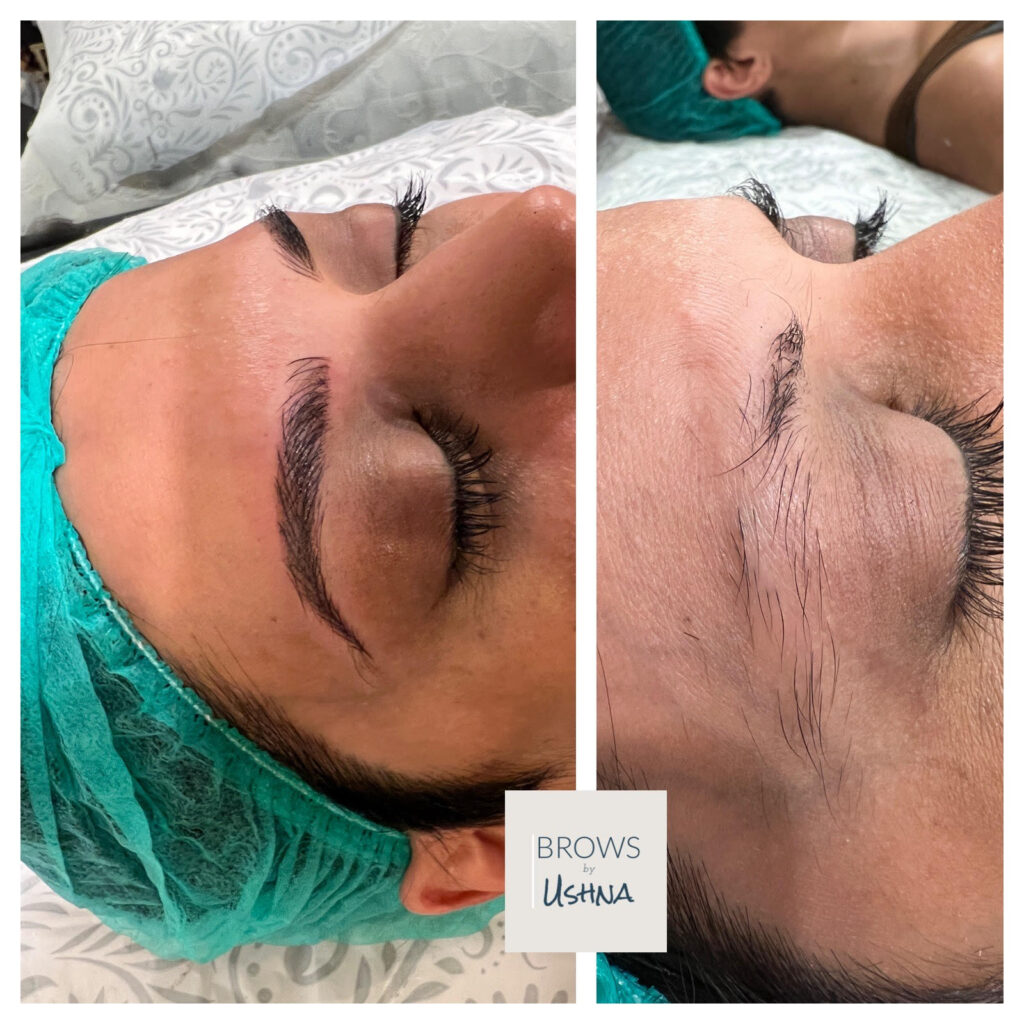 Travelling the Globe with my Microblading Business.
So the way my business model works as a freelance microblading artist, I partner up with the best salons and spas globally. Most of the time, I travel between Pakistan, Dubai and London. I have salons that I will work at whilst I am in those countries. London is where my career started before I decided I wanted to take the quality of my work to my home country in Pakistan, and then I expanded to Dubai. As a freelancer, I have a very flexible lifestyle that I wouldn't trade for the world. I enjoy travelling, and doing so with my work makes it even better.
How I became a Microblading Artist that works with Celebrities
From the beginning of my career till now, I've always put quality first. I am always practising when I'm not working. I won't touch a client's brows until I've warmed my hands up on the maps. Quality is what sets me apart from the competition. 
Gaining popularity starts with the first client, they go out, they're a walking advertisement for your work. You never know what doors your clients will open for you, which is why all my clients get the best version of my work. My clients would be so happy with their brows, they'd share it on social media, leave honest reviews and it just spread. 
Social media gets the most credit for my current success to an extent. Previously, everyone got their information from the TV, now all the media we consume is on social. To be able to put my work out there accurately, I don't edit my pictures. The pictures found on my Instagram look like the brows in real life, there are no filters. It's hard not editing my pictures, especially when everyone loves that clean aesthetic. But this is real life, and people have pores and blemishes. I want to be honest with my potential clients, so they know what to expect when having their brows done with me.
Related: All Your Microblading Questions Answered!
Advice for those Who want to Start their Microblading Business
Believe in yourself, get the best training, and practice makes perfect. 
As a microblading artist, your clients trust you with a large part of their face, and they deserve the best work from you. If you feel like you wouldn't be able to produce the best brows for someone, it is better, to be honest, and say so. 
Finally, take advantage of social media. Your work is all the advertisement you need. Your future clients are scrolling on their phones now, and even if your post reaches 1 new client, it's better than if you hadn't put it out there at all. 
= = =
So, based on Ushna's tips and experience, here are 6 simple steps to start your microblading business:
Step 1: Be Passionate about Microblading and Brows
Step 2: Research the training needed to become a Microblading Artist
Step 3: Find a Microblading Training centre and complete the certification
Step 4: Start your Microblading business (you can go freelance or in a salon)
Step 5: Market your business using social media and client word of mouth
Step 6: Practice, practice and more practice
If you would like to, you can also watch Ushna's Interview here: