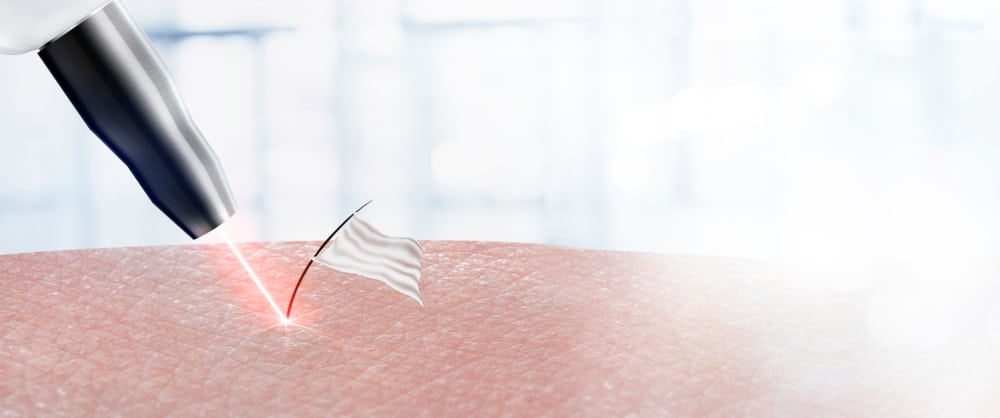 Why study a Laser Hair Removal course?
Laser therapy is a modern form of treatment which allows for a fine sophisticated number of treatments and benefits. Laser therapy is a form of precisely removing skin hair follicles with concentrated beams of light on a much longer and permanent basis. Other uses of laser are for removal of Irregularities on the skin including acne, facial wrinkles and blemishes.
Looking further on from outside the field of beauty it has been researched for a number of other areas. Such as applications for the muscle skeletal system, mouth, hair loss and veterinary with research continuing into this new method.
But we're a beauty school! so let's keep on track here, with laser focus (couldn't resist, sorry). Laser in beauty is a quietly advancing method with a multi functional purpose. Methods of hair removal such as waxing, epilator & shaving while still popular, are becoming obsolete for a number of reasons. These being cost and time with one session of laser hair removal being a mostly permanent long term solution instead of other methods.
Why study the Laser Therapy Course at Ray Cochrane?
Location:
Here at the London, Baker Street based Ray Cochrane Beauty school, we want to give our students the knowledge to be able to understand and use Laser therapy with confidence and best practice. Open since 1954, we are one of longest established private beauty school in the UK.
What you will learn:
Ray Cochrane Beauty School teaches a VTCT level 4 laser and IPL course for hair removal and skin rejuvenation. Laser being a much more effective treatment for hair removal with a strong concentrated light that allows the melanin to be targeted in the hair with permanent hair loss results.
Although Laser is the focus of the course we do offer teaching in IPL skin treatment which is a skin rejuvenation technique in combination with laser therapy. Let's look a little bit of both and what the differences in what we teach:
Laser Hair removal concerns a one wave length concentrated on a hair follicle to destroy it (sounds nice and final right?) over time the treatment will diminish the follicle till it no longer grows penetrating under skin layers to get rid of the root of the hair. Although largely successful in terms of permanent removal further treatments can be needed.
IPL is a treatment that is not laser but uses a different technique of low emitting wave lengths (as opposed to Laser which uses one concentrated wavelength) which is good for some skin care and can be used for hair removal too. This is not as effective as Laser for hair removal however so here at Ray Cochrane we use what it's best for which is skin care.
A highly rewarding treatment it offers clients with pre-existing skin irregularities such as blemishes, freckles, sunburn and shallow wrinkles a chance to diminish these irregularities. IPL doesn't just offer the client a chance to improve aesthetically it also gives them the chance to improve their confidence with improvement in facial skin offering wonderful results in some cases.
Latest cutting edge technology:
What makes Ray Cochrane so unique is our cutting edge technology with a view to keeping it modern and cutting edge. As with any technology the progression of the effectiveness of these machines continues to get better and more refined.
Safe assured Ray Cochrane have the most up to date technology with our machines the most commonly used in salons. In essence as an ever evolving technology it really is the technology of tomorrow in terms of beauty. Some of our technologies include the Soprano Ice Platinum, an industry gold standard Laser used in Laser Therapy in medical aesthetic clinics. What this does is give our students hands on experience with what they will be using in salons or their own business in future. In many other beauty schools this isn't the case with old machinery and along with that, old practices which will not arm you properly with what you need to become a modern Laser Therapist.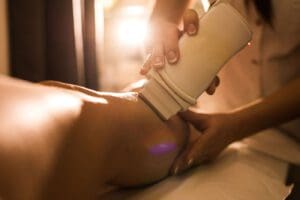 Who will be teaching you?
Our tutors who have a wealth of experience in laser and have produced many Laser therapists over the years. Both of our laser tutors, Mrs Karina Podbielska and Ms Eleonora Androva, have many years experience in laser hair removal, laser tattoo removal and IPL skin rejuvenation treatments with Premier Laser Clinic Group, an award-winning London based laser/skin clinics chain. Apart from teaching laser, they are also offering laser treatments to public from the skin clinic inside our school.
Best Practice
As present practicing Laser therapists the qualification isn't just an option it is a must, with new regulations coming into place effective of 2018. Our tutor Eleonora explains below why:
"The regulatory body states that all therapists wishing to carry out laser or IPL treatments must have the Level 4 qualification by 2018. This will be a mandatory requirement by 2018-2019.
Due to the number of cases from laser burns, most reputable and reliable insurance companies are insisting that a laser therapist must have this qualification. Also, most boroughs in London along with a number of boroughs outside of London are now regulating Laser and Skin clinics, ensuring all users of Laser machines have a level 4 qualification"
Laser treatment in itself is not without risk as we can see with the clamping down due to laser burns. Such risks include burning the client or causing irreversible damage to the surrounding skin. The Laser hair removal and IPL skin rejuvenation training course here at Ray Cochrane Beauty school addresses these issues with it's own health and safety provided for best practice.
Full Recognised High Standard Qualification:
The qualification that you will receive from Ray Cochrane Beauty School is of a very high standard and one that will see you able to apply/seek immediate employment. As are all of our courses here as we know the importance of having a qualification that is strong in terms of what you learn and what it can bring to you in the future.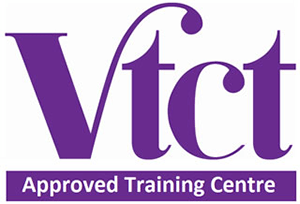 The qualification you will receive is a VTCT NVQ Level 4 qualification. This qualification allows you to work anywhere in the UK as well as a number of other international countries particularly in Europe. VTCT is an established body that is recognised by the NVQ (National Vocational Qualification) making it a nationally well recognised trusted qualification. As the NVQ qualification means that it is recognised as a certification to demonstrate you have met a national standard for an occupational role.
Who does the course, Wage Expectation & What after?
Ray Cochrane Beauty School students who complete the Level 4 Laser Therapy course are either new students with no previous experience or practicing beauty therapists who are looking to add to their skill set.
Those who are solely looking to be beauty therapists can expect a wage of £17,000-£18,000 while those who are looking to add Laser Therapy to their skills can look at a pay increase of £4,000-£5,000.
Employment opportunities are rife with prospective employers enquiring about upcoming graduating Laser Therapists here at Ray Cochrane. As mentioned earlier further study into more advance laser removal techniques are available to those as well such as tattoo removal. Overall in beauty the trend is towards permanent hair removal with many now beginning to realise this as an overall cheaper more effective route. Instead of shaving and waxing forever more.
Without going on too much longer we leave it to some of our previous students, to explain why studying with Ray Cochrane Beauty School is the distinct difference in getting the edge in learning laser therapy: