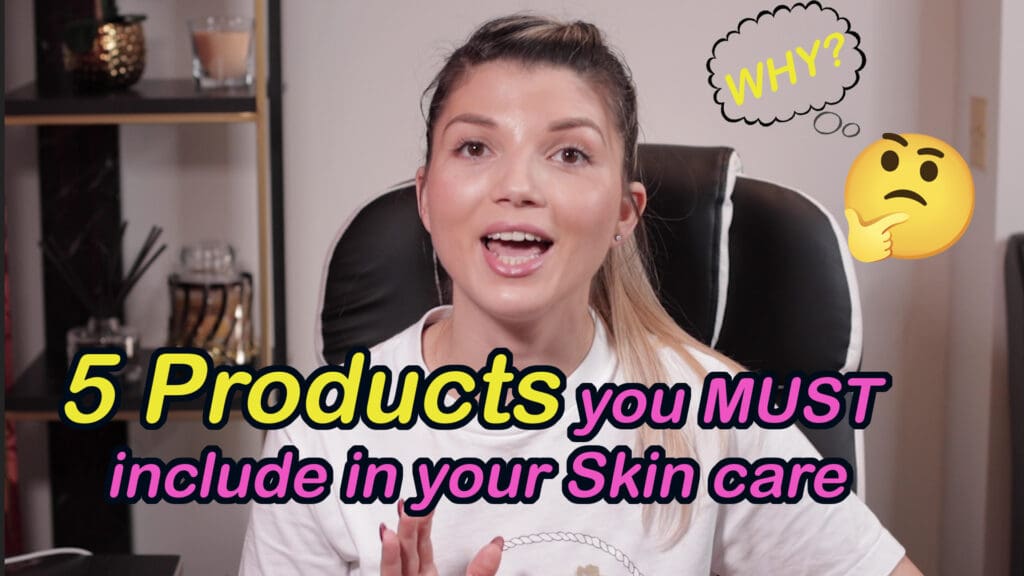 We've all acknowledged by now that lockdown skin is a real thing and are looking for some lockdown skincare tips! Maybe it's down to the lack of fresh air, wearing a mask or lack of exercise. We are all trying to look after our skin during lockdown!
In today's blog, Ms Eleonora Androva sits down to impart her beauty wisdom with us. Ms Androva is our education director responsible for developing various advanced aesthetic courses such as level 4 laser skin course. In the meantime, she is offering her expertise as the owner of the Dermacure Clinic, a boutique Skin and Laser clinic attached in Ray Cochrane Beauty School specialising in result-driven aesthetic treatments such as Cosmelan Depigmentation peel, and world-renowned Harmoly laser skin treatments for acne scarring, hyperpigmentation and skin tightening.
Listing 5 products that she thinks we all need to incorporate into our skincare. These products are sure to make it easier to look after our skin during the lockdown.
So without further ado, let's get started on those recommendations!

1) Face Cleanser
Cleansers are a skincare staple and, you should find the right face cleanser for your skin type.
For example: 
People with oily skin should use cleansers that will tackle sebum build-up without drying out the skin. 
Those with dry skin should use cleansers that will hydrate and nourish their skin.
In today's environment, the air is not very clean, with pollution and bacterias in the air. There are also a lot of free radicals in the air which cause ageing, irritation and acne. Washing your face twice a day with a suitable face cleanser will ensure you keep your skin clean. 
Tip for those of you that wear makeup! A face cleanser doesn't replace a makeup remover which you should use first. 
2) Face Scrub/Exfoliator
In my opinion, one of the most important products and one of my favourite skincare products! There is a lot of controversy over them and that they aggravate the skin. This is not true.
We teach our students these skin cells are constantly regenerating and, cells are dividing. This process is mitosis, in which the new cells push the dead/old cells up. 
Face scrubs help the shedding of dead skin cells. Exfoliation will so stop your skin developing a hard layer that only gets worse the older you get. Think of it as an exercise for your cells, similar to going to the gym. By exfoliating, you're encouraging your skin to look better and regenerate itself. 
Without consistently taking care of your skin, it will not get better!
3) Face Serums
There are a lot out there with many different benefits! For the purpose of the blog, I will mention different serums you should incorporate into your skincare.
Vitamin C/E Serums:
An anti-oxidant which bounces the free radicals off your skin, limiting the damage caused by pollution. Anti-oxidants also prevent skin cells from oxidising and ageing.
Remember to use SPF when using anti-oxidants as they make skin sensitive to light. Anti-oxidants are also recommended for morning use when you are exposed to outdoor environments.
Retinol/Vitamin A:
Retinols should be used as part of your evening skincare, where you've used anti-oxidants in the morning. Retinols help the skin cells in turnover, stimulating the new cells under faster than natural. 
Similarly to using anti-oxidants, remember to use SPF when using Retinols!
4) Moisturiser
Similarly to face creams, you should use the right moisturiser for your skin type. YOU DO NOT NEED TO BUY EXPENSIVE MOISTURISERS! 
Our skin has it's own moisture such as hyaluronic acid that retains water, hydrating our skin. We need to top up this natural moisture with moisturises, as the water in our skin evaporates. The evaporation is a normal process, so don't worry.
Moisturises help our skin to seal in that moisture. Some skin types need more help to seal in that moisture more than others, such as dry skin types. 
5) SPF/ Sunscreen
If there is nothing else you apply to your face, apply sunscreen.
The human eye can't see where the UV rays fall or how harmful it is for our skin. Even through the windows, the skin is exposed to these harmful UV rays.
The UV Rays can completely change our DNA leading to skin cancer, making it so harmful. It can also destroy the collagen in our skin, leading to rapid skin ageing.
Clients that have exposed their skin for long periods to the sun, there is significant damage to their skin.
A physical SPF is the best option to use over a chemical SPF. Chemical SPFs can cause heat and sensitivity damage to the skin, along with not being environmentally friendly. You can tell a physical SPF as they will include Zinc Oxide and Titanium Dioxide.
Tip: If you are regularly in the sun wear a hat and reapply sunscreen throughout the day.
And that's it for Eleonora's lockdown skincare tips! To get a more in-depth and informative rundown of Eleonora's lockdown skincare tips, watch the video below.
Want to learn more skincare tips?
If you enjoyed these lockdown skin care tips that are sure to brighten your skin, why not enquire about a skincare course?
At Ray Cochrane Beauty School, we offer the VTCT Level 2 Facial and Skin Care Course! The perfect beginner's course for everything skincare!
You don't have to want to pursue a career in beauty, maybe just a strong interest in skincare?
Ray Cochrane Beauty School is home to talented and expert tutors, such as Eleonora, who have many years experience in the beauty industry. Our tutors are CIDESCO and, CIBTAC qualified, ensuring they have the highest beauty training out there. 
The course will teach beginners about the theory of skin and what works well for different skin types. Students will also learn how to carry out skin analysis so that you know what your skin needs. In just 6 or 7 weeks, everything skincare can be learnt, including how to give facial massages to help products penetrate the skin.
Our courses run part-time on a one-day a week basis, allowing you to fit the other commitments in your life!