Here at Ray Cochrane, we understand the impact that COVID has on the beauty industry. We are pleased to announce that we have introduced a new online COVID course. The VTCT (ITEC) Level 2 Award in Infection Prevention (COVID-19) for Beauty Therapy and Nail Services. 
The course is beauty-specific, with questions geared towards limiting the risk of infection and transmission in a salon/nail bar. 
What will the online COVID course cover?
To Understand the causes, transmission and effects of COVID-19

The social responsibility for the beauty therapy and nail services sector in relation to COVID-19

To Understand the controls necessary to prevent the spread of COVID-19

Understand the importance of Personal Protective Equipment (PPE), Hand Hygiene and Personal Hygiene in the prevention of COVID-19

Understand potential hazards and risks and the workplace procedures necessary to prevent the spread of COVID-19 in the beauty salon/nail bar

The decontamination and waste management processes relevant to beauty therapy and nail services
VTCT Level 2 Infection prevention course will be delivered online. Upon enrolment, learners will receive a manual and learning pack. The pack includes a student workbook filled with 62 questions, making it easier to absorb information before the exam.
Students will complete the exam online, lasting for 30 minutes. In total the course should take 5 – 10 hours depending on how quickly you chose to finish it. 

Why is it important to complete the infection prevention course?
It is important to complete the online COVID course as it is now a prerequisite for VTCT beauty and nail courses. Prerequisite means that it is mandatory to complete before undergoing your chosen beauty course. 
Who is the course suitable for?
This course is suitable for anyone in the beauty industry:
Beauty Therapists

Nail Technicians

Microblading artists
 Who would like to be more aware of the current COVID situation? It will help you to understand how to limit the spread of COVID-19 and how it might impact your working environment.
What will I receive on completion of the course?
You will receive a certificate confirming that you have passed the VTCT Level 2 Infection Prevention (Covid-19) Course. This can be used to enrol in future VTCT Beauty & Nail Courses along with your search for future employment! Please see below a sample certificate.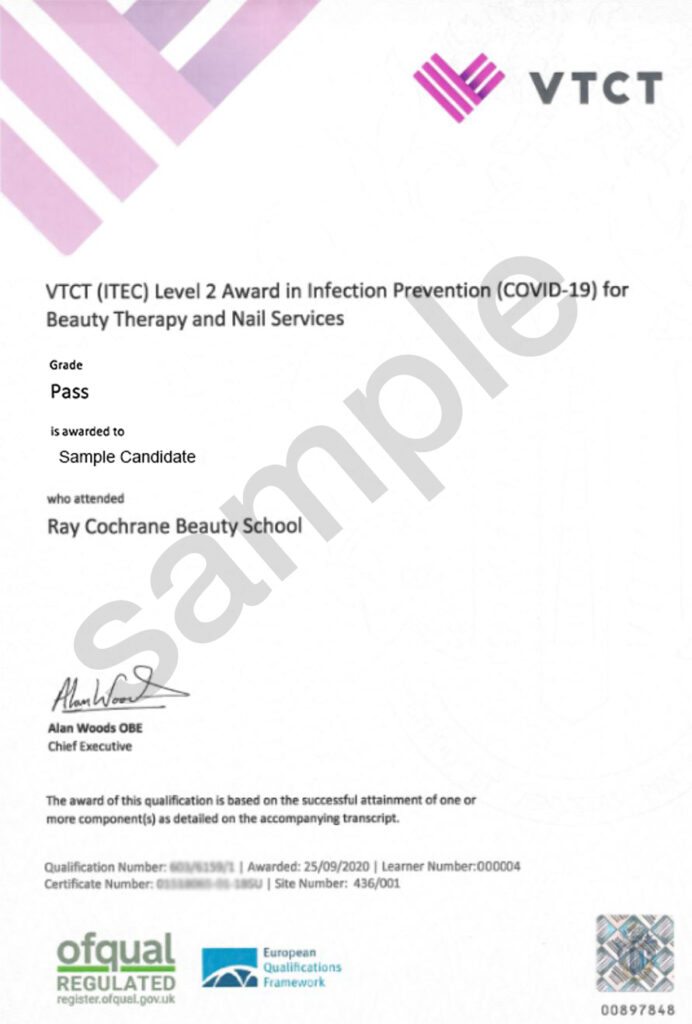 If you would like to get enrolled in our online COVID course today, then get in touch with us on 020 7486 6291. Alternatively, you can book via the website or email us at admission@raycochrane.co.uk