Sanna Mirza entered our doors deciding to step into a new career path she was passionate about and leave her lawyer days behind her and pursue what set her heart on fire. 
Sanna worked in Management for the NHS and studied at The College of Law in Bloomsbury and felt stunted in her career and that needed to go for what she was truly passionate about and decided to study Level 2 & Level 3 beauty therapy, and Level 4 Laser and IPL with us at Ray Cochrane in 2017.
We sat down with Sanna as she shared the story of her journey of switching careers from law to become a fully-fledged beautician who is running her own successful business Sanna Aesthetics. 
"During my school years, I always knew I loved learning and developing my knowledge and skills. So even though many of friends weren't sure if they wanted to go on to university, I was absolutely certain about heading off to university after Sixth Form. I even knew what degree I was going to apply for as I come from a family of accountants/engineers/lawyers so it was all I knew growing up. 
During my spare time, I always loved makeup, beauty treatments and would carry out makeovers for friends and family for special events. Looking and feeling good was always number one for me! It's something I have always enjoyed and felt it was important to look after yourself and look presentable.
But I never thought it was something I could make into a career which is why I was stuck on what I felt I can do and that was what I knew and what my family had encouraged me to pursue. I was very happy with my choice and completed my degree in Law and went on to study a post-graduate in Law at the College of Law in Bloomsbury. Whilst studying, I was able to find myself a job in management in the NHS which I really enjoyed during my years working at the NHS. 
Over time, I began to notice a trend in beauty in the injectables side of the beauty industry and it really amazed me at how popular injectables were becoming, it was an alternative to going under the knife and the transformation was incredible.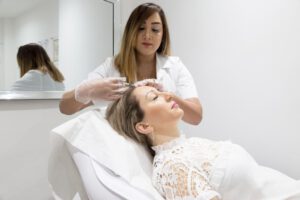 The satisfaction from improving a client's appearance and by boosting their confidence is such a buzz, I observed many doctors carry out this procedure and it inspired me to learn this too but what was stopping me? My qualifications! I didn't have any qualifications to help me go on to a botox course and that's when I decided to learn from Level 2 Beauty Therapy all the way up to Level 4 IPL and Laser Aesthetics at Ray Cochrane to really understand the basis of beauty treatments, the skin and how the human body reacts to many different treatments. 
The courses helped me understand our anatomy and physiology which then later enabled me to enrol on to a botox and dermal filler course to give me the confidence to set up my own business offering skin treatments, anti-wrinkle injections and dermal fillers. I have now further enrolled in a nursing degree to assist me further and enable to expand in my care for patients and deliver exceptional services to all my patients.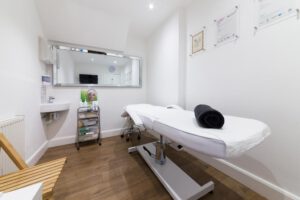 Running my own business is the most satisfying feeling compared to working for a company, you are your own boss and are able to manage your own diary. Building rapport with local businesses and patients becomes easier and more natural and the more hard work you put in, the more rewards you reap. The scope is far bigger and brighter in terms of what you can achieve and create having your own business. I am constantly adding new treatments to offer a variety of treatments for my patients and I enjoy every one of them.
Till this day, I use my knowledge I have gained from studying and previous work experience to my business and none of it has gone to waste as it all comes in use when having to manage your own business. My husband has also been very supportive and has always encouraged me to do what I enjoy and has helped me set up my business from the start."
Watch our testimonial interview with Sanna below:
Our Beauty Therapy Diplomas at Ray Cochrane
At Ray Cochrane Beauty School, we offer complete package courses for those wanting to launch a career in beauty therapy and are ready to step into a profession that champions them. During your time training with us, you will finally have the chance to enhance your skill set in a field of work you truly care about it.
Level 2 Beauty Therapy Diploma 
The Level 2 Beauty Therapy Diploma is the first qualification to become a certified beauty therapist. During this programme, you will learn a great deal of knowledge to dip your toes into the beauty therapy industry.
Module for this course include:
Two methods of waxing (hot wax and strip wax) 

Facial massage and skincare 

Makeup 

Nail treatments

Eyelash and eyebrow tinting/shaping

Health, safety and hygiene of the workplace

Client care and consultation

Consultation techniques, reception duties and retail skills 
If you are pressed for time, this course is offered on a part-time basis. If you are busy with your full-time job, you can still study with us as the course runs on two evenings a week (from 6-9pm) on Mondays and Tuesdays over 20-22 weeks. Or you can study the course on a one day a week basis for 20-22 weeks  or on a two days a week basis for 12 weeks (both from 10am to 5pm).
Level 3 Beauty Therapy Diploma
The Level 3 Beauty Therapy Diploma is where you can uplevel to become a fully qualified beauty therapist and secure beauty therapist roles. On this course you will gain more skills which delve into more advanced beauty facial treatments and massage techniques. 
Modules for this course include:
Facial electrotherapy treatments (Vacuum Suction/High Frequency/Galvanic/Faradic) 

Body massage

Indian head massage

Microdermabraision

Anatomy and physiology

Monitor and maintain health and safety practice in the salon

Consultation and promotion of products/treatments
If you are pressed for time, this course is offered on a part-time basis. You can study the course on a one day a week basis for 20-22 weeks or on a two days a week basis for 12 weeks (both from 10am to 5pm). 
Level 4 Laser and IPL Treatments
This Level 4 Laser and IPL Treatments course goes into more advanced treatments such as Laser and Intense Pulse Light (IPL) which are booming fields in the world of beauty with more and more of the consumer market looking towards semi-permanent hair removal methods
Modules for this course include:
Laser and light treatments for hair removal

Laser and light treatments for skin rejuvenation

Client care and communication in beauty-related industries

Management of health, safety and security in the salon
If you are pressed for time, this course is offered on a part-time basis. This is ideal for those who are working as beauty therapists but are interested in taking the next step in their career as you can be working as a beauty therapist (or another role full time) during the week as you would have already completed Level 2 and 3. The Level 4 IPL and Laser Treatments course runs one day a week from 10am to 4pm.
If you are inspired by Sanna's story to embark on an exciting career in beauty and aesthetics, give us a ring on 02074866291 or email us at email@raycochrane.co.uk to speak to a member of our team.