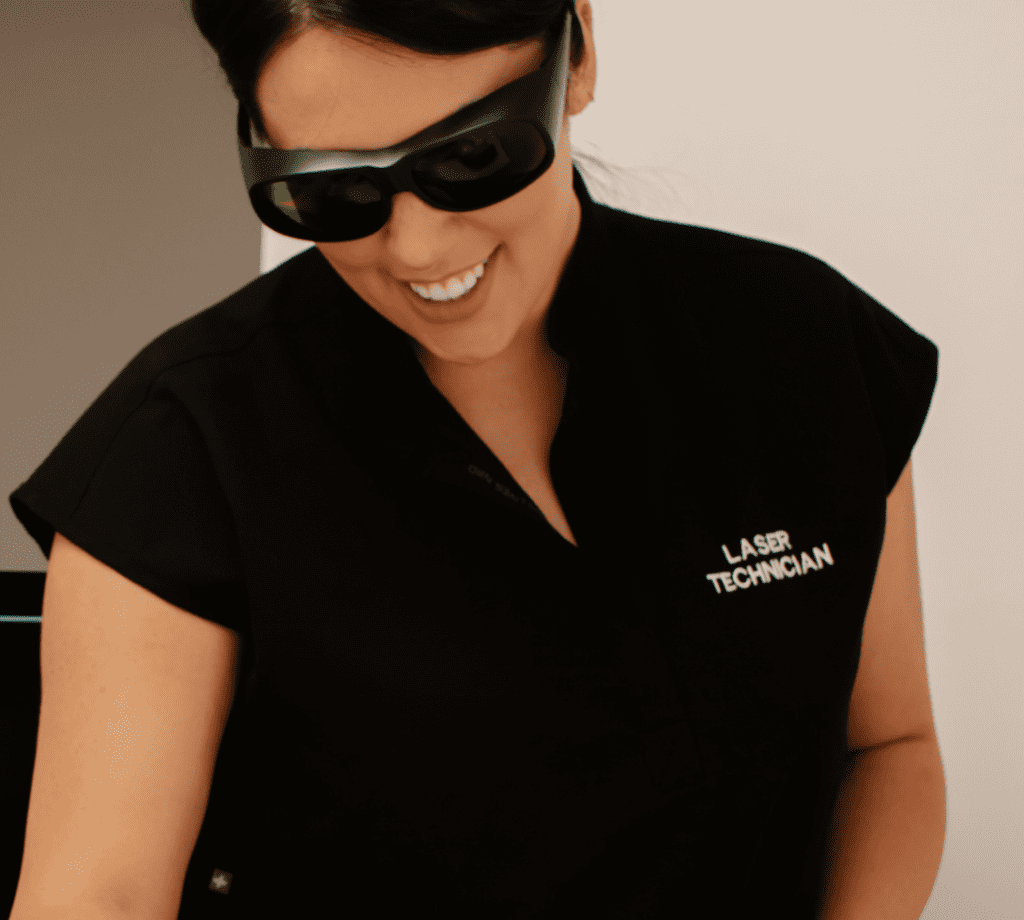 We had the privilege of sitting down with Anne Cooper last week and interviewing her on her journey since starting Cornwall Laser Clinic. After taking voluntary redundancy and stepping back from a successful legal career in 2012 to support her brother with learning disabilities, Anne took a different life path by completing her Level 4 in Laser & IPL with us in August 2020. Originally the interview's focus was tips and tricks to starting your laser clinic; however, throughout the discussion, we noticed that Anne's success was due to the kindness and understanding she shows her clients daily. So today's blog will focus on the importance of kind customer service in the beauty and aesthetic industry instead.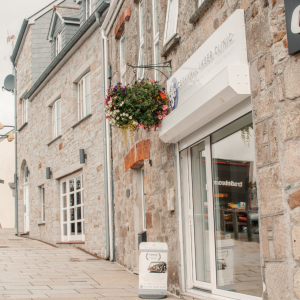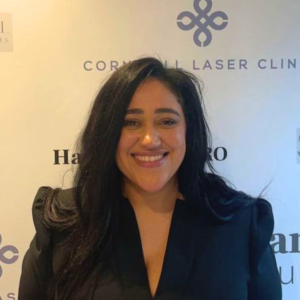 What's it like going from a legal career to being a Laser Technician/Laser Clinic Owner?
I spent most of my legal career in Government working in Commercial Property, dealing with large-scale land acquisitions and flood defence projects. Although high profile, the work wasn't engaging enough, so being allowed to take voluntary redundancy was the catalyst to change my life and was a blessing in disguise. There were a lot of personal reasons that spurred the change. Mainly, I wanted to do something different, and ideally, I wanted to work for myself. In addition, having a daughter and being a single mum, I liked the flexibility that being self-employed would offer. Starting the Cornwall Laser Clinic was one of my life's best decisions, so I have no regrets whatsoever.
I did have previous experience running my own business, though. Still, as it was in a different industry, the experience was utterly alien, especially with me working in the clinic and being so hands-on compared to my managerial role in my other company.

How did the Cornwall Laser Clinic come to exist?
I've always suffered from excess hair because I have Polycystic ovary syndrome (PCOS) and wanted to try laser. However, it was so expensive when I was first interested and just not feasible. Shortly after, I took redundancy; the first thing I did with some of my redundancy payout was book myself a whole body laser hair removal course. The clinic not only catered to black skin but offered incredible discounts. It was life-changing, and I wanted other people with PCOS to experience this amazing feeling I was experiencing.
Having moved to Cornwall in 2019, it was apparent that there was a market gap. No clinics offered hair removal treatment with the gold-standard Alma Soprano Titanium laser machines within 150 miles of Cornwall! In addition, many businesses or beauticians offering 'laser' hair removal treatments were using non-medical grade, cheap IPL machines. Hair removal was an add-on to several other services they were offering, and without regulation in Cornwall, none that I contacted had a laser qualification, whilst others had bought machines second-hand without manufacturers' training. So after travelling 4 hours to Reading for my maintenance laser sessions and a year or so of business planning, research, marketing and, most importantly training, I decided to start my own laser clinic in Cornwall.
When Cornwall Laser Clinic opened in January 2021, we were just coming out of lockdown but already had 200+ clients who believed in what I was doing enough to pre-pay for treatment even during lockdown. I had four weeks of trading over Christmas when sanctions were lifted and closed again until the Spring. I worked alone in a rented tiny treatment room in the back of a barbers salon from 8-8 with back-to-back clients. Now, two years later, we have our own building and 5 therapists. We have also just started expanding into the neighbouring premises to offer additional advanced skin treatments!
What sets Cornwall Laser Clinic apart from other Laser Clinics?
The three main factors that have pushed us quickly to success are:
Only using the absolute best and latest equipment. It was essential that we only had FDA approved Medical Grade laser machines in clinics

Thoroughly trained staff

Transparent customer service & inclusivity
As I mentioned, no other clinics in Cornwall or surrounding areas had the latest laser hair removal equipment, the SopranoTitanium. I knew that if I opened a successful clinic, I would only use the best equipment, and from personal experience, the Soprano Titanium was the right choice. Furthermore, as a person of colour (POC), I needed a device that could work on all skin colours ensuring all clients would feel included and achieve their hair reduction goals.
Cornwall doesn't have a hugely diverse community, so many businesses offering laser hadn't had to consider POC when choosing their device. However, it also meant that they couldn't treat certain skin types as their machine didn't have the correct wavelengths, so they were losing out on POC and those who enjoy the Cornish weather and have an all-year-round tan! At Cornwall laser clinic, we are proud to be a business catering to everyone, regardless of colour, age or gender. We are very fortunate that people like our values and ethos so much that clients come to us from 3-4 hours away (some for just a 15-minute appointment!)
Why is it so important to have thoroughly trained staff?
Everyone is shocked when I tell them you don't need formal training in Cornwall to offer laser hair removal and skin rejuvenation treatments. However, after completing the Level 4 Laser certificate, I could only imagine working as a professional laser therapist with the appropriate training.
I completed my Level 4 training at Ray Cochrane in August 2020; only three people were on my course at the time, which meant I had the most in-depth and intimate training possible. My tutor answered all my questions, even those I didn't think to ask. Only with the training I received at Ray Cochrane did I have the knowledge to treat clients safely, expertly and successfully.
When I expanded and started hiring therapists, I knew the only place to send them was to Ray Cochrane, where I was confident that they would receive the same outstanding training I had. This is partly because, like me, Ray Cochrane only uses the best equipment and Alma Soprano laser machines to train their students.
In 2021 two of my therapists completed their training at Ray Cochrane and in October 2022, I was fortunate enough to send another three therapists to get Level 4 training, spending a week in London at the training academy. Covering their training costs, including a week's accommodation in London and travel from Cornwall, has been a substantial financial investment and honestly, it wasn't easy. Still, I knew it'd be worth it, and most importantly, it would be essential to maintain the reputation the business had built around competency and industry expertise. On a personal level, knowing where they had been trained meant I could take a step back and fully trust their abilities.
All the therapists working in the clinic represent the business, and it is essential to deliver high-quality treatments consistently.

How do you market your business?
Our marketing strategy is that we are great at what we do, with client safety and experience at the heart of what we do, with highly trained staff that want the best results for the clients at an affordable price. Regarding advertising, a strong social media presence is at the heart of our promotional strategy. We now have 800+ clients we are actively treating, and so we are in the fortunate position of getting referrals and recommendations.
Our social media journey has been eye-opening and, thankfully so far, very successful. We've found a plan that works for us. Like many new business owners, I initially thought I would have the time and the skill to manage the business's social media accounts. How wrong was I!
I did at least sign up for a social media marketing course; however, minutes into the course, the harsh reality struck me that it was more challenging than I'd thought and would require more time than I had. I also realised that I did not want to handle it and didn't have the skills to. I found an incredible social media company that handle everything from our posts across the various platforms to creating content to design and marketing. She 'gets' us and the industry and makes content creation seem almost effortless at times!
It's crucial as a business owner to focus on your strengths rather than trying to do everything. I knew early on that I wanted our social media to be used to inform and educate. Coming from the South East, advanced skin treatments and laser hair removal are as much a part of self-care as getting a brow shape or a pedicure, but in Cornwall, their knowledge was limited for most. We pride ourselves on offering potential clients or even those who want to learn more honest information, which increased our brand awareness and helped establish us as experts in our field.
Why is customer service so important for your business?
As previously mentioned, we are in the fantastic position of gaining many new clients via word-of-mouth, with more than 70% of new bookings being made based on recommendations. We have siblings, couples, parents and their children, work colleagues and friend groups all coming to us, which is incredible. Knowing that our clients love our service and their results so much that they recommend us to their friends and family is a great feeling.
Cornwall Laser Clinic is more than just a business to me. It's not an exaggeration to say that my hair removal results were life-changing for me. Excess hair can affect self-confidence, relationships and mental health. The feeling of carefreeness that comes from significant hair reduction is something I want all my clients to experience regardless of their financial means.
It isn't a cheap hair removal option with the upfront costs, but over a lifetime it is, in my opinion, the most cost-effective way to permanently reduce hair. Because of the high upfront costs, we decided at the outset to offer standard discounts to various groups who may need more than the recommended number of sessions due to hormonal issues—for instance, 50% off laser courses to clients with PCOS. From experience, I know how difficult it is to be a woman with excess hair, whether in your personal, professional or social life. Before I got laser privately, I wished it was a service the NHS offered, but now I can deliver an affordable option with the clinic.
The same 50% discount applies to those transitioning. Although there is NHS funding for laser for those transitioning, the waiting list is currently 5yrs in Cornwall! We are very proud to have recently been approached by the NHS West of England Specialist Gender Identity Clinic to become the preferred provider for the South West, which is incredible to be recognised in this way. My foster sister is M-F Trans, so this is a group that we support in any way that we can. Similarly, one of my brothers is a former counter-terrorism police officer, and another is a safeguarding social worker, so it is crucial for us as a business to support the blue light NHS and the health and social care workers by offering a standard 20% discount for the blue light community.
I often get asked how I make money with all these discounts. We aren't located in Mayfair or the 'Shires, and our price point suits our demographic and works as we're consistently fully booked for 4-6 weeks in advance and at any one time have 800 clients being treated. Our clients, their satisfaction and their clinic experience are the most important thing to us. We want them to have access to the clinic and our services, no matter their income.
For those clients where price-point is less of a concern and customer experience is what it is all about, it makes my heart sing when I see 5* after 5* reviews on Google and Trustpilot and hear the laughter escaping from the treatment rooms. Better still when I see a client (who months earlier had only come into a consultation because her husband had come with her as a lack of self-confidence crippled her due to excess facial hair) bound into the clinic minus a scarf, hair pulled up into a ponytail and smile so wide and brimming with confidence that anyone would probably think she was in for her underarms to be treated.
What does the future hold for the Cornwall Laser Clinic? 
I'm excited about the future! We've recently acquired the lease of the building next door to extend into, as we've already outgrown our current space. We are taking steps to bring in a doctor to offer advanced skin treatments. I also have a team of five working alongside me, allowing me to take a step back. Instead, I now manage all the client consultations, which is excellent as I can introduce myself and the business as well as answer all their questions and share my laser hair removal journey with them.
We're hoping to introduce new technologies into the clinic soon, which will be exclusive to us in the South West which is very exciting. The Cornish client base is small compared to outside the County. The County's entire population of adults and children is only 500,000, so fewer than most UK towns. Attracting new clients and, more importantly, retaining current clients is a constant worry.
After the success we experienced with the Soprano, 1 or 2 local businesses have purchased one too. I was told by a friend, who is one of the UK's leading injectors, that you are doing something right when competitors copy your social media or try to replicate your business or both, so when I question whether I am going in the right direction, I try and remember this. Thankfully, we have found that it has increased business rather than having a negative impact. People have tried them and found that the results were different from what they were expecting, and the only thing I can put this down to is a lack of good level 4 training.
Who knows where we will be in 5 years? I have so many ideas, including developing our advanced skin care treatments. I'll have to reconsider the Cornwall Laser Clinic name, though!
Advice for those looking to start their own beauty/aesthetic business?
My number one piece of advice is, to be honest and transparent with your clients. Laser hair removal will not make you permanently smooth like a dolphin (I have been told before that a client was promised this!!) It is, however, going to significantly and permanently reduce hair. 
Managing client expectations is essential at the consultation stage. It is too late when you are part way through a course of treatment or, worse, at the end of a course, their expectations haven't been met. We always stress that clients will see a significant hair "reduction", but each case is different, and at each appointment, clients sign a consent to ongoing treatment during which they accept that hair reduction is not 100% clearance. 
Honesty can sometimes lead to potential customers choosing to go elsewhere. Still, you need them to fully understand the outcome rather than unrealistically getting their hopes up, and we have found that those customers come back when they have been elsewhere and have yet to have the hair reduction promised.