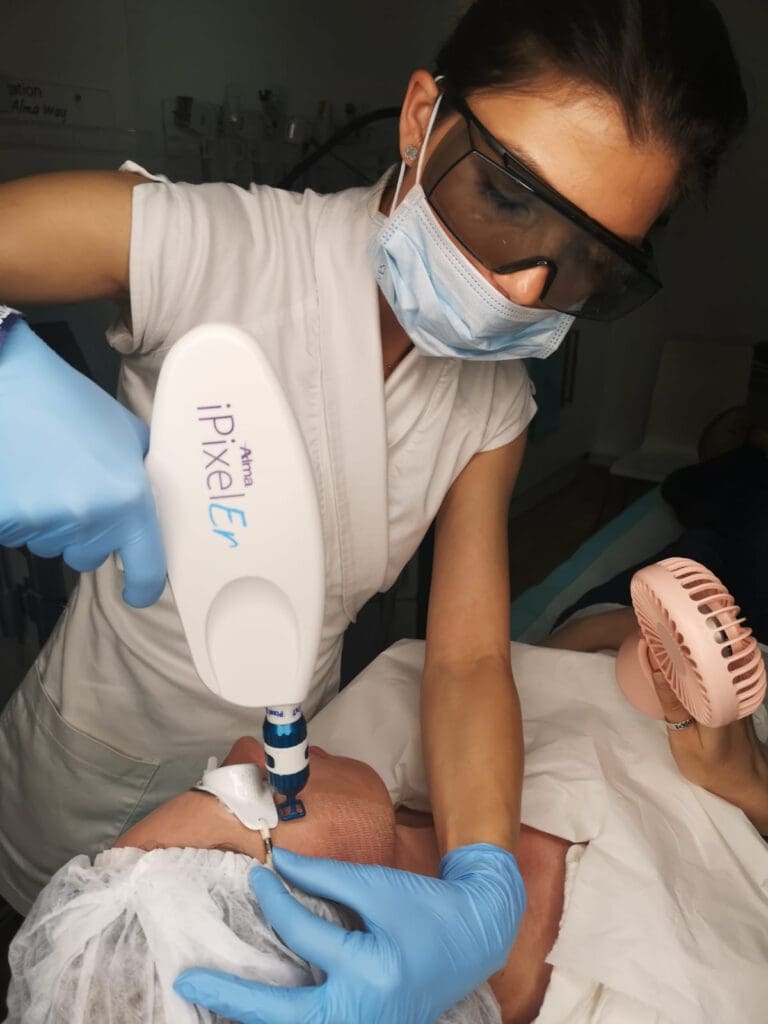 I-Pixel laser treatment is the pioneering skin resurfacing treatment that uses laser therapy that is used to treat skin damage due to
Epidermal melasma

Scars

Acne scarring

Skin laxity

Fine lines 

Wrinkles

Sun damage

Other skin irregularities
How does it work?
Multiple lasers are shot on the surface of the skin in a 7×7 or 9×9 pattern. The laser penetrates the upper dermis and epidermis of the skin which creates an area called pixels. This consists of an area of microscopic heat injured zones in an area of 11×11 millimetres. The depth of penetration is dependant on how many lasers are stacked – this can vary from  20 to 350 microns deep. 
Features of i-Pixel laser treatment 
Quicker recovery time

– i-Pixel laser is a fractional treatment; the treatment works on fractions on your face this means that there is less downtime is spent on recovery which means it won't interfere with your day-to-day life

Gentle

– Because i-Pixel uses a combination of non-ablative methods and laser therapy, it makes it gentler than the other traditional laser treatments out there.

No visible side effects –

I-Pixel works by targeting the interior layer of the skin, so you don't get many of the visible side-effects that were previously associated with skin resurfacing.

Doesn't affect other treatments –

You can get multiple other treatments alongside i-Pixel which will therefore increase the time for your skin issues to be resolved if you require multiple types of treatments. 
Our in-house clinic, Dermacure Laser Clinic offers i-Pixel laser treatment. 
Dermacure Laser Clinic is a boutique skin and laser clinic founded by the head of laser training, Ms Eleonora Androva specialising in advanced aesthetic treatments such as microblading, Dr Schrammek green peel, micro skin needling and NIR skin tightening treatments.
We also specialise in other laser treatments such as laser hair removal, laser tattoo removal and a range of Harmony treatments. These include ClearLift, Vascular Removal, Acne Treatment and Pigment Reduction and we provide dermal fillers as well.
Providing the best for our clientele, we use the latest equipment that can be used on all skin types, like the Soprano Ice Platinum laser machine that is used in our skincare procedures. 
Where we are located
We are situated in the same location as Ray Cochrane Beauty School in Baker Street, in the centre of London, it's a less than 3-minute walk from Baker Street Underground Station.
Several transport links are easily accessible including the Circle and Hammersmith & City, Bakerloo, Jubilee and Metropolitan lines. 
How much is i-Pixel laser treatment?
If you want to get the treatment on your face or on your body (20cm x 20cm area) – It costs £400 for one session, and for three sessions it costs £1,020 and £1,920 for six sessions. 
Is i-Pixel the right treatment for you? 
You'll need to undertake a full consultation with our team but, generally, i-Pixel Skin Resurfacing is suitable for both men and women wanting to rejuvenate their skin. 
As with all treatments, it's important to understand what skin resurfacing involves. Our dedicated team will explain everything and answer all your questions. If you're searching for a rapid procedure with long-lasting results, this could be the solution for you.
Call us on 0207 935 3405 or fill out our enquiry form here to book your first consultation.