As a beauty student or enthusiast, we're sure you already know that the UK hosts some pretty great beauty exhibitions every year. However, for those of you who don't know where to look to indulge yourself in a day of beauty products and knowledge, we thought we'd compile a list for you!
So without further ado let's get into the most popular beauty exhibitions in the UK!
Professional Beauty 
Professional Beauty is one of the market leaders when it comes to beauty exhibitions. They also specialise in professional beauty magazines, awards and conferences, so you can rest assured they are up to date on the latest beauty trends.
On their website, Pro Beauty declares that they assist people in the beauty industry to become better business people. Hence why their beauty exhibitions have everything the beauty professional needs, regardless of sector.
Their not to be missed events filled with all the information you need to expand your beauty business, make connections and discover brands.
What do Pro Beauty Exhibitions include?
Through their exhibition, you will find:
Guest speakers & seminars to help develop your business

Discover new brands and get discounts on brand purchases

Find out about the latest launches, with in-depth tutorials and information

Nail & Makeup Competitions

Hair Stages in collaboration with Salon International
Where Can you Attend
Pro Beauty Exhibitions?
They host their exhibitions all over the country:
North – Professional Beauty 

London – Professional Beauty  

Ireland – Professional Beauty 
Olympia Beauty
Acknowledged as Autumn's biggest beauty event, you don't want to miss out on this Exhibit. After being unable to run one for the last 2 years due to Covid-19. Olympia beauty successfully ran its exhibition in October 2021. They have been famously running these events for 18 years now, with beauty professionals coming from around the country.
What does Olympia Beauty Exhibits include?
The show caters to beauty professionals across all sectors of the beauty industry. They state that they represent 40 sectors!
The Salon & Spa Owners' Club – hosting over 6,800 members that are all salon owners allowing you to network with like-minded individuals.

500 brands under 1 roof with brand discovery sessions that introduce professionals to suppliers.

Beauty competitions including, Nailympia & The Lash Games, in which contestants gain exposure for their business.
Where Can you Attend Olympia
Beauty Exhibitions?
The Exhibit is held at Olympia London in early October every year. Based in Central London, it's easily accessible by all modes of transportation!
They will be back on the 2 – 3 October 2022!
Beauty UK 
For those of your looking for the biggest exhibition outside of London, look no further than Beauty UK! The exhibit divides 4 shows under 1 roof, so no matter your beauty interest, there is bound to be something for you!
What does the Beauty UK Exhibit include?
Beauty UK

Hair UK

Barber UK

Holistic Health

Makeup Masterclass – there will be live tutorials with MUAs from all around the country. The tutorials cover SFX, bridal and red carpet glam.

Salon Owners' Business Forum
Where Can you Attend Beauty UK
Exhibition?
As mentioned, this is the largest beauty exhibition outside of London and for 2022 it will be held in Coventry! Their dates are out now for Sunday 22nd & Monday 23rd May 2022! Be sure to pencil those dates into your calendar.
Afro Hair & Beauty Live
Recognised as the hottest and diverse beauty event in London, the Afro hair & beauty exhibition is not one to be missed! Exhibitors that cater to a multi-cultural customer base are the biggest selling point of this exhibit!
What does the Afro Hair & Beauty Exhibit include?
Fashion & Lifestyle – in this area, visitors will find runways featuring the most popular upcoming and established designers around. You can find bargains on the trendiest items from accessories to clothes.

Pampering Zone- This is definitely the most popular area, visitors can take part in barbering, henna and more treatments.

Meet the Experts Seminars – Want to gain more knowledge about hair, beauty, lifestyle and empowerment? You can ask questions directly to expert Award-winning stylists and beauticians.

Stage shows/ Competitions – There are Avante Garde, fantasy hair and a barber competition! Plenty of options to keep you entertained.
Where Can you Attend the Afro Hair & Beauty Exhibition?
The event is based in London but changes yearly, so you'll have to keep an eye out on their website for 2022's location!
Ray Cochrane Encourages Our Students to Visit Beauty Exhibition, Museums & More!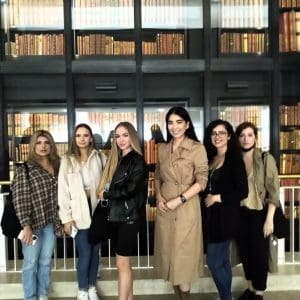 Here at Ray Cochrane Beauty School, we are fully aware that not everything is learned in a classroom. We will regularly take our students on trips to beauty exhibitions in London. Students will also have trips to libraries and museums to ensure they are finding inspiration everywhere and anywhere!