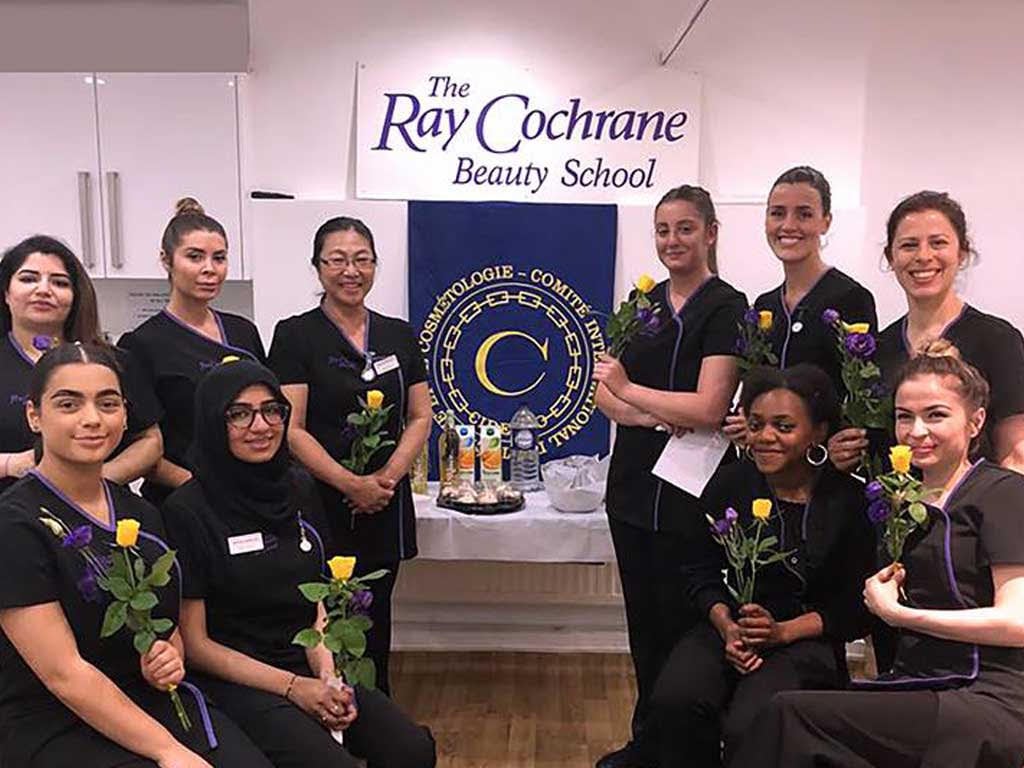 So you've completed the CIDESCO Beauty Therapy course. Now you've reached the gold standard in qualifications for Beauty therapist. So what next?
The CIDESCO diploma is the world's most prestigious qualification in the field of Aesthetics and Beauty therapy and is the gold standard in Beauty Therapy. Completing the CIDESCO qualification means that 'next' for you could be hard to think on. For all the right reasons, with the demand and opportunities for you as an employee will be in abundance.
The Beauty therapy course, CIDESCO International Beauty Diploma has been taught at the London Beauty School, Ray Cochrane since 1961. You can take it from us that we have very good idea of where our CIDESCO students have and will end up.
With that in mind, we thought who better to talk about the opportunities and potential the future holds for our CIDESCO students than our CIDESCO tutor Catherine Marley here at Ray Cochrane beauty school. To detail some of the opportunities that were available to her and available to students who have and will come to study with us.
Catherine obtained her CIDESCO qualification in 2006 and has worked & taught in the industry with the qualification for over 10 years. Read on to see where Catherine's career has taken her with her Beauty Therapy CIDESCO qualification!
The Career opportunities from a CIDESCO Graduate
I studied CIDESCO and CIBTAC Beauty Therapy, ITEC electrolysis and ITEC Spa Treatments, to name but a few.
During my time there, I was contacted by the spa manager of one of the Orient Express Hotels in Italy requesting CIDESCO Therapists to work in Hotel Cipriani in Venice. This was a company that was very specific in finding CIDESCO graduates. They even offered to fly me over earlier, so I could sit my examinations in Italy. They had fantastic benefits for therapists including discounts for staff staying in Orient Express Hotels, staff accommodation and board while working there and Italian lessons.
As attractive as this was, I chose to stay and finish my examinations in my College as I felt I could have been out of my comfort zone in a different school with different products and machinery. I was passionate about education and wanted to achieve my CIDESCO Diploma above all else.
I started as a Junior Therapist in a 5-star Hotel. This hotel was also very specific in that they asked for CIDESCO applicants ONLY. I received 5-star excellence in training with a very luxurious product company offering some of the most expensive treatments. There were many celebrities, Hollywood actors, musicians and professional athletes that would stay in the Hotel and use the Spa. It was exciting to meet them & was definitely an opportunity that wouldn't have been available to me without my CIDESCO qualification.
As doors opened for me, unique occasions for work opened up to me. I was also a makeup artist for a Television show that was filmed at the Hotel. The series ran for 8 weeks on BBC One. This was very exciting for me as I got to work both on and off camera and more importantly realise the scope of where I could go with my qualification.
My career continued to develop further, and I worked for a chain of Hotels in the Republic of Ireland. I started as a Senior Therapist, then progressed to Head Therapist and then Spa Manager. I trained in hot stone treatments, St Tropez skin peels, IPL skin Rejuvenation and Hair Removal treatments and Lava Shell Massage. While working, I also studied part time for my beauty lecturing qualifications. I had opportunities to teach CIDESCO to teachers in San Francisco, California as the USA stared to offer CIDESCO qualifications. Opportunities like the from around solidified the quality of the CIDESCO degree as being an internationally recognised qualification too. It is the only qualification that is truly international – represented and recognised in 33 countries and respected across the five continents. I knew that wherever I may end up in future I was assured I had the best training and recognised qualifications to succeed.
Then I was employed as a Course-coordinator and Lecturer teaching CIBTAC, ITEC and CIDESCO in a Private College. I have a passion for Education and the patience for the demands of the job. I got to train further with Dermalogica and further my portfolio of qualifications with additional courses like Bamboo Massage, Baby Massage Instructor, Fashion Theatre and Media Makeup with Special Effects, Threading and Intimate Waxing to name a few. While here, This College also owned a successful Salon, Spa and Aesthetic Clinic. I worked closely with the nurse in the clinic and got to observe procedures for PRP, injectables (botox and fillers) and advanced skin peels.
I decided to spread my wings further and move to London. I was afraid that finding a job in London would be difficult, however I was surprised at how quickly I received a job especially because I am qualified as a CIDESCO Therapist. I sent out my CV, a phone call later I was on a plane for an interview in the UK's very 1st CIDESCO College, The London Beauty School, Ray Cochrane. I got the job and have been teaching in London for 3 years
I'm very proud of my achievements and even prouder of my Qualifications that I worked very hard to achieve. Over my 12 years since obtaining my CIDESCO qualification I have seen the difference in the Industry between a CIDESCO graduate and an NVQ graduate. My time in teaching has highlighted this, even more so especially when seeing the difference in the training Syllabi of different examining boards….."
Perhaps, this is why so many businesses ask for CIDESCO applicants only? They understand the precise standards CIDESCO has and expects from graduates such as Catherine. They understand the hours of training that students must undergo on a full-time basis. They understand that a CIDESCO qualified therapist is an assured beauty therapist. With the developed skills, adaptability, confidence and ambition to succeed wherever their paths take them. Below are just some of the opportunities for beauty therapist, CIDESCO graduates
What are the career progressions/opportunities for CIDESCO graduates?
As a CIDESCO graduate, we can safely say that the career opportunities are endless.
The beauty industry offers opportunities that are limitless for example:
Enter the industry as a Junior Beauty therapist in a salon, spa or cruise ship and progress up to senior or head Therapist.
Work for a chain of 5 star+ hotels and train with Luxurious products and treatments with a specific type of clientele; the rich and famous.
Strike out on your own and open your own business, then eventually expand to larger premises or branch out as a chain.
Work in the film and Television industry as a makeup artist or Makeup designer.
Work for a corporate multi-national company like Estee Lauder, LVMH or L'Oréal and travel the world developing new products, training and sales.
Go into Beauty Therapy Education and teach at private institutions or Further education colleges.
Work for Examining boards like CIDESCO developing standards and new qualifications for this fast-evolving Industry.
For CIDESCO graduates, the qualification is coveted & sought after by some of the big names in the Beauty Care industry. Corporate endorsements from international companies like Dermalogica, Nimue and Steiner stating their preference and respect for the qualification and CIDESCO graduates.
So there you have it, a future filled with potential and possibility in the beauty industry. If you're not lucky enough to be one of our CIDESCO Beauty Therapy course students yet and are interested, then drop us a line and get in contact with us here in Ray Cochrane, London's most established and quality beauty school.
Why us?
At Ray Cochrane beauty School we understand the high standard of the CIDESCO Beauty Course qualification and the need for high quality teaching. Being the most established London Beauty school, being founded in 1954 we can guarantee that you will receive the best education in learning CIDESCO with an unparalleled learning experience not to be found anywhere else.
So click through here to find out more and start your future with us and you too could be on the way to an exciting future in beauty therapy.