So you've decided that you want to pursue a Level 3 qualification that will further your beauty career? Are you stuck between the Level 3 Beauty Therapy Diploma or the Level 3 Facial Electrotherapy Certificate? 
We will often get prospective students contact us, wanting to find out the difference in these courses. So today's blog will be answering the questions that we often get to make your decision a little easier!
What are the similarities between Level 3 Beauty Therapy and Level 3 Facial Electrotherapy?
As there are fewer similarities between the options, let's start there. 
1. Fully Accredited
Firstly they are both fully accredited courses as with all the courses that we offer at Ray Cochrane. 
A fully accredited beauty course ensures that those who complete the qualification have studied to a high standard. With a VTCT qualification, you can work globally, with employers recognising your prestigious skills. 
2. A relevant Level 2 Qualification
To enrol on a level 3 course, students should have completed a relevant beauty level 2 qualification. The courses we accept at Ray Cochrane are Level 2 Facial and Skin care or Level 2 Beauty Therapy.
3. Trained to a Level 3 standard
Both the Level 3 Beauty and Level 3 Facial Electrotherapy courses train fully qualified learners in their respective fields. A level 3 qualification is recognised in the beauty industry as one of the highest, just below an advanced level 4. Students who train to a Level 3 standard can go on to become:
Salon/Spa Managers

Skin Care specialists
4. Overlapping Course Contents
As both are VTCT Level 3 courses, there are bound to be some similarities in the course units.
In both courses, students will learn about the health and safety measures required in clinics and spas. This unit prepares students for the correct hygiene protocols, storage, and maintenance of equipment. Along with the contraindications of treatments. Students in both courses will learn Microdermabrasion treatments which remain ever popular.
 Actually, on the Level 3 Beauty Therapy course, students will learn about Facial Electrotherapy! But we'll go into that in a bit.
What are the differences between Level 3 Beauty Therapy and Level 3 Facial Electrotherapy?
Well, it's in the name!
1. The Level 3 Beauty Therapy Course
The Level 3 Beauty Therapy qualification is for those looking to become fully qualified beauty therapists. 
At Ray Cochrane, the course runs over 22 weeks on a 1-day basis or 12 weeks on a 2-day basis. Students will learn:
Facial electrotherapy treatments
Body electrotherapy treatments
Body Massage
Indian Head Massage
Microdermabrasion
Anatomy and Physiology
Monitor and maintain health and safety practices in the salon
Consultation and promotion of products/treatments
These units will expand on the basic beauty therapy knowledge they would have learnt in the Level 2 beauty therapy course.
Who can enrol for Level 3 Beauty course?
Those who successfully complete the course will find that there are many career paths available. Whether you decide to work as a freelancer or in a salon setting, the choice is yours. 

Students who have completed the course at Ray Cochrane have gone on to work as beauty consultants and salon managers. As the course, covers all things in the beauty industry, it is a more generalised qualification. Ensuring that those who gain the training are jack of all trades beauty-related. 
Are you looking to become a laser hair removal/IPL technician?
With a Level 3 Beauty Therapy Diploma, you can move on to our Advanced Level 4 Laser Hair Removal & IPL certificate. Due to the advanced nature of our Laser course, a thorough beauty qualification guarantees you have a detailed understanding of the anatomy & physiology of the human body. 
It is also important to note that you will only likely get insurance to cover your laser hair removal business with an accredited level 3 Beauty Therapy Diploma. 
What Certification will I receive for the Level 3 Beauty course?
Those who complete the course and all the qualifying 424 guided learning hours will receive VTCT Level 3 Beauty Therapy Diploma
2. The Level 3 Facial Electrotherapy Course
The facial electrotherapy course is for those who are interested in a career in facials and aesthetics.
Rather those on the course will build their knowledge and experience in facial treatments that use electrical machines. Learners will focus on the following machines:
Galvanic

High Frequency

Microcurrent

 EMS

Lymph Drainage
All of these are popular machines used in spas and salons around the globe to help clients achieve increased facial definition, faster collagen generation, healthier skin, and reduced puffiness.
Students on the course will also learn the following VTCT units:
Apply MicroDermabrasion

Dermatology and Microbiology

Client Care and Communication 

Monitoring and Maintaining Health and Safety Practices in the Salon
Who can enrol for Level 3 Facial course?
 Ideal for those who do not want to cover all aspects of beauty therapy such as waxing, nails, and lashes. Rather, you have a strong interest in skincare and would like to pursue a career in the industry. 
Students looking to become advanced aestheticians will also choose this route as it allows them to reach their goals quicker. In just 8 weeks, students will have completed their practical, theoretical, and external examinations!
Perfect for those looking to use the course as an entry point to our level 4 aesthetic courses as it is a prerequisite for:
As mentioned earlier, if you are looking to become a Laser Hair Removal/IPL Therapist you will most likely need the Level 3 Beauty Therapy Diploma instead. Our Facial course only covers knowledge pertaining to the face which is not enough to cover you as a Laser Technician.
What Certification will I receive for the Level 3 Facial course?
Those who complete the course and all the qualifying 242 guided learning hours will receive the VTCT Level 3 Certificate in Facial Electrotherapy
So in summary, have a look at the infographic below: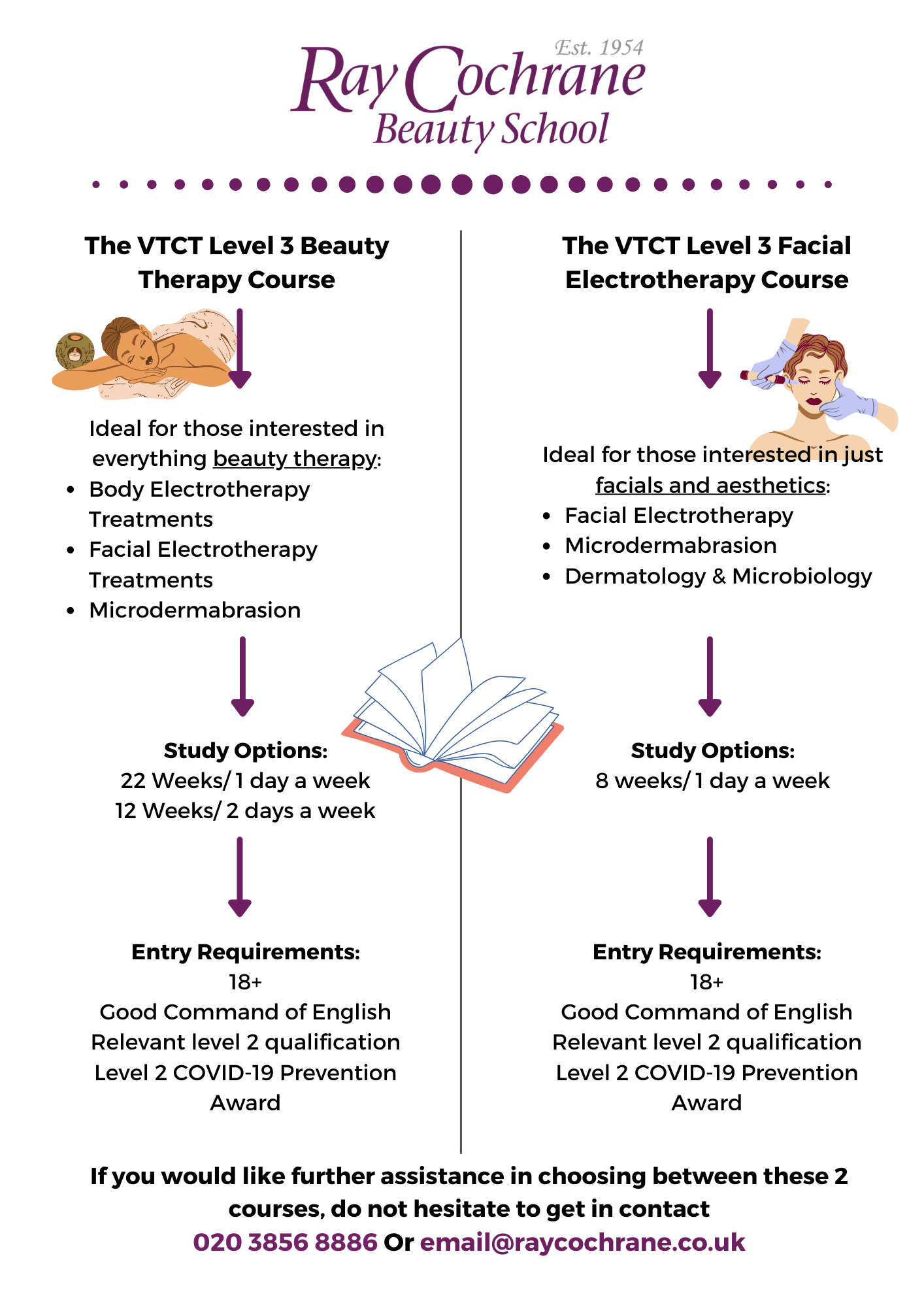 We hope we managed to answer any questions on the two courses that you might have had. Put simply, it's up to you which course you think is best for your career aspirations!
Are you looking to become a fully qualified beauty therapist who can offer facial and body treatments? Then Level 3 Beauty Therapy is for you!
Instead, are you only interested in facial and skin care treatments with possible future plans of progressing to aesthetics? Then enquire about our Level 3 Facial Electrotherapy course!
Or maybe you need some more help? Our friendly enrolment staff is available 9 am – 5 pm to help answer your course queries on 020 7486 6291. There is no such thing as a silly question, especially when it comes to your career aspirations!