Why Should I Become a Nail Technician?
So you're considering a career as a nail tech? Working as a nail technician provides a career path in the beauty industry that is both growing and lucrative. Just scroll through Instagram and you'll see the vast array of nail looks that can be created and the influencers making a living out of promoting nail products. It also doesn't take long to become a nail technician! In just 10 weeks, you can become a fully-qualified nail technician, able to do an array of nail treatments and designs.
Nail technicians can work independently or in beauty salons, nail bars, hotels, spas, and cruise ships. Maybe you've had the opportunity to take a step back from your busy days and have realised you are not feeling fulfilled in your current role? If you enjoy meeting different people or you want a change of direction, training to be a certified nail tech could be the perfect career choice. 
Without further ado, we will answer all the common questions we are asked by potential students interested in courses for nails and who want to be nail technicians.

What Does a Nail Technician Do? 
Nail Technicians are specialists in maintaining and grooming their client's fingernails and toenails.
The services that are provided include but are not limited to:
Manicures and pedicures
Cuticle grooming
Nail shaping
Callus removal
Application and removal of nail extensions
Painting and decorating nails
Treatment of broken or damaged nails.
All services must be provided in accordance with health and safety guidelines. This is critical to ensure any equipment is kept clean and sterile to reduce the risk of infections. 
As a certified nail technician, you need to know more than just how to make nails look good. To provide exceptional service, you need an understanding of nail health and how to recognise infections or nail diseases that you cannot treat. Your clients will also expect you to advise them about the appropriate aftercare and maintenance procedures following nail treatments.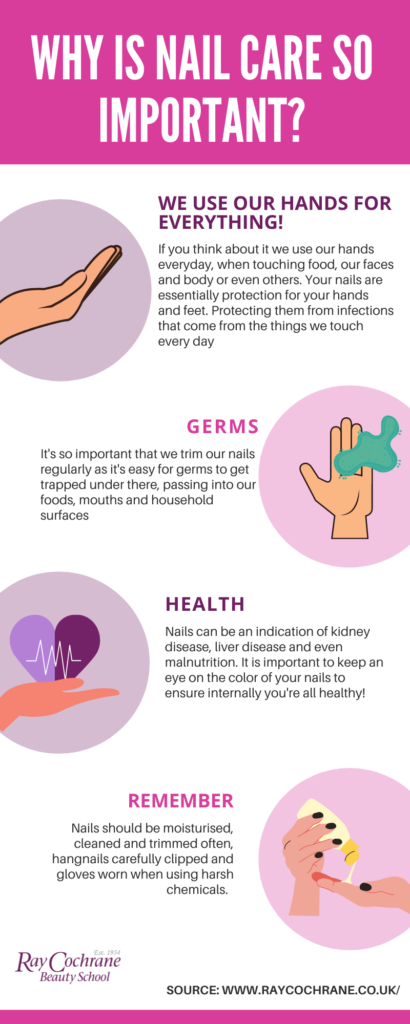 As you can see being a nail technician is about more than just painting nails!
Qualifications for Nail Technicians in the UK 
Nail services involve so much more than what may be initially apparent, and potential nail technicians should always pursue training before performing nail treatments.
You wouldn't let someone who didn't have any training cut your hair! Similarly, clients are looking for nail technicians with the knowledge and training to provide a wide range of treatments. Depending on your interests, you might also want to have the capability to offer nail extensions and nail art.
This is why we offer two courses for those who would like to train as a nail technician!
The VTCT Level 2 Nail Technician Course
There are many nail technician qualifications you can take; some are even online. However, most are not accredited or recognised by any official bodies. Cheap nail courses will only leave you in a position where you will need to take further qualifications certified by an established beauty qualification provider such as VTCT. 
Our VTCT Level 2 Nail Technician Course is recognised by the British Association of Beauty Therapy and Cosmetology (BABTAC) and the Federation of Holistic Therapists (FHT). It provides a solid foundation if you want a career as a nail technician. 
Throughout the course, you will learn essential skills to provide:
Manicures

Pedicures

UV hard gel nail extensions
You will also develop your knowledge of health and safety requirements and retail and reception skills.
Upon completing the Level 2 VTCT Nail Technician course, you will be competent in completing manicures and pedicures. As a certified nail tech, you have proof that you are serious about providing the highest possible service to your clients. Employees are also assured that they have been assessed to a high standard of completing nail treatments within a commercially acceptable time.
The VTCT Level 2 & 3 Nail Technician Course
The VTCT Level 2 & 3 Nail Technician Course takes you from beginner to advanced in as little as ten weeks! With this qualification, you can apply for more senior roles at spas, nail bars, and hotels.
Throughout the course, you will learn about:
Health & safety regulations

Hygiene and how to sterilise equipment and treatment room 

Anatomy and physiology: structure of the skin and the structure of the nail

Nail diseases and disorders and contraindications for treatments

Client consultations

Manicures, pedicures and nail wraps

UV gel nail extensions

Acrylic nail extensions

How to use electric files

Nail art techniques.
By combining Level 2 with Level 3, you will learn how to perform a wider variety of nail treatments. You will also understand how to safely use the advanced equipment required in the nail industry.
What Is the Best Nail Qualification? 
Well, it depends on what you want to do after completing your course!
If you want to utilise the power of social media to grow your own nail business, you can definitely get started with our Level 2 course. The majority of your clients will likely want manicures, pedicures, or nail extensions. As you complete more nail treatments, your clients will recommend you and your business will organically grow. 
However, if you want to work in a salon, nail bar, spa, or hotel, we recommend studying our Level 3 course. With this qualification, you can even grow your revenue by becoming a nail technician tutor at beauty schools.
Regardless of what course you choose, no previous experience is required; we just ask students to be keen and motivated!
Which Nail Technician Courses Are Part-Time?
We offer both of our nail technician courses on a part-time basis, with the Level 2 course only one day a week for 12 weeks. Just think, in three months you could be qualified!
The Level 2 & 3 Nail Technician course has two class length options. You can choose to study one day a week for 19 weeks, or you can study two days per week for ten weeks. So it's entirely up to you how quickly you get qualified and can start working as a nail technician. 
Nail Technician Careers
Once you are a certified nail tech with a recognised qualification, you have numerous career options. Below are just a few of the areas in which our previous students have built successful careers.

Why Choose Ray Cochrane Beauty School?
We hope we managed to answer most of your questions. Now you might be wondering, with so many ways to study Nail Technician Courses, why you should choose us?
Our nail technician tutors are industry experts who have worked alongside makeup artists at global fashion shows. Furthermore, you are provided with leading nail care products from well-known high-end brands.
Our goal is to ensure all our students don't just get a qualification but leave with the skills that will put them ahead of the competition! 
Here are a few other reasons why you can excel in your career as a nail technician if you choose to study with Ray Cochrane Beauty School: 
We are an established Beauty School, and

we started offering training back in 1954! As one of the most established beauty schools in the UK, we are one of London's

highest-rated beauty training academies

.  

Our beauty school is

the first and longest recognised

CIDESCO

school in the world, providing CIDESCO and

CIBTAC qualifications

.

Although we have been operating for over 60 years, we have chosen to continue as a small, independent academy. Smaller classes mean we have more time to give individual attention and help to our students.

All of our tutors have years of experience, hold advanced qualifications, and stay up to date with advancements in the beauty industry.

Providing the highest standards of training is really important to us, which is why all of our courses have a limited number of students, to ensure you get enough one-to-one time with your tutor.
Before you go, we wanted to share a few of our reviews on Yell.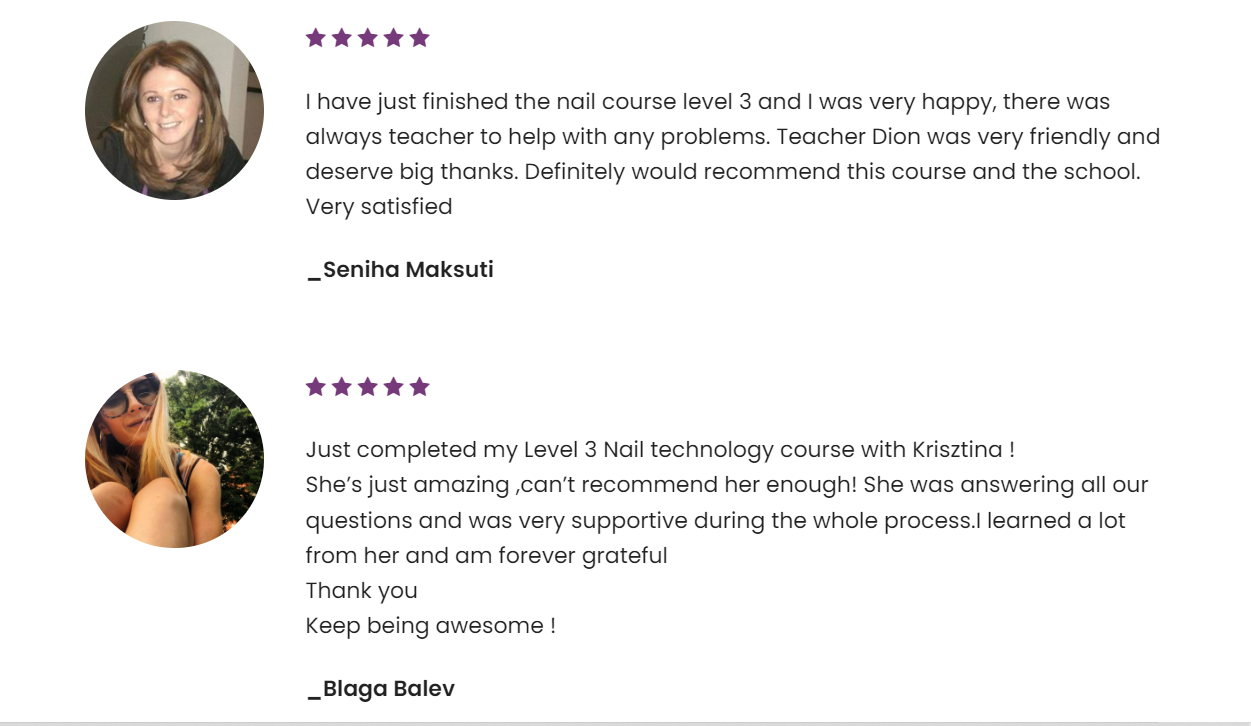 Ready to get started on your journey to becoming a nail technician? Simply get in touch with us today on 0203 856 8886 or fill in our online form for more information and make sure you don't miss the next intake of our VTCT Level 2 Nail Technician Course or our VTCT Level 2 & 3 Nail Technician Course.