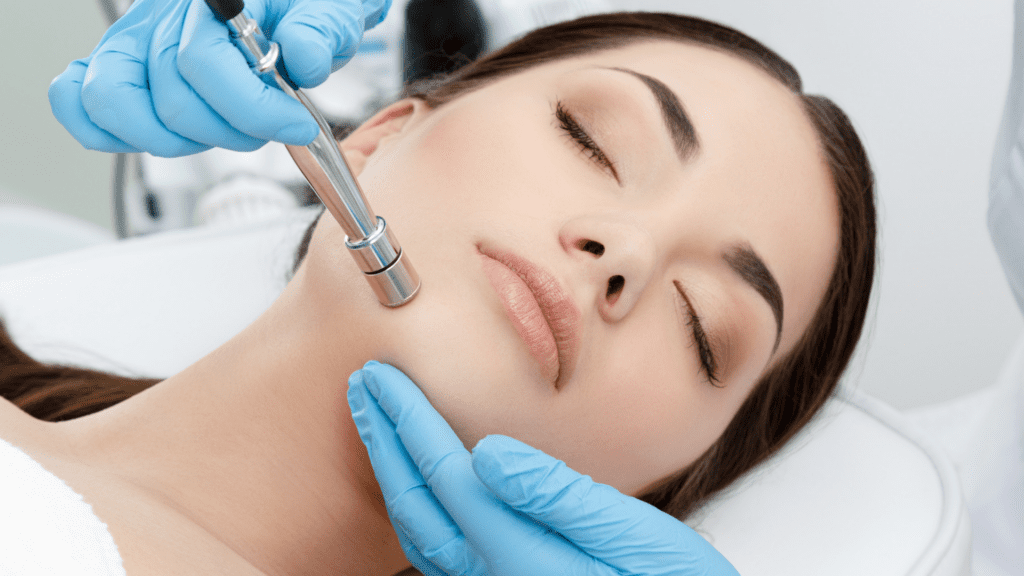 Have you recently completed your Level 3 Beauty Therapy course? Are you looking for new treatments to introduce and set you apart in the beauty industry? Why not become an advanced aesthetician? A popular career with high earning potential. 
Non-invasive cosmetic procedures are growing in popularity. 9 out of 10 cosmetic procedures in the UK are non-surgical. With many clients relying on these procedures to give them glowing and youthful skin. Some procedures, such as micro needling, can assist clients with their acne scarring or stretch marks. The non-surgical cosmetic treatments industry is estimated to bring in £2.75 billion a year.  
There are many reasons as to why this increase has developed, such as it being more cost-effective than traditional procedures. Results are usually immediate and with little to no downtime. It's no wonder that many clients are avoiding going under the knife!
What is an Advanced Aesthetician?
Before you can become an Advanced Aestheticians, you probably want to know more about the role. 
Traditionally, aestheticians are in charge of performing cosmetic skin treatments, however as medical equipment advances, so do beauty treatments. Consequently, an advanced aesthetician will give their clients advanced skin treatments with the help of lasers, IPL and needles. 
Advanced aesthetics is perfect for those who already have beauty training and understand anatomy and physiology. You may already know the area that you want to further develop your skills to build your career. If you do not though, we have made a list of the various treatments you could qualify in.
Advanced aestheticians can offer:
Microblading

Laser Hair Removal

Skin Needling

Chemical Peels
Here at Ray Cochrane, we offer beauty therapists the ability to become qualified in some advanced aesthetic treatments.
We run an NVQ Level 4 Certificate in Laser and IPL. The course will teach you everything you need to know about laser hair removal. You will learn how the laser is used to rejuvenate your client's skin. On the Laser and IPL hair removal module you will learn:
How to analyse the hair and skin type

Identify treatment contradictions

 Risks 

 Formulate a specific treatment plan to suit individual client needs.
The Skin Rejuvenation module will explain how the laser can treat :
Fine lines and wrinkles

Age Spots

Sun Spots and Freckles

Sun Damaged Skin

Acne Breakouts

Pigmentation marks
Upon completion, you will be fully qualified to start offering your client's laser treatments. 
The course runs for 5 weeks with students only required to come in 1 day a week. Alternatively, if you want to complete the course accelerated, you can complete the intensive option. Students could finish the course in 4 days! 
Maybe laser hair removal is not for you and instead, eyebrows are more your speed. 

Why not do the VTCT Level 4 Certificate in Microblading/Nanoblading Course? You could become an advanced aesthetician that specialises in semi-permanent eyebrow tattooing. Microblading is a skill that is growing more in-demand as consumers opt for flawless faces without makeup. 
The process sees the technician tattooing a semi-permanent eyebrow shape to their clients' face. Thus, giving the illusion of perfectly shaped brows which is currently in fashion! These new eyebrows can 
Students who enrol on the course will learn:
Health and safety in the salon

Client care and consultation

Enhance appearance using microblading techniques

Anatomy and physiology for microblading techniques

Eyebrow shaping services
All of which they need to be fully proficient at, and understand to successfully complete their course and become qualified. 
Why Study Advanced Aesthetic Courses at Ray Cochrane?
We are one of the longest standing beauty schools in the UK and have been committed to providing quality education since 1954.
Students at our school have access to the latest equipment so that upon completion, they are ready to enter the workplace. We also provide experienced tutors who are beauty experts to assist you on your journey to becoming qualified. These are industry experts who have been practising for many years. Some even own beauty salons, so they are up-to-date on relevant treatments.
If you would like to become an advanced aesthetician, why not get in touch? Contact us today on 0203 856 8886 or email@raycochrane.co.uk to find out more about starting your course!