To be a successful Aesthetician, you must stay ahead of all the trending treatments to ensure you're offering the most in-demand skin care treatments. Delivering different popular treatments will impact how often clients can return for your service and how much profit you can make.
An industry as fast-paced as beauty and aesthetics is highly competitive, meaning to succeed, you must continuously research how to do better than your competitors.
In this blog, you will find valuable information on the most effective skin treatments to offer, which will help you maintain a busy schedule and attract more clients.
Let's know the best facial skin treatments
10 Best Advanced Skin Care Treatment in 2023
1. Chemical Skin Peels
2. Microdermabrasion
3. Mesotherapy
4. No Needle Mesotherapy
5. Microneedling
6. Dermaplaning
7. Led–low Level Light Therapy
8. Radiofrequency
9. Microblading
10. Laser Hair Removal
1. Chemical Skin Peels 
We constantly see skin peeling treatments trending on social media as clients document the healing process and their satisfying results. Chemical skin peels, despite the name, is a gentle solution applied to the face to encourage new cell growth and dead skin removal. In addition, the chemical solution will evenly remove the top layer of skin, allowing brighter and more evenly toned skin to come to the top layer.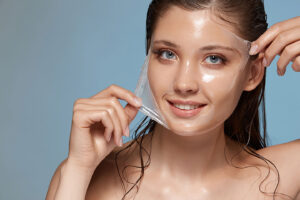 The chemical solution can contain the following popular acid components: 
Salicylic

Glycolic

Kojic 

Mandelic 
All the above chemicals are known for their renewing properties. 
Clients with hyperpigmentation, fine lines, sun damage and acne scarring will significantly benefit from chemical skin peels. However, it is essential to note that clients will experience skin sensitivity following chemical skin peels. So they must incorporate SPF into their skincare regime. 
Depending on the strength and medical grade of the chemicals used in the chemical skin peel, single treatments can start from £80 for milder peels. Deeper peels can start from £250 to £500 a session due to the depth of the dermis it reaches.
Aestheticians must have their Level 4 Certificate in Skin Peeling to deliver the popular chemical skin peel facial treatment successfully. The qualification will ensure that only trained professionals provide this advanced treatment while understanding the science behind these strong chemicals for their and their client's safety.
Here is our 12 step chemical peel tutorial you can have look:
2. Microdermabrasion
It would help if you offered a treatment that has held up over the decades: Microdermabrasion. The popular treatment has been the go-to for treating uneven and rough skin tones for many years. It is also minimally invasive, allowing clients to return to their day-to-day tasks almost immediately upon completion.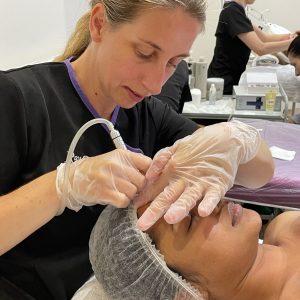 There are two standard methods of microdermabrasion treatment: Diamond-tip handpiece and crystal microdermabrasion. When using a diamond-tip microdermabrasion wand, the aesthetician can exfoliate the dead skin and suction it off immediately, allowing the clearer and smoother skin underneath to shine through. 
Crystal microdermabrasion works by spraying crystals across the face, exfoliating the skin whilst the vacuum sucks up the crystals and dead skin cells. The abrasive nature of crystals makes them an excellent choice for exfoliating the skin. However, crystal microdermabrasion may worsen their condition for clients with conditions such as rosacea and other inflammatory skin types.
In the early 2000s, crystal microdermabrasion was the go-to, but now many clients and aestheticians have switched to diamond-tip microdermabrasion. Aestheticians found that they have more precision in more sensitive areas using a diamond-tip wand and less worry about stray crystals spraying in delicate spots.
A Microdermabrasion treatment usually takes around an hour, and prices for a single treatment start from £50.
To qualify to offer microdermabrasion, you must have completed an accredited Level 3 Facial Electrical qualification. You learn various techniques on a specialist facial course that will transform your clients' skin. When choosing your facialist course, check the curriculum to ensure that microdermabrasion is included in the training.
3. Mesotherapy
Are you looking to beat out competitors by introducing a newly popular treatment for skin – then you need to start offering Mesotherapy! A French doctor initially introduced it to relieve pain before Aestheticians discovered that it could be used to rejuvenate and tighten the skin.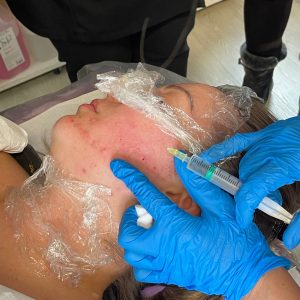 Mesotherapy works by superficially injecting a serum consisting of vitamins, enzymes, hormones, and plant extracts into the skin. Due to its ability to tighten the skin, Mesotherapy is excellent for treating clients with loose skin. However, it can also fade fine lines, contour the body, and reduce cellulite. 
Depending on the skin area, a single treatment can take up to an hour, and clients can return to their daily activities immediately. Prices start from £75 a treatment. 
Completing the training necessary to start offering Mesotherapy is very easy when you already have an aesthetic background with a current level 4 qualification. The qualifying is achieved through an intensive day course as a CPD-accredited Mesotherapy Training.
4. No Needle Mesotherapy
No-needle Mesotherapy is also an option for clients who are afraid of needles. Instead of using needles to inject the serum into the skin, the ultrasound stimulates the skin to encourage the absorption of the serum and its effective ingredients.
It offers cut-edging technology to deliver essential nutrients, vitamins and hyaluronic acid directly into the skin. This helps stimulate collagen production and improve elasticity. This non-invasive procedure effectively targets fine lines, wrinkles, and other skin concerns, promoting a smoother, more youthful complexion.
No-needle mesotherapy offers a safe and painless alternative to traditional methods, with minimal downtime. All this makes it an increasingly popular choice for individuals seeking skin revitalization.
5. Microneedling
Similar to chemical skin peels, microneedling has gained significant popularity among everyday clients. Treatments usually saved for celebrities and wealthier clients are now more well-known and accessible. The microneedling treatment uses thin needles to prick the skin, encouraging it to go into healing mode and generate new collagen and skin tissues. This will lead to smoother, firmer and more even skin. There are two common types of microneedling; dermapen and dermarolling. 

Dermarolling uses a hand-rolled titanium device across the skin, whereas a dermapen is a specialist electrical device. With a microneedling dermapen, you can adjust the depth of the pins, making it great for targeting sensitive areas. However, a dermaroller is better for covering larger areas quicker. 
Clients with acne, scars, dark spots, wrinkles, and large pores can use microneedling to rejuvenate their skin. 
Single microneedling sessions start from £150 and last for around 30 minutes. 
Before you can offer microneedling to your clients, you would have completed a Level 4 Microneedling Training Course. This bespoke training prepares students to provide microneedling services to their clients. 
6. Dermaplaning
Dermaplaning is an effective skin treatment that involves using a sterile surgical scalpel to gently scrape off the top layer of dead skin cells and fine facial hair. This procedure helps exfoliate the skin, revealing a smoother, brighter complexion. Dermaplaning can also improve skin care product absorption and enhance other treatments' effectiveness. It is a safe and non-invasive procedure that can provide immediate, downtime-free results. This makes it a popular choice for those seeking to rejuvenate their skin.
Read interesting facts about skin here
7. LED Low-Level Light Therapy
Experience the transformative power of advanced skin treatments with LED-Low Level Light Therapy (LLLT). LLLT stimulates collagen production, reduces inflammation, and promotes overall skin rejuvenation by harnessing the healing properties of specific wavelengths. This non-invasive procedure is gentle, painless, and suitable for various skin concerns, including acne, wrinkles, and pigmentation issues. Say goodbye to dull and tired-looking skin and embrace a radiant, youthful complexion with LED-Low Level Light Therapy.
8. Radiofrequency
Radiofrequency (RF) uses energy waves to stimulate collagen production and tighten the skin. It targets various skin concerns, including wrinkles, fine lines, and sagging skin. RF technology heats the deeper layers of the skin, promoting collagen remodelling and improving skin elasticity. No downtime is needed for this non-invasive facial, neck, and torso procedure. Radiofrequency treatments are an effective option for achieving smoother, firmer, and more youthful-looking skin without the need for surgical intervention.
9. Microblading
Last but not least is Microblading, and whilst it may not be considered an aesthetic treatment, it most definitely is! In fact, out of all the treatments mentioned above, Microblading will offer your clients the most dramatic change.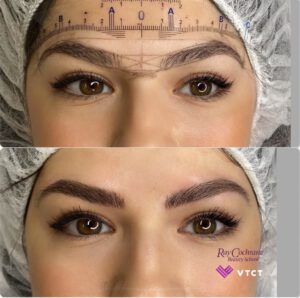 A semi-permanent form of tattooing that removes the need to fill in your brows every day? Who wouldn't want that?
The microblading session starts by working with your client to map out their desired brow shape based on their preference and your understanding of their features. Instead of the traditional tattooing gun used when getting a tattoo, microblading uses a blade tool that creates hair-like cuts in the brow area whilst depositing the client's desired pigment colour into the skin. Results are expected to last anywhere from a year to three years based on the client's lifestyle, skin type and aftercare.
As you can see, Microblading is very advanced and requires the technician to be highly trained and passionate about delivering the best service to their client. To qualify as a Microblading technician in the UK, you must have completed an accredited Level 4 Microblading course. Once qualified, you can expect to make anywhere from £300 to £500 a treatment! 
10. Laser Hair Removal 
Laser hair removal allows clients to be hairless in their desired area permanently. So why wouldn't they be lining up at your clinic/salon if you can offer it? In addition, clients are ditching the wax, razor and epilators now that more clinics offer affordable laser hair removal courses.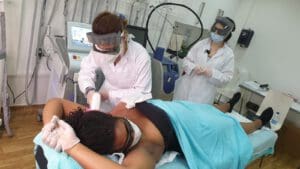 The non-invasive treatment is quick, painless, and suitable from head to toe. It simply works by sending a concentrated beam of light recast as heat, destroying the hair follicles and delaying future hair growth. 
Previously, the laser was only suitable for those with fair skin and dark hair; however, there are so many machines catering to everyone on the market that Laser hair removal continues to grow in demand. Clients can also target more sensitive areas, including pubic areas, chin, armpits, sideburns and facial hair. 
Single sessions for a half leg, Hollywood bikini and underarms can start from £300, and typically clients will need a course of 6-8 sessions. However, you can package up sessions depending on your client's wants, making it very lucrative.
As you can see, there are so many reasons why you should introduce laser hair removal! Regardless, you will need a Level 4 Certificate in Laser and IPL to do so. Ray Cochrane is the leading academy for popular skin treatment, laser hair removal, with the most intakes of students in the UK annually. 
A talented laser therapist will thoroughly understand the health and safety precautions for operating laser technology and how to analyse various hair types/skin colours for the best results. All of these and more are taught in our laser course.
To learn more about popular aesthetic courses and how you can complete your training with the leading aesthetic training centre in London, then get in contact today. Call us on 0207 486 6291 or send an email to email@raycochrane.co.uk, where our offices are open Monday to Friday from 9am to 5pm.
FAQ's

1 : What are advanced skin treatments, and how are they different from regular treatments?
Advanced skin treatments utilise cutting-edge technologies and specialised products to address specific skin concerns. Unlike regular treatments, they offer targeted solutions for optimal results and are often performed by skilled professionals with advanced training.
2 : Which skin concerns can be effectively treated with advanced skincare solutions?
Advanced skin treatments can effectively address various skin concerns, including fine lines, wrinkles, hyperpigmentation, acne scars, uneven texture, and sagging skin. They can also improve skin tone, elasticity, and overall radiance.
3 : What is the recommended frequency for undergoing advanced skin treatments?
The frequency of advanced treatments depends on the specific procedure and your skin's response. In general, a series of treatments is often recommended initially, followed by maintenance sessions every 4 to 6 weeks to sustain results.
4 : Can advanced skin treatments be combined with other skincare procedures?
Yes, combining advanced treatments with other skincare procedures can yield enhanced results. However, it's essential to consult with a qualified professional to ensure the compatibility and safety of the combined treatments.
5 : How can I determine which advanced skin treatment is right for my skin?
To determine the ideal treatment, schedule a consultation with our qualified skincare specialist. They will assess your skin concerns, discuss your goals, and recommend the most suitable advanced treatment plan for you.