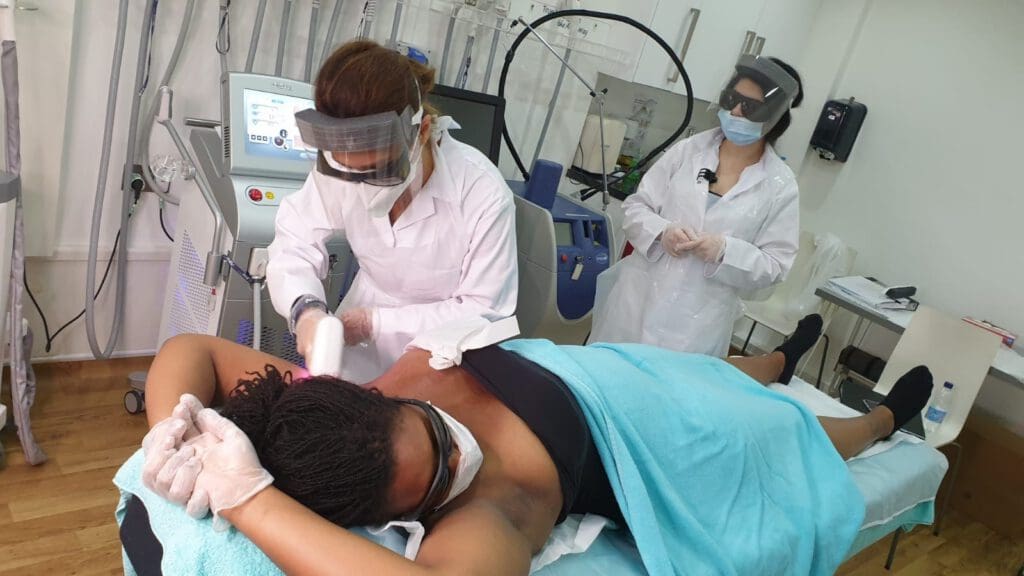 What Do Laser and IPL Therapists Do?
Hair removal and skin treatments with laser and IPL technology are a significant part of the beauty industry. Laser and IPL therapists provide hair removal and skin treatments using laser and IPL machines. With advancements in technology happening constantly, laser and IPL machines can treat more skin types and the demand for IPL and Laser treatments is rapidly growing. 
As more clinics realise the benefits of offering laser and skin treatments with IPL and laser therapists are in high demand. On an average day, you would provide between four to six treatments and no day will ever be the same. Excess hair and skin problems often cause great distress. As a laser and IPL therapist, you can help people feel better about themselves and their appearance. This makes for an extremely rewarding career in the beauty industry.
Laser and IPL Therapist Qualifications
If you are interested in becoming a laser and IPL therapist, you will need to have passed a recognised Level 4 Laser course. You might see laser hair removal online training. However, it is highly unlikely you will be able to find work without a Level 4 qualification because it is required for liability insurance to provide laser treatments. 
When choosing a course, you must be careful and ensure it is recognised. One of the most popular courses is the VTCT Level 4 NVQ Certificate in Laser and Intense Pulse Light (IPL). This course will enable you to get liability insurance and is recognised by local councils and authorities in the UK. 
Laser and IPL Therapist Role and Responsibilities
Your role is to assess the needs of clients and recommend the most suitable laser treatment for their skin and the most beneficial IPL treatments for skin problems. You will need excellent communication skills, as you may have to explain how laser and IPL work to clients. Many first-time clients may be nervous about the safety of laser or IPL treatments, so your role is to reassure them before starting any treatment. The most successful laser and IPL therapists are empathetic, understanding, and very patient!
As part of your role, you must ensure hygiene protocols are adhered to. Although most of your time will be spent working with clients, you must also ensure all equipment is in good order. Organisation skills and the ability to multitask are essential at this level and will be expected by employers. 
How Can I Become a Laser and IPL Therapist? 
The fastest way to become a laser and IPL therapist is to take The Level 4 NVQ Certificate in Laser and Intense Pulse Light (IPL). To have more opportunities, you need to check that the accrediting organisation is internationally recognised. The VCTC assessed NVQ Level 4 Certificate will allow you to work almost anywhere in the world. 
Before taking this course, you will need Level 2 and 3 qualifications. You can either take each course separately or find a training provider that combines them into one complete course. The advantage of doing this is the speed you can get qualified and start working. Our combined course at Ray Cochrane Beauty School is so popular as students can complete their qualifications in as little as three months, studying part-time!
Ready to start your career as an IPL and laser therapist? Simply get in touch with us today on 02074866291 or fill in our online form for more information. Make sure you don't miss the next intake of our VTCT Level 4 NVQ Laser and IPL Course.