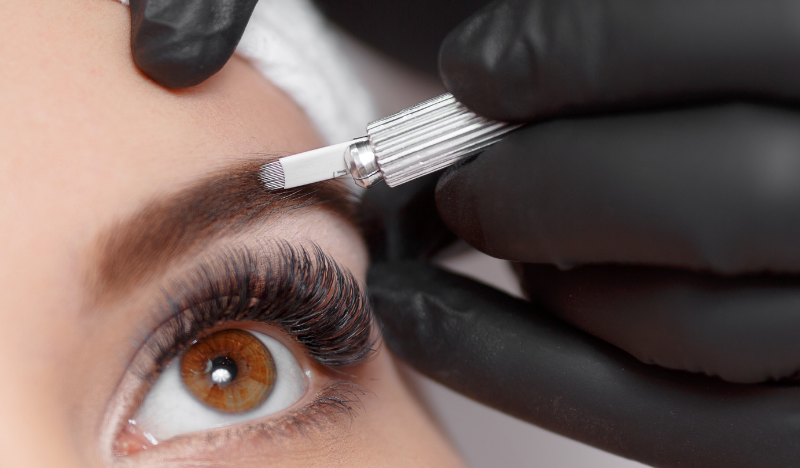 Passionate about creating brows to look fit for a goddess? Well, you've come to the right place. You can shape a whole career around creating perfectly sculpted brows that would make the likes of Cara Delevigne and Lily Collins jealous.
There is some skepticism about microblading. We're here to dispel some of them and tell you what is true and what is false. 
When choosing a microblading training course, you want to make sure that it covers all the bases so you are getting your money's worth. Microblading can give you a lucrative career due to its rise in popularity thanks to the booming trend of fuller brows being celebrated. 
In this comprehensive guide, we'll debunk some of the most common myths about microblading training and provide you with accurate information to make an informed decision about this course
What is microblading?

Microblading is a form of semi-permanent makeup that uses a blade to make incisions in the skin to create the appearance of hair by cutting feather-like strokes on the skin to make your brows look naturally fuller. Even though it is a tattoo technique, microblade artists are not qualified tattooists because the microblading fades over time. 
It's not known exactly how the trend began, but it is said to have started in Asia approximately 25 years ago. 
It's an ideal option for those striving for fuller brows, especially for those who participated in the 90s trend of thin eyebrows and unfortunately are dealing with the consequences of sparse brows thanks to constant over-tweezing. Or for those who have experienced hair loss due to medical conditions such as those are undergoing chemotherapy treatment or suffer from alopecia and are wanting to find a solution to achieve a natural brow look.
It has become the most popular beauty treatment in the last 4 years and the fastest growing cosmetic tattoo option as clients can't get enough of the result of beautifully enhanced eyebrows. Microblading is an affordable investment that gives you the natural appearance of beautiful fuller brows. 
The duration of the application process is 90-120 minutes and an easy aftercare guide is provided afterward where the client can go back to their day to day activities as long as they refrain from getting sweat and moisture on their brows for a minimum of 10 days after treatment. Touch-ups are done in 5-8 weeks after the application appointment. 
The results can last up to 2 years. The pigments we use at Ray Cochrane Beauty School are fading true to color compared to many on the market fading to green or red. 
It's a career option that is a financially viable option as you do not need a whole load of equipment to perform the procedure which would affect your total revenue.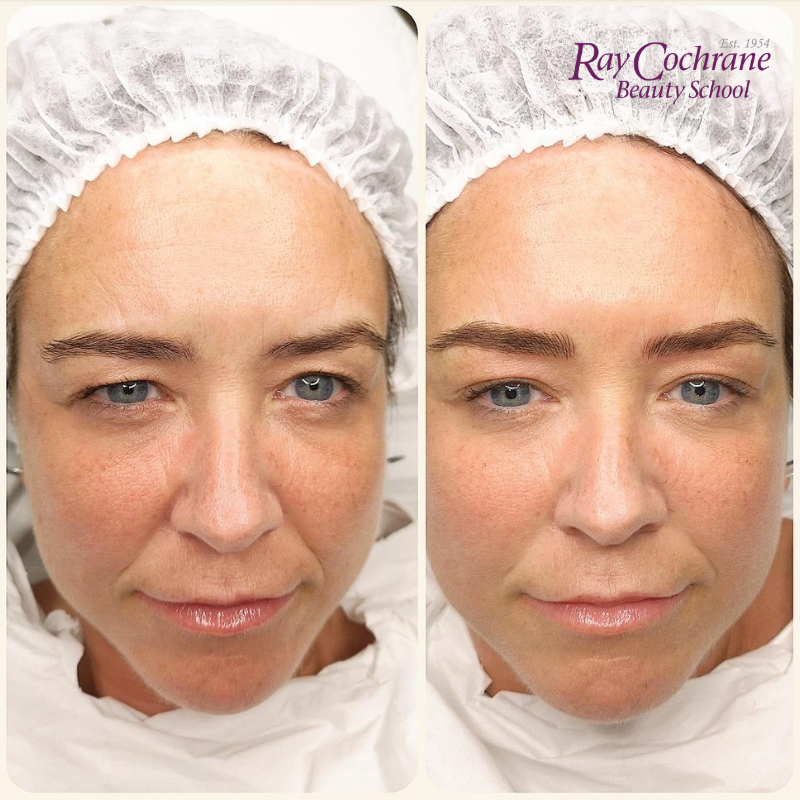 At Ray Cochrane Beauty School, we offer the VTCT Level 4 Microblading Certificate. We pride ourselves on the highest excellence of quality in our teaching. 
Units of the course are health and safety in the salon, client care and consultation, enhance appearance using microblading techniques, anatomy and physiology for microblading techniques.
Throughout this qualification, students will enrich their knowledge and understanding of the process of microblading. Alongside this, students will have the opportunity to develop their communication skills, consultation, time management and customer care skills which will fully equip them for their future workplace. 
For each unit, students will be required to complete a series of assessments to test their understanding and showcase the practical implementation of the skills and knowledge learnt to achieve professional competence.  
8 Microblading Training Myths to be Busted
Here are some of the myths we are here to dispel when it comes to microblading.
Myth 1: Microblading training is a waste of money

The price of the course is £2,500. It's cost-effective as microblading treatments tend to cost £300 to £600. 
The revenue cost from clients with vastly outweigh the cost of training, so you don't have to feel that you will be wasting your money as it has benefits in the long run that will pay off in your beauty career.
It's a relatively new trend that's rapidly gaining traction in the beauty world with more and more people opting for the semi-permanent method to bolder brows, therefore you can be certain you're making a wise decision to step up in your beauty career. 
Level 4 Microblading Lecturer and School Education Director Eleanora Androva said "Microblading is easier to pick up as a technique than other types of semi-permanent makeup. In comparison, microblading can take you 4 months and then you will be fully ready to work with clients rather than other semi-permanent makeup can take you longer than 2 years. After the course, the students will be fully confident to work on clients and have their own business with not much investment."
Myth 2: Anyone Can do Microblading, No Qualification is Required for it
Yes, microblading gives stunning results. But there are also a number of risks that can happen if any mishaps are made. These can range from infections, inflammation to permanent scarring. This is why you need to be certified to carry out the procedure safely and correctly. 
Our VTCT Level 4 Certificate in Enhancing Eyebrows with Microblading Techniques course is designed to take you through the entire process of performing microblading treatments from health and safety in the salon to anatomy and physiology for microblading techniques. 
You will leave us with a wholesome sense of confidence in yourself as a beautician that can give microblading treatments with ease and the highest level of professionalism. 
Myth 3: Microblading is Painful
The idea of cutting a blade into your skin multiple times undoubtedly sounds like you're taking the saying 'beauty is pain' to a whole new level. 
When in reality, the tool used for microblading is not a blade but it is actually a pen-like tool with fine needles that create hair-like strokes. 
Before the treatment begins, you would apply a numbing cream which minimises the pain which makes for a more comfortable experience. The duration of the treatment takes around 1.5 -2 hours. 
Myth 4: Microblading Results are Difficult to Maintain
There will be some slight scabbing a few days after the initial treatment in the 14 day healing period afterwards but as long as clients follow the correct advice provided in the aftercare guide by the beauty therapist then the long-lasting effects of the treatment will be evident to the client. 
Advising clients to not peel scabs or scratch their freshly done eyebrows as it can lead to infection and further inflammation which can make the results look botched which in the end leads to an unhappy customer. 
Myth 5: Microblading is a One-time Procedure
It's possible to achieve amazing microblading results after one procedure. Although for many women, a touch-up or two is necessary. It takes about 4 to 6 weeks for the pigment to settle and start fading.
Touch-up procedures are very easy and non-painful. During a touch-up, the technician will add pigment to any fading gaps. Once filled in again, your brows will look as perfect as they did after the first treatment.
Myth 6: Microblading Works for Everyone
While microblading can be a fantastic option for many people, it's not suitable for everyone. Individuals with certain medical conditions, such as diabetes, autoimmune disorders, or skin conditions like eczema or psoriasis, may not be ideal candidates. Pregnant or breastfeeding individuals are also advised to postpone microblading.  A qualified microblading technician can guide you before carrying out the treatment if  you're a good candidate to perform the treatment and discuss any potential contraindications.
Myth 7: Microblading is Risk-Free
While microblading is generally safe when performed by a skilled and experienced technician, it is not entirely risk-free. As with any cosmetic procedure, there is a minimal risk of infection, allergic reactions to the pigment, or undesirable outcomes if performed by an unqualified practitioner.
To minimize risks, research and choose a certified and licensed microblading artist. A beauty therapist  who has done the Microblading training at a reputed and accredited beauty school like Ray Cochrane.
Myth 8: Microblading Looks Unnatural
Some people fear that microblading will result in overly bold, unnatural-looking eyebrows. The truth is that microblading can be as subtle or as dramatic as you desire.
A skilled microblading artist works closely with their clients to choose the right pigment shade and shape that complements their facial features and preferences. The goal is to enhance your natural beauty, not create an artificial look.
Related: All Your Microblading Questions Answered!
Now that you have more of a truthful idea of what it's like to do microblading, why don't you get in touch with us to get on your way to becoming a microblading whizz by emailing us at email@raycochrane.co.uk or by calling us on 0203 856 8886.