Introduction of Dermacure Laser Clinic
Ray Cochrane Beauty School is proud to introduce our partner company Dermacure Laser Clinic. In conjunction with teaching laser 4 Laser Hair Removal, Laser Skin Rejuvenation and Level 5 Laser Tattoo Removal Training Courses  in Ray Cochrane beauty school, we have decided to open our doors to the public for treatments in our Boutique Laser Therapy room as well as offering advanced skin care treatments as another aesthetic treatment option.
We thought, why keep this all to ourselves when we can use all the benefits that make us such an established quality school. When we can extend these very same benefits to the public and provide treatments which we take pride in delivering at the very highest standard.
Coupled with the above reasons, our tutors came up with the idea for Dermacure after wanting to keep practicing their passionate craft of Laser & Skincare.
Enjoying teaching they wanted something that they could give to clients that was their own. Applying their skills and make better use of the potential the facilities we have here.
Thus, Dermacure Laser Clinic was born!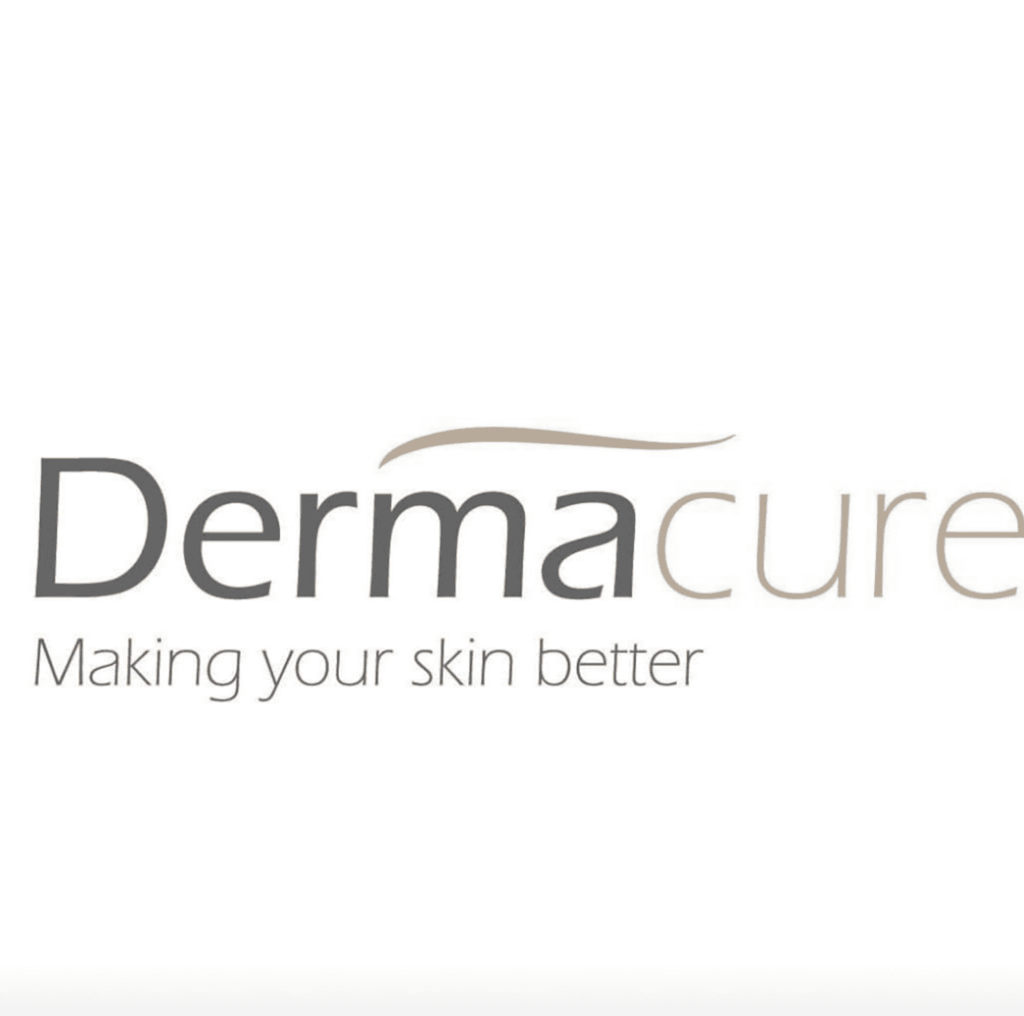 Overview of treatments
The most popular treatment Dermacure offers is the Laser Hair Removal, ClearLift Laser Facial, Laser Tattoo Removal and Microblading Eyebrows. These treatments are fast becoming the new standard for Hair Removal and skin rejuvenation.
The most popular of the laser treatments  Soprano ICE Pain Free Laser Hair removal is less time consuming, less messy and a more permeant solution offering little to no growth of hairs in an area after only a handful of treatments. Although there are instances of pain this is by and large as a result of the Laser therapist and/or machinery used. But this is something you will not have to worry about at Dermacure, but more on that later.
Our main options of Laser/Light treatment Dermacure offers are:
Harmony-Redness Reduction
Harmony-Clearlift
Harmony-Pigment Reduction
Harmony-Acne Reduction
I-Pixel Skin Resurfacing
Laser Tattoo Removal
In conjunction with laser therapies, Dermacure provides skin treatments such as the Green Peel, Micro Skin Needling, NIR Skin Tightening Facial & Microblading.
Dermacure offerings are the latest in Laser Therapy and the most effective methods with proved results. Just click through on the above and see the before and after photos at the bottom of any of the treatments.
The Difference:
There are many laser clinics around London. Many that are of a good price with brilliant therapists but not up to spec machinery. Then there are places that have the machines but not necessarily the best Laser Therapists.
When looking to get any Laser treatment the questions should be, what is the reputation of the place? Who will be doing the treatment? What machines are they using? Will it be painful?  All these elements matter to ensure that you get the best treatment possible.
Although you may find what you're looking for after some searching? Then you have to ask where is it and how much?
Let Dermacure Laser Clinic take the hesitancy out of the decision and let yourself relax, we have you sorted and have addressed your concerns.
Location
Dermacure is located in the super easy accessible location of Baker Street, Marylebone in Central London. A stones throw from the Baker Street underground station and well connected by buses your worry about making an appointment with us will be of no concern.
Reputation & Standards
The Clinc's Laser & Skincare experts Eleonora & Karina are both highly experienced with over 10 years experience in the laser aesthetic industry. They have been teaching students the VTCT NVQ Level 4 Laser and IPL course  and and other advanced aesthetic courses.
Our students speak for our tutors/Dermacure therapists who have highly reviewed the courses and more importantly for you, their respective knowledge in laser & skincare. Ray Cochrane Beauty School open since 1954 has always ensure quality all over and this includes our tutors who are passionate, driven and knowledgeable.
We think in coming for treatments at Dermacure you will feel inclined to look favourably on your experience with the Dermacure therapists, as many have already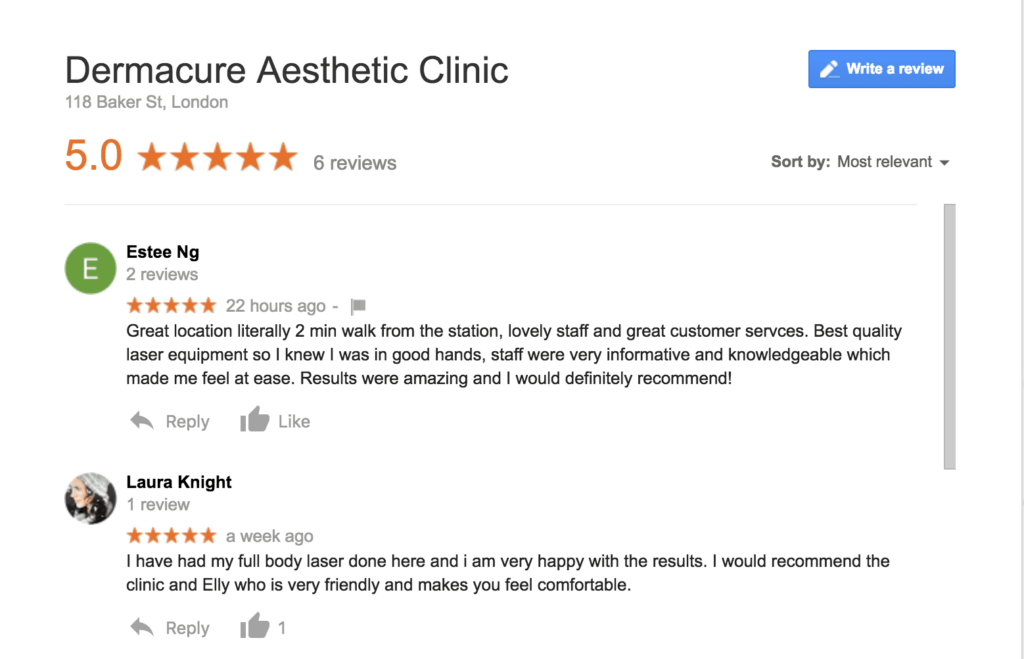 Avoidable clichés
When most think of Lasers in general the thought of the heated laser is one that can come to one's mind. Will you feel the burn?
The usual pitfalls of bad laser therapy are something you'll never come across at Dermacure. Pitfalls such as an incomplete treatment or a bad procedure which resulted in burns, scarring & pain.
The biggest concern of most who come to do Laser therapy for the first time is the potential pain. With our experienced and intuitive therapists this is a complaint that has never occurred.
Eleonora who besides being a Therapist/Shareholder of Dermacure explains:
"The importance of providing an experienced, competent Laser therapist is so important. With treatments provided without proper knowledge and care can lead to unneeded pain, burns and accidents.
Usually as a result of not having the required knowledge or skill which can only come from experience and proper teaching"
With that, the Dermacure staff are always conscious of the client and will always find their comfort zone where the client is comfortable and in a state of relaxation. Knowing they are in safe hands throughout. You certainly will not "feel the burn"
Technology
The Laser equipment Dermacure using are the latest in Laser technology, with a view that efficient machinery yields better results. Which is the truth with our machines being the very same standard of high quality salons. These machines are the widely respected Ice Soprano Laser Machine and the Harmony XL Pro Laser machine.
With the latest offering of Laser machinery to the customer we are able to further assure them of the quality of service they will avail of even before they have begun their treatment.
Quality of service
If that was not enough, the Treatments are offered one on one. So you get the best care and attention with the focus exclusively on you. Enjoy your treatment in a clean, bright, pleasant looking environment.
So with that, you can start to think of what appointment time suits you best and book your Laser & Skin aesthetic treatments at Dermacure. Where you are guaranteed to see the light!