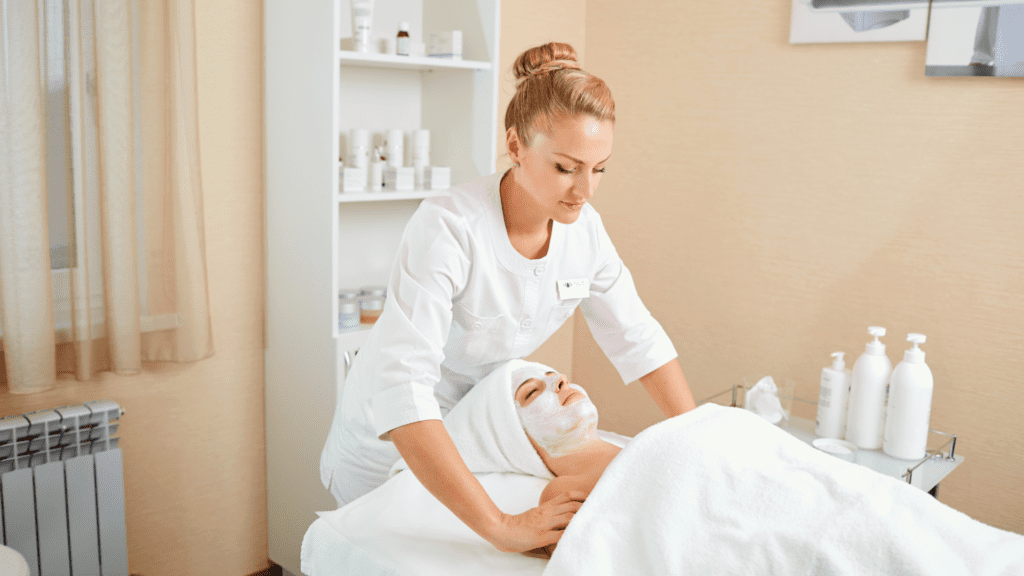 At our beauty school, we take every student's lifestyle into consideration. We have many students juggling their daytime jobs, parenting, other responsibilities and commitments that create conflict in their schedule. 
It may feel impossible to have it all when you're working full time and you're already on such a busy schedule. But, we believe in making the impossible, possible. 
Maybe you're someone who has always loved beauty having created your own DIY face masks every chance you got as a kid or loved painting nail art designs on your friends' nails and thought there was nothing else you were going to do with the rest of your life than beauty. But, life got in the way and other commitments and responsibilities present became a higher priority.  
If you're someone who has always dreamt of working in the beauty industry but felt like it was a dream out of reach, we'll give you a reason to reconsider.
At Ray Cochrane, we offer the option to study part-time in a number of courses. Ranging from beauty therapy to nail artistry, you can become fully qualified in a few months and get on your way to your newfound career in what you're passionate about. 
Getting back into work after stepping into parenthood
If you are a new parent and have taken maternity/paternity leave, you may be feeling now is the time to question your next career move if you're looking to get back into the workplace. 
It's understandably tricky to juggle looking after children and making time to study. Working in beauty can be a flexible career path which can give you multiple options that works for you.
You can work part-time shifts as a beauty therapist in a salon, work from home or create a remote clinic in your living room or spare room in your home. This is considered a more convenient option as you have clients come to your residence for treatments but also offer to do mobile treatments to clients who are unable to get to your place.
It's ideal as whilst the kids are at school/nursery which allows you to have a healthy balance between spending time with your kids and working. 
Career change
Have you realised that you have made a career mistake and desperate to get out and enter something new? 
It can be daunting if you now have to sit and contemplate whether you will have to quit your job cold turkey to have the free time to go back to study a whole new profession. 
If you are interested in becoming a beauty therapist, you can take our part-time evening courses where you can still work your day job and take classes in two evenings a week for the Level 2 Beauty Therapy Diploma qualification (over 22 weeks).
On the Level 2 Beauty Therapy Diploma course, you will learn everything you need to know to introduce you to the world of beauty therapy. Teaching includes lash and eyebrow tinting and shaping, waxing (strip and hot wax), facial massage, massage, nail treatments (manicure and pedicure), health, safety and hygiene in the workplace, makeup, client care and consultation techniques and receptionist duties and retail skills. 
From studying this diploma you will be able to work as a junior receptionist at a salon, salon technician or a junior beauty therapist.
If you are interested in becoming a senior beauty therapist then you can study the Level 3 Beauty Therapy Diploma course which goes into facial electrotherapy treatments, body massage, microdermabrasion, Indian head massage, anatomy and physiology. 
Gaining the Level 3 Beauty Therapy Diploma qualification will allow you to work as a freelance beauty therapist, destination spa therapist, cruise ship beauty therapist and product distributor/trainer.
Side hustle
Make extra money on the side by running your own beauty business on the side. 
You may be currently working in a salon full time as a beauty therapist but be interested in increasing your income and working as a nail technician doing mobile treatments on your days off. 
You can study our nail technician course on a one day a week basis (from 10am to 5pm) and get qualified in just three months. 
Accredited by the VTCT (Vocational Training Charitable Trust), the Level 2 Nail Technician course is the perfect introduction to getting well on your way to becoming a nail tech in 3 months. The course involves learning how to do manicures, pedicures, acrylic nail extensions, gel nail extensions, retail skills, reception duties and health and safety procedures. This course runs from 10am to 5pm one day a week over a 12 week period. 
Or if you want the whole nail tech package, you can take the Level 2 & 3 Nail Technician course which further includes nail wraps, nail diseases and disorders, client consultations and contra-indications. This course runs over a period of 19 weeks if you choose to study the one day a week option or 10 weeks if you choose to study the two days a week option. 
Progress in your career
If you have worked as a beauty therapist for a number of years and are looking to reach the next stage of your career whether that's becoming a spa manager or looking to expand your skillset by adding laser hair removal to the list then studying the Level 4 IPL and Laser Treatments would be a great asset to your career. 
The qualification is of the highest calibre for anyone working in a beauty salon. On this course, you will gain knowledge about skin rejuvenation treatments using intense pulse light and laser. These treatments are used to treat skin aging, sun spots, fine lines and wrinkles, sun-damaged skin, acne breakouts and pigmentation marks. 
The course will also teach you the important health and safety guidelines so you can safely practice laser technology in a salon and how to identify and control hazards in an aesthetic clinic or beauty salon environment.
You can study this course on a one day a week basis for 6 weeks from 10am to 4pm. This makes it an ideal opportunity for those who are wanting to progress further without jeopardising their current career. We focus on providing a realistic study option for those who are aiming for higher, that is why we also offer students flexible monthly payment options over 6 or 12 months. 
Call us on 0203 856 8886 or email us at email@raycochrane.co.uk to speak to one of our sales representatives to discuss your options and sign up to a course today.