Acrylic nail extensions are growing more popular due to the longevity and creativity they allow clients. The popularity has caused an increase in the demand for Acrylic nail extension training.
Let us first understand what acrylic nail extensions are.
What is an acrylic nail extension
An acrylic nail extension is an artificial nail enhancement method that uses a combination of liquid monomer and powdered polymer to create a durable and robust extension on the natural nail. It is applied by sculpting the acrylic mixture onto the natural nail or artificial nail tips to provide added length and strength. The acrylic hardens when exposed to air, resulting in a long-lasting and customizable nail extension.
Why is Acrylic Nail Extension Training Needed?
Similarly to how clients would want an aesthetician with training is the same way they want a highly-qualified nail technician.
Going to an unqualified nail technician can lead to many problems:
Damaged and brittle nails

Infections 

Messy designs
Nobody wants any of the above!
Whether you want to work as a freelance nail technician, in a salon, nail bar, or hotel, you need the training!

The Different Options For Your Acrylic Nail Extension Training Course
1. Local College:
You might find that your local college offers a beauty curriculum, usually including hair, makeup, or nails. Local colleges are often government-funded, making them a good option for those that can't afford to pay themselves. 
There are drawbacks, however, to studying your nail extension at a local college. Firstly, your level of study is determined based on your performance at school. So you might find yourself doing a lower NVQ because you didn't do great in maths! 
Secondly, it is more than likely that the curriculum is out of date as tutors are less likely to keep up with industry trends. 
2. Learning From a Nail Technician:
In theory, it makes sense to go to your favourite nail technician and ask them to teach you. After all, they are doing nails every day and are up to date with industry practices. 
Learning from a nail technician may mean you miss out on a lot of basics. It can be hard to teach someone tricks you already know as they come naturally to you. Remember, someone may be a great nail tech but not a great teacher. To be a great teacher comes with years of training and a lot of patience!
3. Online Courses:
There is a growth in the popularity of online courses due to longer working hours and prior commitments. Students can work from the comfort of their own homes and usually in their free time. We can see the appeal and, it works very well for some fields of study.
However, when it comes to such practical learning, you will end up missing out on a lot of practice. These practices come from being in person and being around the professionals. Your tutors can correct your mistakes right then and there without them turning into lasting habits. Online learning also means missing out on making connections in your classes. These connections can even lead to business partners and lifelong friends.
4. 
A Private Beauty School:
In our expertise, a private school is THE option that combines all of the previously mentioned benefits.
With a private beauty school, you can learn from a professional nail technician with years of experience. If you choose a prestigious school, you will have access to salon products and an on-site salon environment. 
Beauty schools are a hefty one-time expense that some people do not feel is justified. However, if you are sure that a career as a nail technician is for you, you should see it as an investment. A high-quality beauty school should offer you life-long benefits that outweigh the cost. 
Why Choose Ray Cochrane Beauty School for your Acrylic Extension Course ?
The Ray Cochrane Beauty School was established in 1954 and is one of the longest-standing beauty schools in the country. Teaching nail, beauty therapy, and advanced aesthetic courses, you are sure to find something to learn with us!
We also have an array of experienced tutors that work with us. Our tutors have been in the industry for over 10 years and prestigious qualifications under their belt. As we mentioned before, you want to learn from technicians who are keeping up-to-date with the latest trends. At Ray Cochrane, our tutors have their independent clinics and salons, ensuring they are still practicing technicians.
Another benefit of learning with a private school is care and attention. Class sizes are kept small at Ray Cochrane to ensure you are getting the right amount of attention from your tutors. You may find that with a local college, there will be class sizes of 20+, but we only have up to 14 students.
Benefits of Doing Nail extension Training with a Professional Institute
Professional Skill Development
Nail extension training courses provide This program teaches individuals the necessary knowledge and skills to apply nail extensions professionally. You can learn various techniques, including acrylic application, nail shaping, filing, and finishing, essential for creating beautiful and durable nail extensions.
Industry-Recognized Certification
Completing a nail extension training course can lead to a certification or diploma, depending on the program. Getting certified can increase your credibility and help you succeed in the nail extension industry.
Comprehensive Theory and Practical Training
Training courses usually cover theoretical knowledge and practical hands-on experience. You can learn about nail anatomy, nail health and safety, product knowledge, proper sanitation and hygiene practices, and client consultation. Hands-on training allows you to practice applying nail extensions under the guidance of experienced instructors.
Business and Marketing Skills
Some training courses may include modules on business management and marketing strategies specific to the nail extension industry. These skills can be valuable if you establish a nail salon or freelance nail extension services.
Industry Updates and Trends
Choosing a trustworthy training provider who keeps themselves of the latest trends, techniques, and product advancements in the nail extension industry is important. Attending a training course lets you learn about current industry practices and stay informed about new developments.
It's important to research specific training courses and providers, such as Ray Cochrane, to gain detailed information about the curriculum, course duration, and course fees.
Which Course to Take for Acrylic Nail Extension Training at Ray Cochrane

To be qualified to offer clients acrylics nail extensions, you will need a more advanced course. We recommend; the VTCT Level 2 & 3 Nail Technician Course! This course is our best-selling nail technician course, designed to take you from beginner to expert in just 10 weeks.
Our expert tutors have designed the course comprehensively to help you fully understand the materials.  
What Does the Course Teach?
Students will learn detrimental knowledge to their success as a nail technician including:
Health & Safety – This includes the regulations and considerations that have to go into setting up your working environment.
Hygiene – When preparing for a client, sterilising equipment and treatment rooms. 
Anatomy & physiology – The structure of the skin and the structure of nails.
Nail diseases & disorders – Ensuring that you do not treat infected nails and how to go about treatment. 
Client consultations – Preparing your customer service skills.
You will then learn how to carry out nail treatments:
Manicure & Pedicure
UV Gel Nail Extension
Acrylic Nails Extension
Nail Art
Electric Files
Nail Wraps
As you can see from the course contents, students will learn more than just the basics. The courses here at Ray Cochrane have also been designed to increase employability upon completion. We are aware that the job market is competitive and, we want our students to stand out!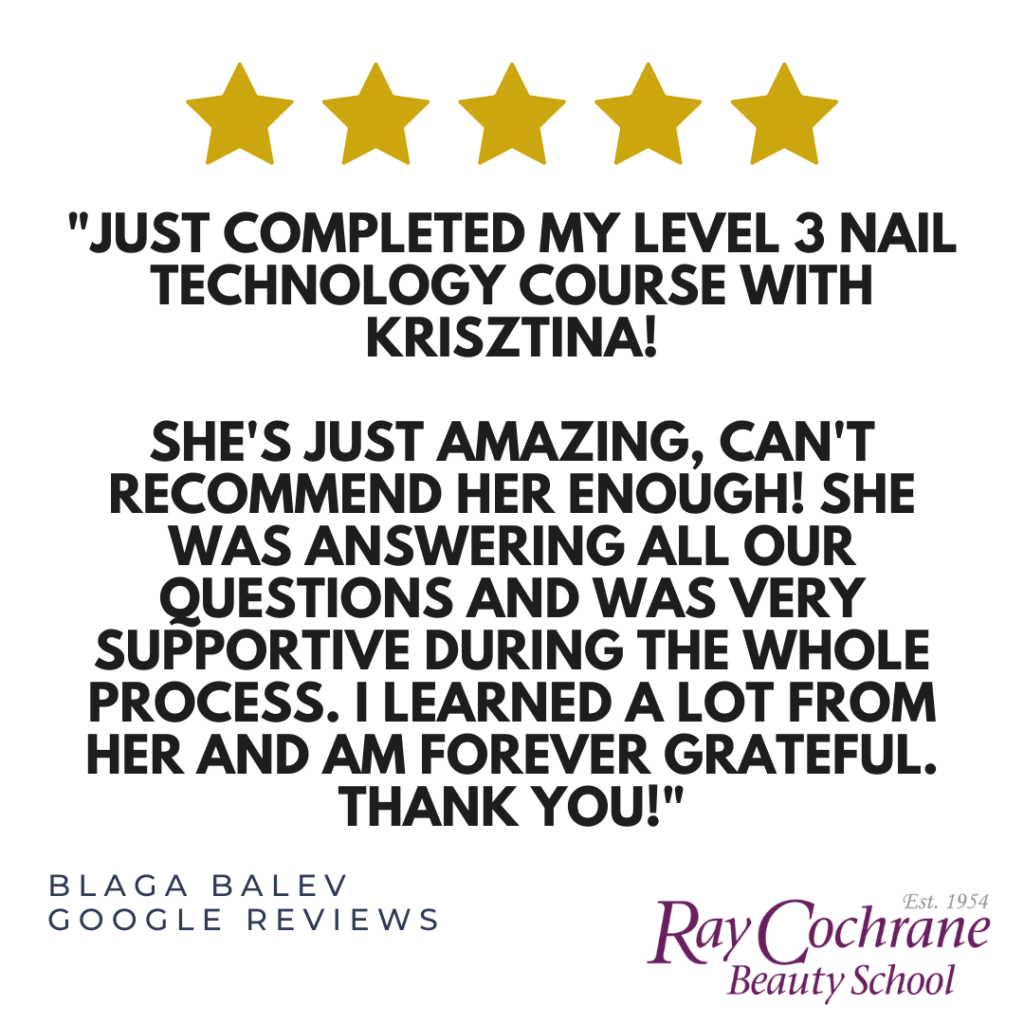 To find out more about securing your place on one of our Acrylic Nail Extension Training Courses, get in contact today!
We can be reached on 0203 856 8886 or email us on email@raycochrane.co.uk to find out more information!
The friendly staff at Ray Cochrane Beauty School can't wait to hear from you and complete your enrolment.