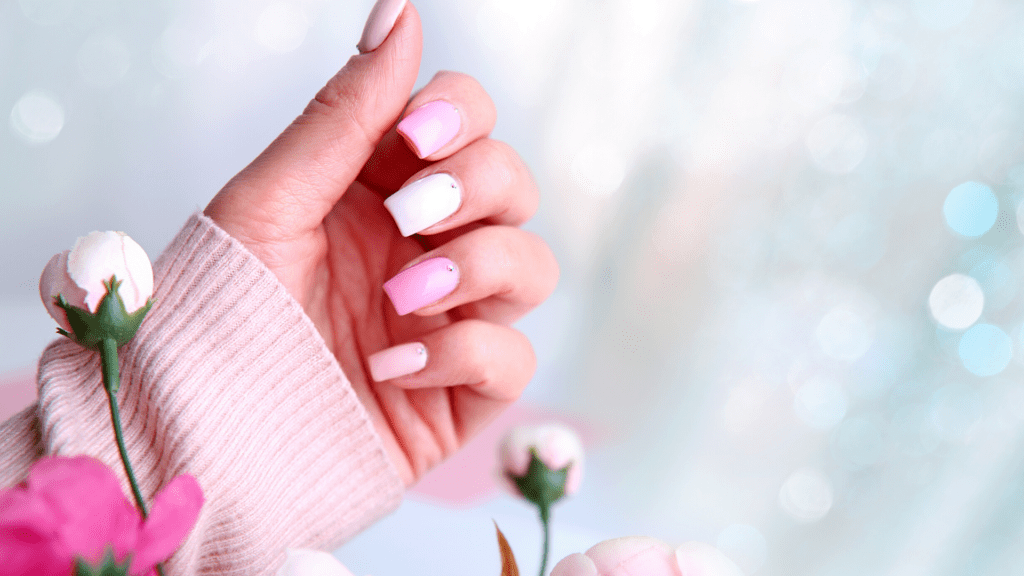 Getting a manicure is more than just a way of pampering yourself, it's another way to express your style and individuality. 
Here are the most popular iconic trends which you've undoubtedly seen on your social media feed in the past year. You can learn how to create these stylish looks. Not even that, you could have that become your full-time job working as a successful nail technician. 
1. Drip nails
Inspired by Kylie Jenner's cosmetics line signature drip design, it's not just gorgeous on the packaging but also on your nails.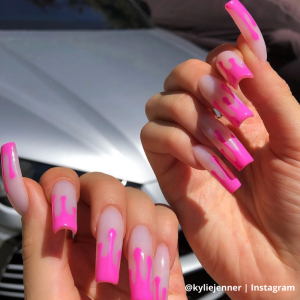 2. Marble
Not just fit for the floors and bathtubs in luxurious houses, the marble effect sets an earthy theme to your nails. 
The effect is achieved during a gel manicure by mixing a gel mixer with a darker colour.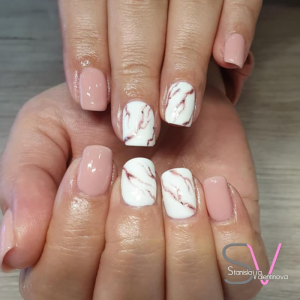 3. Chrome 
Adding a metallic element to your nails creates an edgy look that leaves a striking impression. 
If you absolutely love everything to do with nails, you can learn how to become a fully qualified nail technician with us at Ray Cochrane Beauty School.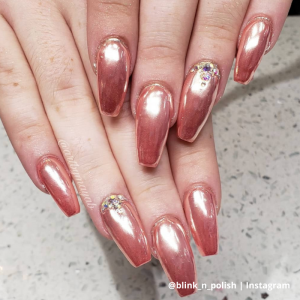 4. Colour block 

A trend perfect for those who are always stuck between two colours, colour blocking on your nails adds geometric elements reminiscent of art deco style.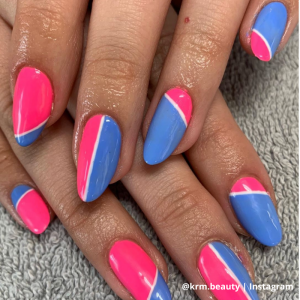 5. Rhinestones 
Throwing it back to the early 2000's to bejazzle all your accessories, bring it back on your fingers. Add bling to your nails make them extra glamorous.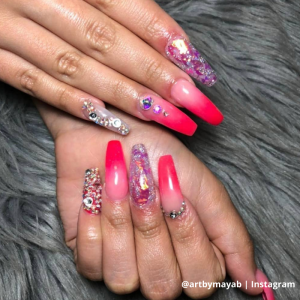 Read More – Halloween Nail Design Ideas
Do you want to learn how to do this?
You will learn how to cut, file and shape in minutes on our Level 2 & 3 Nail Technician Combination course. 
It is accredited by the VTCT, the Vocational Teaching Charitable Trust is an organisation that specialises in awarding and assessing those who choose to take up a career in the vocational sector. These occupations include working in hospitality, beauty therapy and hairdressing. 
Nail technicians are talented nail artists who create visually appealing creations on people's nails. 
Now with social media, acrylic nails are even more popular with many of those snapping pictures of their nails to post online. 
It's a lucrative career field that allows you to get creative and feel like your creativity makes a splash.
Our nail technician course is the best in London and is a pathway to a successful career in nail care and nail artistry. 
To be an excellent nail technician, you will have to have all the attributes that will enable you for success. This entails being time-efficient, meticulous with your designs for your client, organised, passionate and patient. 
It's also a field that will continue to challenge you and help you grow in your skills as many clients take influence from social media for the designs they choose to have done.
Items on the learning syllabus on the Level 2 Nail Technician course are:
Manicure treatments –

cut, shape, massage, cuticle work and polish
Pedicure treatments –

cut, shape, cuticle work, soaking the feet, massage and polish
Develop and maintain effectiveness at work
Receptionist duties
Client consultation / contra-indications
Anatomy & physiology: structure of the skin, the structure of the nail
Nail diseases and disorders
The course runs one day a week for 12 weeks (from 10am to 5pm).
The total costs for this course is £1200 (VAT included). The price includes VTCT registration, assessment fee, logbook, learning pack, and uniform.
Other Fees are:
£35 (Manicure/pedicure kits)
£95 (UV gel kits with lamp)
If you want the entire teaching package, you can enrol in the Level 2 and 3 Nail Technician course.
The additional items on the learning syllabus on the Level 3 Nail Technician course are:
UV Gel Nail Extension and Acrylic Nail Extension – application, tips, natural overlay and finish

The Level 2 & 3 Combi Nail Technician course offers students the chance to completely learn from scratch the ropes of nail artistry. You will be taught by our tutors who are industry experts who will provide you with impeccable 1-to-1 attention and guidance. 
The total costs for this course are £1,975 (including VAT). The pricing included VTCT registration, assessment fee, logbook, study pack and a uniform. Other fees include:
£35 (Manicure/pedicure kit)
£45 (Nail art kit)
£75 (UV Gel kit without lamp)
£75 (Acrylic Liquid and Powder kit)
The course runs one day per week for 19 weeks or two days per week for 10 Weeks (from 10am to 5pm).
Why should you be qualified?
It's important to be qualified because not only will you be able to be confident in your abilities, employers without fail will be able to have confidence in you. 
The VTCT qualification is viewed by employers to be one of the most recognisable and respectable qualifications when it comes to vocational focused careers
This VTCT Level 3 Nail Diploma is completely accepted for licensing purposes by all London boroughs and other local authorities in the UK, including Westminster, Kensington and Chelsea, Hammersmith and Fulham.
Why choose our beauty school?
We are located in Canary Wharf, Central East of London. Our school is in close proximity to Canary Wharf tube station which serves the Jubilee line and DLR (Docklands Light Railway) line.
How do I sign up?
To book onto one of our nail technician courses, you can call us on 0203 856 8886 or email us at email@raycochrane.co.uk