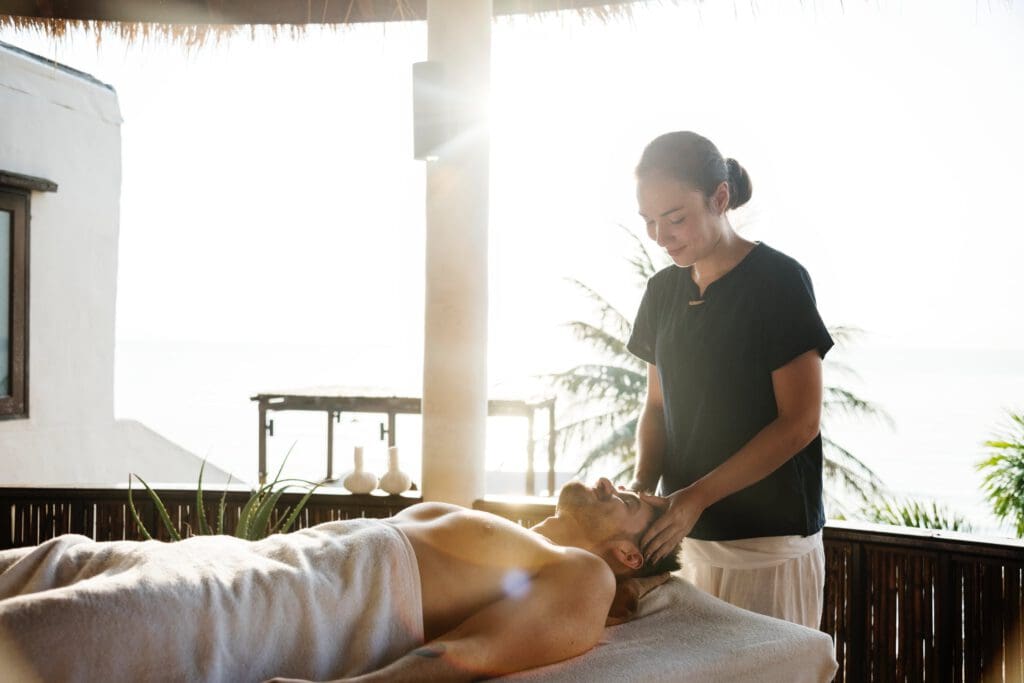 Are you someone known by your friends for your flawless skin thanks to your beauty regime? Are you the first one your friends and family call when they need beauty advice for the best treatment? Do you spend countless hours happily practicing beauty treatments at home?
It may be a sign that you should turn your passion into a career…..
Beauty therapy is a bustling industry where two days are never the same.
Being a beautician provides you with an exciting career. You get to continue growing practicing the latest beauty treatments.
Every day, you will be able to practice your creative craft that makes others feel more confident in themselves. It's one of the most rewarding career pathways that allow you to be creative every day on the job and allows you to celebrate your talents.
If you're a nail whizz with a talent for nail art, it may suit you best to go into a career as a nail technician. If you dream of calling the shots and managing your own team at a salon, it may suit you best to go for qualifying as a salon manager.
If you're interested in investing your interests into a fully-fledged career by pursuing a career in beauty therapy, then you've come to the right place.  
Working as a beauty therapist can open many doors as it is a career that opens a wide variety of opportunities to suit you. Beauty therapy is a field with many different career pathways to go down that suit your individual tastes and talents. For example, you can work freelance which allows you to have your own business and have your own clients come into your private clinic or you can work in a professional setting, like a salon, destination/day spa or care home.
Qualities of a Successful Beauty Therapist
To have a successful career as a beauty therapist you need to be:
Passionate – You must have a love for beauty,  enjoy all aspects of beauty as you will need to stay on top of the latest beauty trends out there.
Hardworking – A strong work ethic will take you far in being able to give clients the best service and being able to perfect your craft.
Great at communicating with others – You will be working with people day in day out, so you need to have a friendly personality and have great interpersonal skills to be able to make clients feel welcomed and comfortable.
Understanding to your clients' needs – Each client you have will require individual care to their specific needs. It's important that you are someone who is understanding so you can cater to your client by taking into account their skin and nail conditions to provide them with the best treatment for them.
Professional – You will need to be able to handle clients with the utmost respect when they are in your care and handle their sensitive requirements with the highest professionalism.
Able to upsell – Especially if you are working for yourself, you need to be able to upsell more services or products to your clients to generate more income.
Patient – You have to care about your work and meticulous in giving treatments to offer the best service and boost your clients' confidence
What are the Different Levels of the VTCT Beauty Therapy Diploma?
Here is a breakdown on how the different levels of the VTCT beauty therapy diploma qualification can give you of the different career paths you can take in the beauty therapy industry.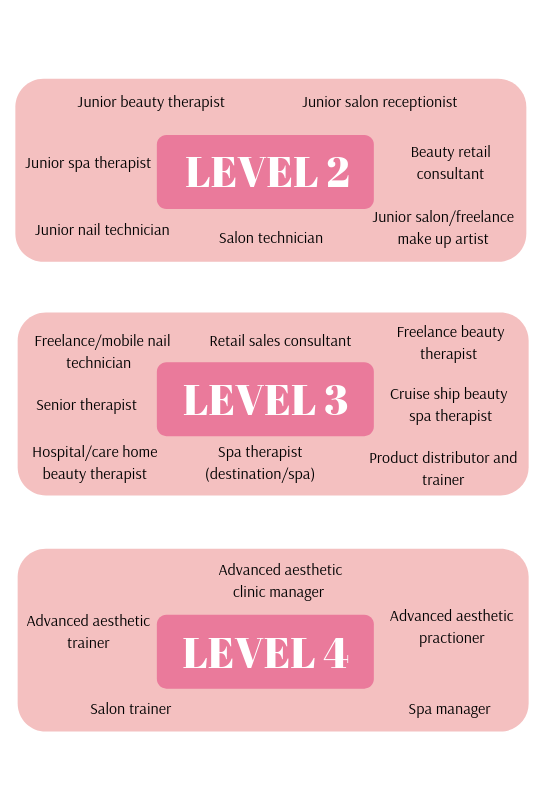 1. Level 2 – VTCT and NVQ Beauty Therapy Course
– The Level 2 VTCT Beauty Diploma teaches you the fundamentals of the commercial aspects of beauty such as waxing, manicures & pedicures, facials, brow & lash treatments.
The course guides you through learning about :
Anatomy and physiology
Brow and lash enhancements
Nail manicure and pedicure techniques – how to apply gel nail polish,  client consultation and selling techniques,  general health and safety procedures
The two different methods of waxing – hot beeswax and cream strip wax.
Gaining this qualification gives you options to pursue a junior career in the beauty therapy field such as a junior beauty therapist where you can work in commercial beauty salons, independent/self-employed/mobile/home-based settings and beauty retail concessions.
2. Level 3 – VTCT and NVQ Beauty Therapy Course
– The Level 3 VTCT Beauty Diploma is a beauty qualification you can take once you have completed the Level 2 Diploma.
On the course you will learn about:
Anatomy and physiology

– This part of the syllabus covers the major systems of the human body such as the skeletal system, muscular system, cardiovascular system, respiratory system and, the nervous system.

Massage techniques

– We teach two types of massage such as Swedish body massage and hot stone massage.

Facial electrotherapy

– This module will teach you a variety of popular electrical and mechanical facial treatments that include vacuum suction and facial faradic.

Body electrotherapy

– You will learn how to carry out a variety of mechanical and electrical treatments for the body. These include slender-tone, non-surgical lifts, and G5 massage.
Having this qualification will qualify you to work more senior roles such as a senior beauty therapist, cruise ship beauty spa therapist, senior nail technician or a spa therapist.

3. Level 4 – VTCT and NVQ Beauty Therapy Course
– The Level 4 VTCT Beauty Diploma is the most advanced qualification in beauty therapy you can take with us. This qualification is perfect for those who want to be at the top of the field. As an advanced aesthetic course, there is a focus on more advanced treatments like IPL and LASER.
In this module, you will learn about:
Hair removal – You will learn the core knowledge of the electromagnetic spectrum, the difference between LASER and IPL therapy and how to perform the hair removal treatments.
Skin rejuvenation – You will learn about toning, pigment removal, red vein removal, and acne reduction treatments.
With this qualification, you will be able to go even further to become a spa manager, salon manager or an advanced aesthetic clinic manager you will need the Level 4 VTCT Beauty Therapy Diploma.

Even though you may be amazingly talented at doing beauty treatments and have a passion and interest in beauty, it isn't enough to become a beauty therapist.
Within the industry, having the right qualifications will open up your options and appeal more to potential employers.
When going for a career pathway in beauty, it is important to have the right qualifications to make sure that you have the correct knowledge to make sure you don't cause any harm or damage to the client. Not having the right education means you won't have the full knowledge and correct procedure practiced by professionals to perform treatments.
Even though you may have practiced facial treatments numerous times on you or your friends and family, that doesn't mean you would be able to perform a facial on a different skin type or someone with certain skin conditions such as psoriasis or eczema.
The VTCT qualification is regulated by the Office of Qualifications and Examinations Regulation (Ofqual).  
Why should you study with us at our academy?
At Ray Cochrane, we offer the best beauty courses in the UK. We've been open for over 60 years and are one of the oldest private educational establishments in Britain, offering courses exclusively devoted to beauty therapy education. If you study with us, you are guaranteed to get a quality education as well as other invaluable benefits:
Flexibility

– Our course is ideal for those who are looking to work in a new career field or wanting to go back into work after having children. You can study full-time, part-time or on Saturdays.

Real life work experience

– We understand how important it is to have work experience to have a fulfilling career in the beauty industry especially when you graduate from us, which is why all of our graduates gain work experience in our on-site salon.

Central London location

– We are situated closely to Farringdon and Barbican station as well as numerous bus routes serving the area providing efficient transport links.

Opportunities to progress further in your career

– At our academy, we offer students to progress after receiving the Level 2 diploma to go on and study Level 3 (spa treatments) and Level 4 (laser and IPL treatments).
If you're interested in studying with us, please contact us today on 0207 486 6291 or email us at email@raycochrane.co.uk