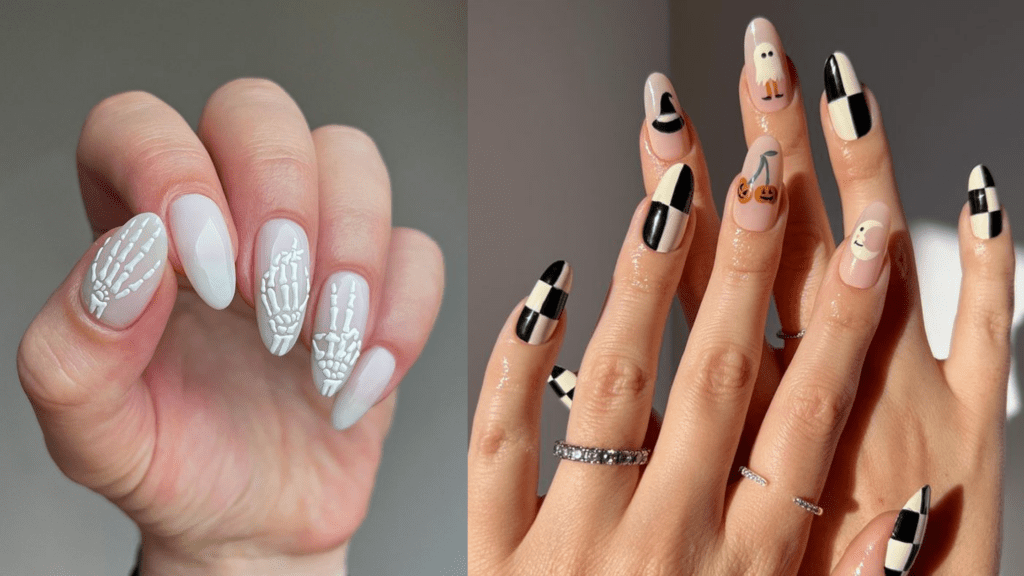 Photo source: Instagram (@pop-polished,@buganails)


Who says Halloween is all about the costumes and sweets? Ever considered that your fingertips could be a canvas for the spooky season too?
Guess what? It's that time of the year again when ghosts, ghouls, and jack-o'-lanterns come out to play. And you know what else can join the Halloween fun? Your nails!
From beginner-friendly decals to intricate hand-painted masterpieces by professional nail artists – we've got it all covered. If you lean towards minimalism, you can never go wrong with glossy black nails, or you can add a touch of edginess with a matte top coat. For a subtle twist on classic French tips, try swapping the white for shades of blood-red or midnight black. For those who prefer subtlety over spookiness, there's always the option for classy Halloween nails in muted autumn colours adorned with simple Halloween nail designs like pumpkins or tiny ghosts.
Imagine this: you show up at a Halloween get-together, and your nails are the star of the show. From fancy cobwebs to cute and creepy designs, we've got the ideas that will have everyone talking. So grab your nail polish, get ready to bring out your inner artist, and let's make your nails the life of the Halloween party!
However, if you thought Halloween nails couldn't be elegant, allow us to change your mind.
Must Try Halloween Nail Designs in 2023
With Halloween right around the corner, what better way to express yourself than with a spooky and stylish manicure? It's the perfect time to combine eerie and sophisticated styles into your nail art designs. We have put together a collection of nail designs inspired by classic Halloween characters and themes that will give your manicure a mix of chic and chilling vibe.
Get ready for a thrilling journey through pumpkin patches, where every turn brings more excitement.
We've scoured Instagram for the finest Halloween nail inspirations, so you can bring your spooky visions to life. Let's start our adventure! Scroll all the way, it's worth it. 
1. Spooky Chic: Orange-Tipped Nails with a Whimsy Twist
Start with a classy nude base and add vibrant orange tips to capture the essence of autumn. Add cute, tiny spiders, snakes or a black cat shadow hanging from invisible trapeze wires for a touch of whimsy. Delicate spiderwebs weave through the design, giving your nails an eerie yet charming look. It's the perfect balance of chic and spooky for the season.
View this post on Instagram
2.  Happy Howl-o-ween  Paw-fect nails 🐶👻
Calling all dog-obsessed parents! This one's for you. Don't miss these positively charming pups in their spooky ghost costumes.
View this post on Instagram
3. Brown French Tips for Autumn
This elegant nail art blends the beauty of autumn with a touch of Halloween whimsy. Featuring warm brown French tips, these nails are accentuated with cute, miniature ghosts and delicate autumnal-colored flowers. It's a versatile and timeless design that can be enjoyed long after Halloween has passed. 🍂🌼
View this post on Instagram
4. Mystical Mani
While celebrating the spooky season, your nails gleam with the allure of a calm night sky. Each nail is a celestial canvas, adorned with golden stars and crescent moons, echoing the mystical ambiance of Halloween night. Fingertips are ready for both the night's festivities and beyond!
View this post on Instagram
5. Ghosts and Chrome
Get ready to shine with this cosmic nude mani! Golden stars, crescent moons, and hand-painted ghosts give your nails a starry night with a Halloween twist. It's a mini Halloween party on your fingertips!
View this post on Instagram
6. Pumpkin-Carved Mani
These nails are a cutesy twist on classic pumpkin carving. An orange base adorned with adorable little pumpkin faces makes for a charming and spooky combination. It's like having mini jack-o'-lanterns right at your fingertips. Perfect for Halloween lovers who like their scares on the cute side!
View this post on Instagram
7. Playful Ghosts
Who says ghosts can't have fun with their fashion? This vibrant manicure takes the classic spooky spirit and gives it a playful twist. We're loving the trend of these spirited little ghosts.
View this post on Instagram
8. Sophisticated
Delicate orange tips adorned with sparkling black gems add a touch of eerie glamour to your look. Elegant and on-theme, it's the perfect way to celebrate in style.
View this post on Instagram
9. Paint The Town Red – Bloody Nails
Nude nails with blood drip tips: a hint of spooky chic. Unleash your inner vampire!
View this post on Instagram
10. Boo-tiful Mani
This combination of playful "Boo" lettering and endearing characters make it a unique and pretty design that captures the essence of Halloween without the fright.
View this post on Instagram
11. Minimalistic Warm Brown Hues
In this nail art, a cute white ghost adds a playful touch to minimalistic brown and coffee-colored swirls, that gracefully wind their way across the nails. Adding a touch of retro charm, black and white checkerboard patterns decorate the background. It's a design that perfectly bridges the gap between Halloween fun and the beauty of the autumn season, creating a look that's uniquely enchanting and effortlessly stylish.
View this post on Instagram
12. Tiny Bats
Tiny hand painted bat accents meet chrome cuffs on a gloss black background, giving your nails a touch of spooky chic. 🦇
View this post on Instagram
13. Matte Black & Orange Flowers
Matte black nails take an autumnal turn with vibrant orange flowers and an unexpected guest lurking behind the leaves – yet another playful ghost. They're really everywhere this year!
View this post on Instagram
14.  Bewitching Liliac
For all the witchy peeps out there, these enchanting liliac and purple matte nails are unique and eye catching. A mysterious black cat plays hide and seek among delicate purple blooms, while a magical paw print adds an extra dose of charm. Chrome accents tie it all together for a spellbinding look.
View this post on Instagram
15.  Matte Green & Gold Mani
Who says Halloween nails are limited to orange and black? Check out these captivating matte green nails adorned with gold accents – from sinuous snakes to all-seeing eyes. What's even better? These nails scream Halloween but are perfect year-round.
View this post on Instagram
16.  Orange & Cream Evil Eye Inspired
This nail art feature more eyes and snakes. However, this time they are set against striking orange and creamy backgrounds. The vivid contrasts give these nails a mesmerising edge, perfect for embracing a bold style!
View this post on Instagram
17.  Vibrant & Quirky
For a touch of uniqueness, these vibrant nails are everything. The googly eyes, a playful tiny cat, mushrooms, and gleaming glazed chrome accents will catch everyone's attention at any Halloween party.
View this post on Instagram
18.  Autumnal Hues
For those who adore the diversity of autumn, these nails are a masterpiece in subtlety. Each nail has a different hue reminiscent of autumn's full color palette, creating a stunning set for people that want to embrace the halloween spirit, but keep it minimalistic.
View this post on Instagram
19.  Glitter & Black
Get ready to shine with these glittery black glossy nails. Perfect for Halloween, they're adorned with spider webs that add a touch of spook. Very easy to recreate, too!
View this post on Instagram
20.  Halloween But Make It Classy
A classic French mani, but with a twist. One finger transforms into a cute ghost, adding a subtle yet elegant Halloween vibe to your nails. You can also choose a cat design if you prefer. It's the perfect balance of sophistication and festive mood.
View this post on Instagram
21.  Pastel Swirls
Soft swirls of pastel hues blend harmoniously with tiny ghostly figures, creating a dreamy nail art. Perfect for adding a touch of paranormal to your nails!
View this post on Instagram
22. On Halloween We Wear Pink
Embrace the "pink-or-treat" spirit with these adorably eerie, glittering ghosts. They're so cute, they might just scare up a smile!
View this post on Instagram
23.  XLL Coffin Nails (Literally)
Go big with these XXL vampire nails. They're dripping in blood-red gloss and coffin shapes for a bold, spooky look!
View this post on Instagram
24.  Old School Edgy Mani
These nails draw inspiration from old-school tattoo style. With their vibrant orange and bold black details, they're a perfect fit for Halloween or to rock an edgy look throughout autumn.
View this post on Instagram
25. Grey & Black Skulls
Featuring a matte grey backdrop and black, blood-like drops at the tips, this manicure takes a haunting twist with intricate skull details. We love it!
View this post on Instagram
26.  Bloody Nails Dripping in Red Chrome
These Halloween nails are dripping in elegance with blood-red chrome accents.
View this post on Instagram
27.  Bloody Nails Dripping in Red Chrome
Get your pumpkin spice vibes on with these chic nude nails adorned with delicate gold details. Simple, yet absolutely stunning!
View this post on Instagram
28. Pink Spider Nails
Unleash your inner creativity with this pink and delicate manicure featuring heart-shaped spiderwebs at the tips. A wonderfully feminine twist on Halloween nail art.
View this post on Instagram
29. Subtle Red Aura Set
Embrace a red aura vibe with this stiletto nail set adorned with shimmering silver heart jewels.
View this post on Instagram
30.  All Over Bloody Gloss
Get ready to go all out with these striking all-over blood-red nails, sealed with a high-gloss top coat.
View this post on Instagram
31.  Silver Chains
Draped in elegance, Silver Chains adorn your moments with timeless grace.
View this post on Instagram
32. 3D Maxi Decals
Get your nails looking amazing with 3D Maxi Decals.
View this post on Instagram
Classy Halloween Nail Designs with a Touch of Elegance
If you fancy an eerie yet classy look, consider adopting simple Halloween nail designs. You could use matte finish polishes in midnight black and blood red hues to recreate iconic characters like Jack Skellington or Hocus Pocus witches on your nails. On the other hand, bright reds and oranges can help manifest a lively candy corn design that adds fun elements without losing sophistication.
Nail stickers are also great tools when it comes to creating intricate patterns like spider webs on your manicure quickly and neatly. Remember though – not all nail ideas need to be extravagant; sometimes less is more.
Elevate Your Halloween Manicure with Gel Nails
When it comes to Halloween, it's not just about costumes and decorations. Your nails can be the ultimate accessory to complete your spooky or festive look. This year, take your Halloween manicure to the next level with the magic of gel nails.
Gel nails are known for their durability and long-lasting shine. Whether you're dressing up as a wicked witch, a vampire, or simply embracing the Halloween spirit with themed colors and designs, gel nails can withstand all the ghostly adventures that come your way.
Express Your Spooky Creativity with Halloween Nail Designs
Get ready to transform your nails into bewitching works of art this Halloween season from simple and classy to outright eerie. Experiment with colours, consider matte finishes or chrome effects for a unique touch. Don't forget that less can often be more – use decals for added drama. This season, let your nails become an extension of your costume.
---
And if you fancy learning how to master nail art designs and have the perfect mani at all times, or if you are thinking about taking it one step further and become a nail technician, here at Ray Cochrane Beauty Aesthetics Academy we have just the thing for you:
Not only you can learn how to master the most intricate nail art with the guidance of our experienced tutors, but you will learn literally everything about nails. From, applying and maintaining nail enhancements (yes, that includes gels and acrylics!), health and safety, customer service… our curriculum includes it all. We are one of the longest established Beauty and Aesthetics Academies in London, and we would love to have you on board!
Frequently Asked Questions (FAQ's)
1.  How to design Halloween nails?
Start by choosing a theme or colour scheme. Next, apply your base coat and use nail art tools to create your spooky designs. Seal with a topcoat for longevity.
2. What is the nail trend in autumn 2023?
The trends point towards earthy tones, matte finishes, and minimalist patterns this autumn. Gel and acrylic styles continue to be popular as well.
3. How do you put on spirit Halloween nails?
To get spirit Halloween nails, paint them in dark colours like black or deep purple. Then add ghostly white accents or other scary motifs using thin brushes or dotting tools.
4. What colors are Halloween for nails?
Halloween-themed manicures often feature orange, black, green and purple hues along with metallics such as gold and silver for extra spookiness.