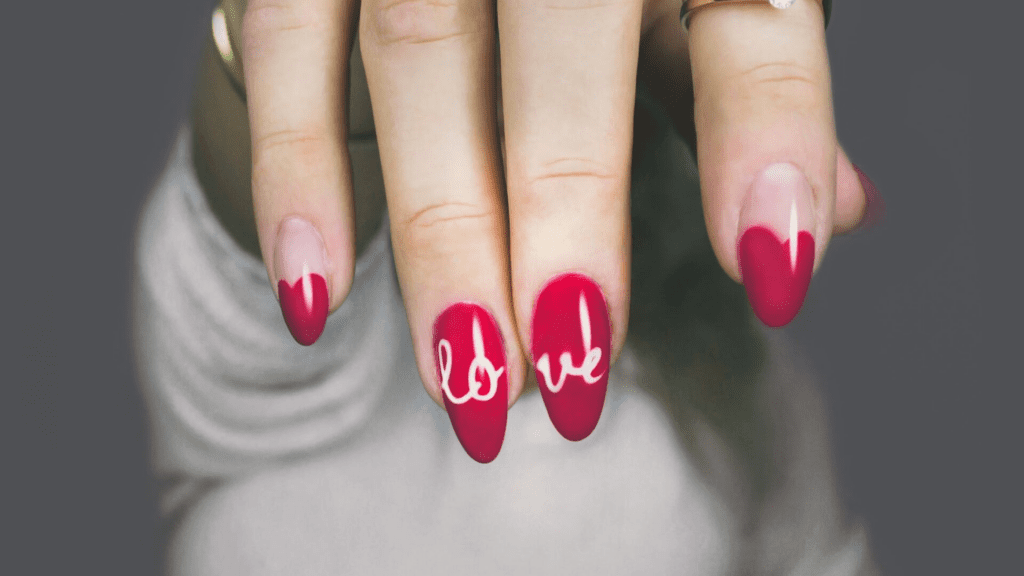 Artificial nail extensions are a popular beauty treatment for those who are looking for a more glamorous appearance and add embellishment and style to their nails.
They date back to the Ming Dynasty, long nails are seen as a sign of wealth in the Asian culture. 
There are two types of artificial nail extensions – gel and acrylic. 
Gel nails are a form of acrylic nails that are relatively new to the nail game. Another key difference between gel and acrylic is that with gel nails, a UV light is used to cure the nails than it curing when it comes into contact with oxygen. 
They are made to last which is why they are such a popular long-lasting option for those who want their nails to have a glossy appearance. Gel nails can last up to 3 weeks which is why many people decide to get them done. 
Brands like Gelish by Nail Harmony, Shellac by CND (Creative Nail Design), IBD, Elite99 and Gellen are manufacturers of gel nail polish used by professionals. 
What kind of nail designs can you do with gel nails?
So many people nowadays want to express their personality and style through their nails, especially in a generation where displaying artwork is now more visible than ever with social media apps such as Instagram where you can instantly post images for everyone to see. Gel nails are made to last which is why they are a popular nail treatment.
With gel nails, you can create so many beautiful designs that range from ombre to marble effect, and also you can bring all of your creative energy by drawing nail art. 
https://www.instagram.com/p/B1Eot_xBPJL/
Read More – Halloween Nail Design Ideas
How about learning how to do your own nails?
At Ray Cochrane Beauty School, we offer students the option to study the Level 2 & 3 Nail Technician course where students will be taken through the vital steps on how to do the perfect manicure and pedicure.
With us, you can become the nail technician you always dreamed of. It's an exciting career that can provide you with a great level of flexibility and independence that works for you. For those who are looking to go into an occupation that is more interactive and creative. It's a career path that can take you places – you can start your own business or become a freelancer, work in day spas, hotels, health farms, nail bars or beauty salons. 
On the VTCT accredited Level 2 Nail Technician course, students learn about nail anatomy, health and safety regulations in the workplace, UV gel nail extensions, acrylic nail extensions, retail skills (so you will be able to upsell items that clients may be interested in) and to develop and maintain effectiveness at work. 
Having a high level of knowledge about nail anatomy will help you avoid making mistakes that can be quite costly. What you don't want to do is accidentally file through the nail plate into the nail bed (where all the blood circulation is) which would cause infection and damage to your clients' nail. You also don't want to cause damage to the smile line. 
The Level 2 & 3 course is the total package for those who are complete novices and want to earn an advanced nail technician qualification. The course contains all the elements you need to become a successful nail technician. 
We teach you the theory side of things which includes learning about various different nail diseases and disorders so you can be equipped for any scenario when you work with clients. It's important as a nail tech that you are able to spot any abnormalities that customers have so you can provide the right treatment tailored to them. 
The course is very hands-on, which means that you don't have to worry about not being experienced enough when you finish the course because you will have plenty of opportunities to practice.
We teach you how to
Shape the natural nail in various different shapes (oval, almond, coffin, round, square and stiletto) – Learning how to correctly shape the nails is important as the shape, c-curve, apex and smile line needs to be consistent with every nail on the client or the nails will be poor quality and likely to break leading to an incredibly unhappy customer.
Prepare the cuticles – You want to make sure that the cuticles are fully prepared for the treatment. We will teach you how to cleanse the nail, pushing back the cuticle to give you as much surface area for your application and scraping of the organic skin around the cuticle to avoid lifting 
Safely use a buffer without causing damage to your clients' nails – We will teach you how to perfectly buff the nails, not too smooth which would result in the polish refuses to stay on the nails and lifting would occur.
Sanitise and disinfect your equipment correctly – Health and safety are what will affect your reputation more than anything. Learning the correct health and safety procedures can make a world of difference between a happy customer and a dissatisfied customer, no matter how great the nail design you did is.  


These skills you will need to work in a professional setting. It is incredibly vital to be fully qualified if you want to be taken seriously by employers. Studying an accredited course not only gives you more confidence in your abilities, it, more importantly, but it also gives employers and clients to have confidence in you. Entering the workplace with your certificate, you will garner the respect of clients who come your way. 
Not only will you obviously learn how to perform gel manicures, but you will also learn how to perform acrylic nail manicures. You will learn how to practice on a plastic hand model to help you get your technique down before you work on people. 
We are the highest rated beauty school in London, the reviews on Google speak for themselves.
Give us a ring today on 0203 856 8886 or email us at email@raycochrane.co.uk to discuss your options and get signed up onto one of our nail technician courses today so you can get onto a new, exciting path today.