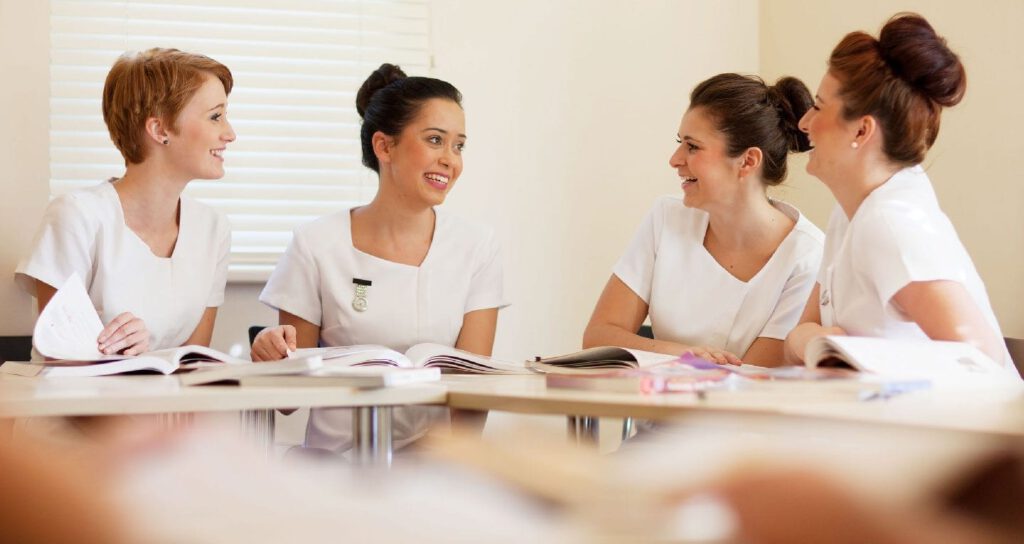 If you're passionate about skincare, nails, aesthetics, and assisting others in looking gorgeous, becoming a trained and professional beauty therapist is a brilliant career choice for you. 
With a large number of beauty academies to choose from, you have to limit your options to the one that will suit you best. You should find a beauty training academy that will provide you with the relevant skills and qualifications to become a professional beauty therapist. This enables you to do the best job for your potential clients.
Why Should You Consider a Career in the Beauty Industry?
Beauty therapists are in demand. They are never short of work because there are always clients seeking facials and cosmetic applications for special events. 
Many different roles within beauty therapy allow creatives to shine. You could specialise in laser and skincare, or perhaps nails and brows appeal more to you. Whichever path you choose, the beauty industry offers professions with flexibility and countless opportunities for career development. 
You can work freelance in the UK or abroad. Alternatively, work for or set up your own salon and accommodate your lifestyle. 
It is a truly rewarding profession for individuals who enjoy working with people and wish to invest time in learning all they can about the secrets of the trade.
What Skills Do You Need to Work in the Beauty Industry?
Beauty academies like Ray Cochrane can provide you with the training you require to become a professional in aesthetic improvement. 
These beauty training programs can be demanding, but they will prepare you for any employment you'll gain following completion of the program. For those preparing for a career as a beauty therapist, there are many well-established British beauty academies that can allow you to realise your full potential.
To meet the specific needs of your clients, you must acquire the appropriate skill sets. 
Good communication skills are essential. The ideal beauty training academy will educate you on how to provide your customers with sought after beauty services. Becoming a beauty therapist requires people skills and making clients feel as comfortable as possible with an empathetic and understanding approach. 
Your appearance should reflect your professional attitude as an extension of your brand. Maintaining a clean and polished appearance is essential, as you are a walking advertisement for the high standards of your business. 
Time management skills are essential when balancing several clients at once, especially if you're carrying out treatments that take a set amount of time. Satisfied clients turn into repeat customers, enabling you to build a strong reputation as a specialist in the industry.
Depending on which part of the beauty industry you are interested in, different areas require specific strengths. For example, in beauty specialisms like nails, creativity and attention to detail are paramount to nail art. Remember that although you might already have these skills, you won't get anywhere without the right qualifications. That's where attending a beauty therapy training course comes in. 
How Do I Find the Right Beauty Academy?
Look around for the best beauty academies in your area and if you have the money to relocate elsewhere for a school that you feel best suits your needs, do it! 
Think about which aspects interest you the most in the beauty industry and what you'd like to do in the future. This can help inform your choices, especially if some schools specialise in a particular beauty training course. Find out about the time it takes to complete the training program and make sure you have time to do it. Most courses take weeks and some can take months or even a year or two. 
Familiarise yourself with the curriculum to work out if your chosen beauty academy offers the courses you need. For instance, Ray Cochrane Beauty School offers aesthetics training in three main sectors:
Beauty Therapy —

A range of accredited and insurable courses, including Level 2 & 3 Beauty Therapy. We offer diplomas from internationally renowned accreditors like CIDESCO, ITEC, CIBTAC and VTCT. We even provide an online

VTCT ITEC Level 3 Anatomy & Physiology Course

that gives knowledge about the body's anatomical structures and physiological processes.

Laser and Skin —

Advanced courses for those looking to pursue a career in skin aesthetics. These courses include

Level 4 laser/IPL training

,

chemical skin peeling

and

skin microneedling

.

Nail and Brow — One of the fastest-growing areas of the beauty sector, these courses are for those wanting to pursue a career as a nail technician or eyebrow microblading artist.
Some individuals might not have the time or the capability to attend a beauty academy in-person to become trained in this profession. However, there are beauty academies that offer excellent fast-track beauty therapy courses, like Ray Cochrane's NVQ/VTCT Level 2 & 3 Beauty Therapy Course. This course can be completed in six months. Featuring home learning and practical training, you can adapt your beauty training course to fit around other commitments such as childcare or other employment. 
Related: What Should I Choose? : Fast-Track or Part-Time Beauty Therapy Courses?
Ray Cochrane Beauty Aesthetics Academy in London
Ray Cochrane Beauty Aesthetics Academy, previously known as Ray Cochrane Beauty School, was founded in 1954 by beauty pioneer Mrs Ray Cochrane. Mrs Cochrane was devoted to the beauty industry, wishing to provide high-quality tuition to aspiring beauty therapists. In fact, Ray Cochrane is the longest-established CIDESCO school in the UK — the world's most prestigious qualification in Aesthetics and Beauty Therapy. Situated in Baker Street, Central London, Ray Cochrane offers nearly  70 years of experience in the academy of the beauty industry. 
Why Should You Choose the Ray Cochrane Beauty Aesthetics Academy?
The well-being and growth of all students are central to our philosophy. Our tireless support, dedication and professionalism enable our students to achieve success early on in their careers. 
Our courses have been specially selected with career development in mind. We want all our students to graduate from our school with confidence in their skills and be well-equipped to enter the competitive beauty industry. 
We're constantly challenging our students to reach the highest level of expertise, learning and growing alongside them to refine our teaching methods and courses. We have a reputation for producing students of the highest calibre. As a result, most of our students are in high demand for positions at the most coveted spas and salons in London, the UK and internationally. 
At Ray Cochrane Beauty Aesthetics Academy, we believe beauty is a hands-on industry requiring practical training. For this reason, we do not offer online-only courses for beauty therapy. We believe that acquiring real-life experience is the only way to become a knowledgeable and skilled beauty therapist that can help people look — and feel — their best.
If you're interested in a Beauty Therapy Course at one of the best beauty academies in London, come to Ray Cochrane. Contact us at 02074866291 or email us at admission@raycochrane.co.uk to find out more about our courses or to enrol today.